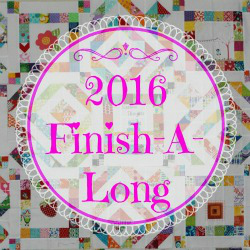 At the beginning of the year, I wrote a post about my sewing and project goals, one of which was to Organize and Prioritize Sewing Projects.  I have done pretty well sticking with my goal, but I do have to admit that I have added several new projects to my list instead of finishing the ones I have already started.  I don't feel too badly about that, though, because I have actually finished a lot more so far this year than I ever expected.
A month or so ago, I ran across the webpage Clover & Violet, and I discovered the Finish-A-Long that Jennie is hosting this year.  Even though I am doing *okay* at sticking with my goals, I decided to join the Finish-A-Long this quarter as extra motivation to complete projects that are just hanging out there waiting for me.
The FAL is a low pressure community event that allows you to make a list of projects that have already been started but not finished and thus are hanging about in your sewing room as UFOs. The list is linked up at the beginning of a quarter and then at the end of the quarter you link up a link for each item on your list that you finished. Each link is an entry into the random draw for great prizes sponsored by our generous sponsors. There is no penalty for not finishing something on your list.
I have several projects that I would really like to get done this quarter specifically because they are for our upcoming LARP event.  In addition, I will have three items to complete for my Try Something New Every Month project.  I also have several small projects I have started that I would like to have finished before summer, as well.
List of Finish-A-Long Projects to Complete:
There are also quite a few things I want to try that don't really have a deadline, more of a "when I get to it" type of project.  I would love to try indigo dyeing, watercolor tinted embroidery, and paper piecing.
I am very realistic with this list, and I know in all likelihood I will not get nearly everything on it finished; however, I am sure going to give it my best shot!
Amy