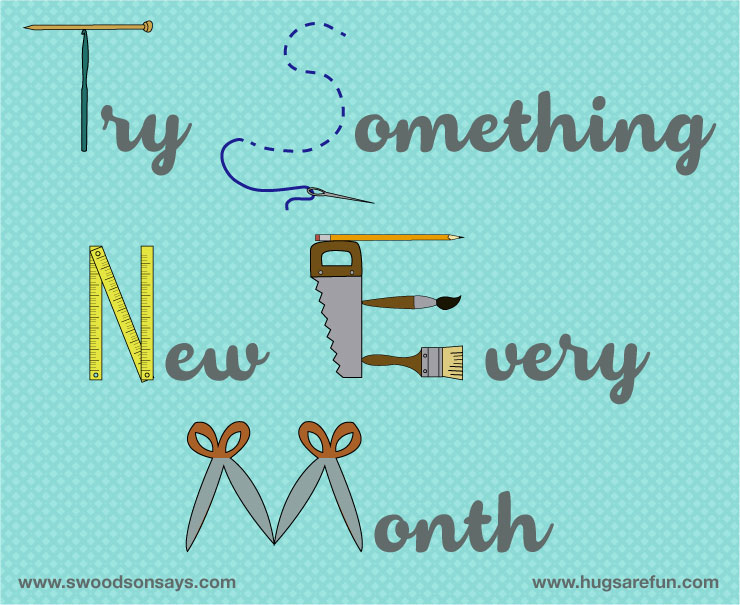 This fall, I started following a fellow blogger, Stephanie Woodson, and she recently posted about a project she worked on through 2015 – the Try Something New Every Month.  The premise of this project is pretty simple, Stephanie took on a year-long project to motivate herself to stretch her creative boundaries and actually use the supplies she had purchased but not used.  She was joined by other bloggers who stuck it out the entire year– Kristy & Rebecca!  I am impressed that they were actually able to stay on track – It is a feat I know I am going to have trouble with.
The project was a success, but Stephanie and Rebecca decided they had more things they wanted to try out, so they are co-hosting another round of Try Something New Every Month (TSNEM) for 2016 and hoping that in addition to any other bloggers, readers will join in too!  As I have gotten back into sewing, I am finding there is a lot I don't know how to do, or I have never tried, so I am going to join this challenge just to expand my knowledge and get out of the box a little.
Their guildelines are simple – anyone can join in, at any time, simply by trying something new to them for that month, but even better would be sharing it!  Each month, they will announce/remind readers of the monthly theme and share what they tried. Either Stephanie or Rebecca will host a link-up on the post that is open all month, allowing anyone to add a picture and share what they tried.  There is also a Facebook Group.  Using the hashtag #TSNEM on Instagram is the easiest and fastest way to get connected as well!
There are no monthly incentives – just the satisfaction of trying something new and for the love of creativity and craft.  Each month will have an overarching theme that is very broad – even if you've been quilting for years, maybe there is a technique or shape or block you haven't tried, as an example.
The themes will be:
January – Quilting
February- Tactile Craft; paper mache, clay, soap, candlemaking
March- Painting
April- Edible Crafts
May – Hand Sewing
June- Heavy Craft; leather, wood burning, glass etching
July- Yarn Craft; knitting, crochet, weaving
August- Printmaking; fabric or paper
September – Machine Sewing
October- Needlework; embroidery, cross-stitch, crewel, needlepoint
November- Papercraft; origami, scrapbook, calligraphy
December- Choose your own!
Make sure to subscribe to Stephanie's newsletter (it goes out every Friday) so you don't miss monthly announcements!
I am really excited to start this project, and I cannot wait to learn more!  I may change up my personal list a little bit because I would like to stick with straight sewing, but I haven't decided for sure yet.
If you liked this, you may also like these posts.