The new Bahama Mama patterns are here!  I know I said this about the Peek-A-Boo Sunkissed Tee Pattern that I tested, but love everything about this pattern!  Seriously!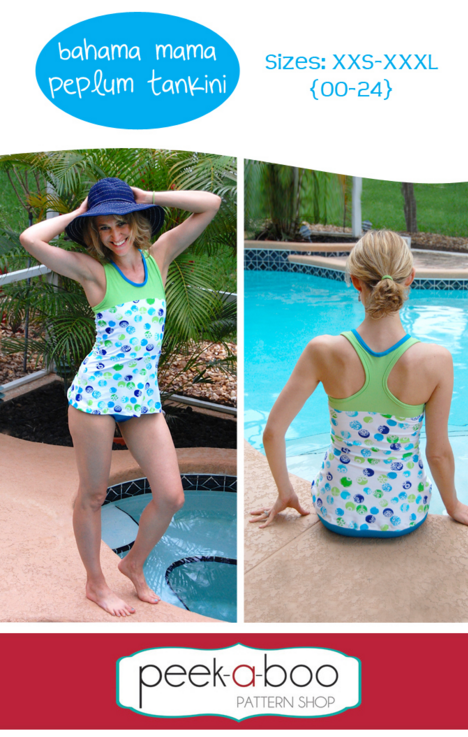 I was part of the testing group for the new Bahama Mama Peplum Tankini and Bahama Mama Bikini Bottoms from  Peek-A-Boo Pattern Shop.  The bottoms have two waist options – high-rise and low-rise, and there is also a Maternity Add-On Pack Available.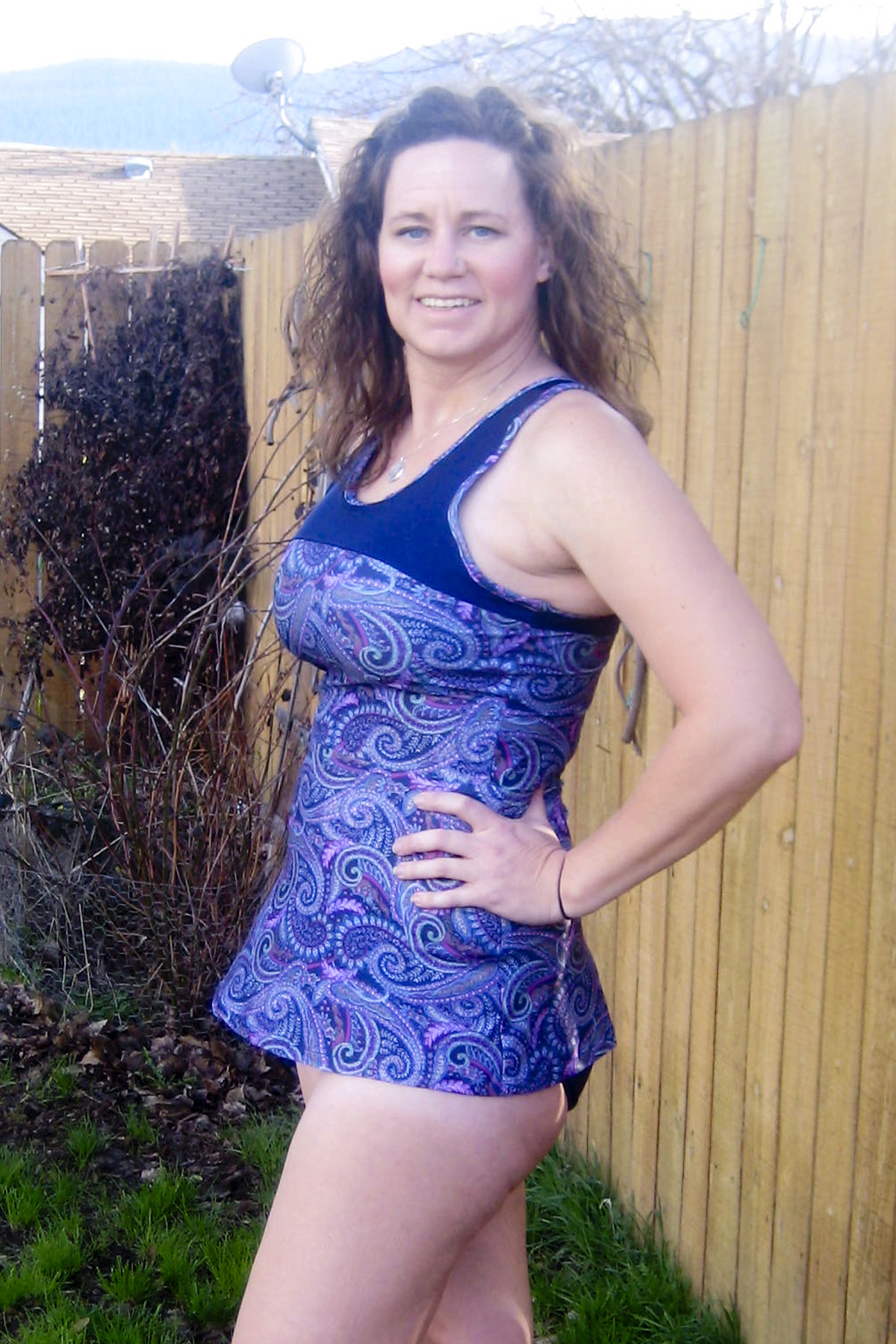 I tested the women's size large with the low-rise bottoms, and I did not have to make any adjustments to the pattern at all.  I made the large based on my measurements (I have a large chest) and that swim fabric tends to be a bit more fitted.
I absolutely love this suit; it fits perfectly!  I did not insert the bra cups as recommended, instead I flipped the rib-cage elastic up once after sewing it in for added support, and that solution worked well for me.  I really feel like I could do anything in this suit – it has more support than many of my sports bras!  It is versatile, comfortable, and very easy to make!
The binding on the arm holes and neck looks wobbly in this picture, but once the suit is on, there is no distortion at all.
The rib-cage elastic inside the top lining: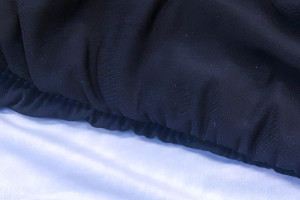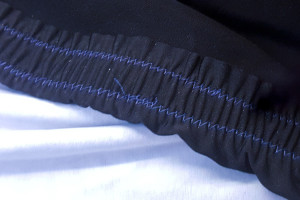 Topstitching details set this suit apart: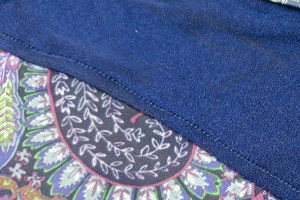 The bottoms fit extremely well, they don't ride up, and the waist band is comfortable and snug without being too tight.  The bottoms are fully lined, as well.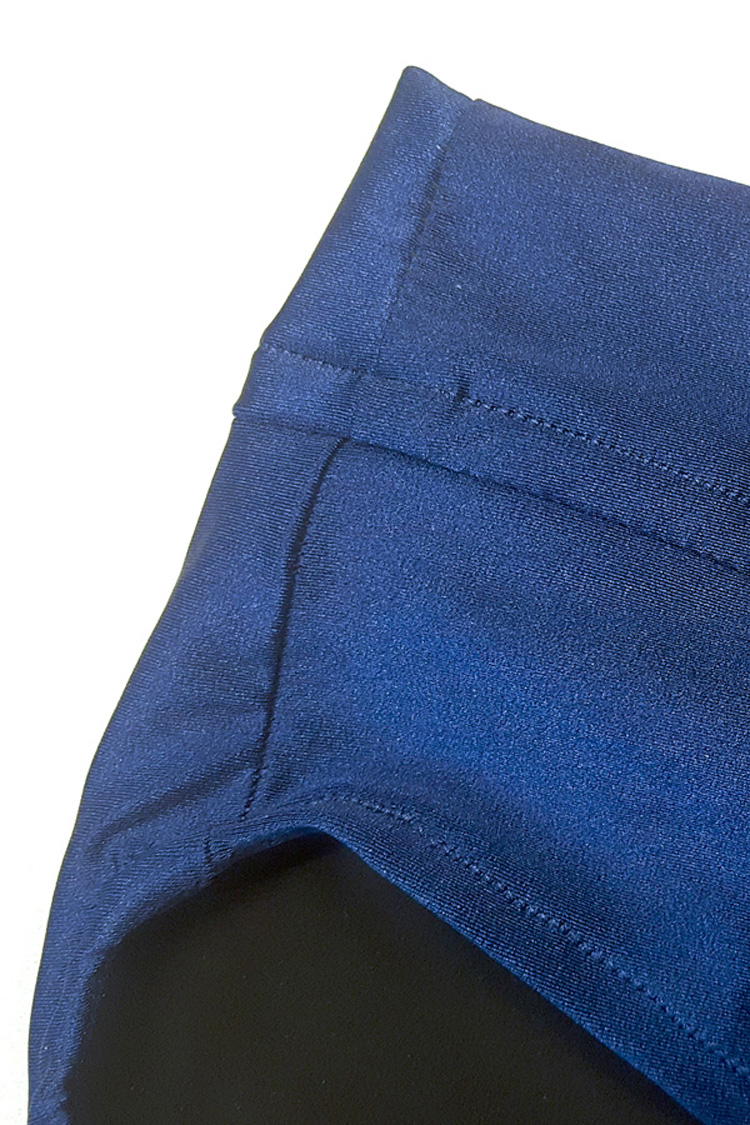 Top stitching details again on the bottoms: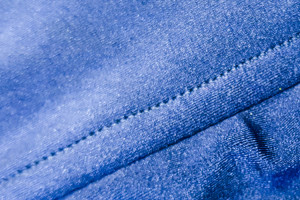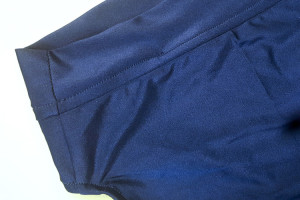 While easy to make, the suit includes little details that set it apart from other suits.  The top is set up for color-blocking, and adding contrasting trim to the neck and arm holes adds another sweet detail.  In addition, the skirt portion can be left off for a bikini option, as well.
I have never made a swimsuit before, and I have to say that I don't think I will ever purchase one again!  Amy's instructions are clear, concise, and very easy to follow!  If you have never sewn a swimsuit before, this is the pattern to start with, it is amazing!  One of the best things about Amy's patterns is that they all work together.  For example, last year's Bahama Mama Color Block Tankini and Bahama Mama Boy Shorts both work perfectly with the Peplum Tankini and Bikini Bottoms.
Head over to Peek-A-Boo Pattern Shop to get your own Bahama Mama Peplum Tankini and Bahama Mama Bikini Bottoms, you will not regret it, I promise!  The new Bahama Mama patterns are here! Save 15% today only (March 31st) and save another $3 with the code "BAHAMA" when you buy any top & any bottom!
If you need, grab the Maternity Add-On Pack, as well!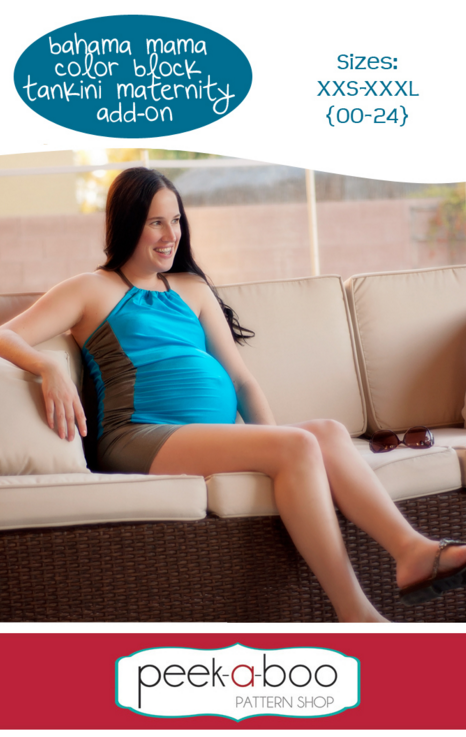 Linking up at Crazy Mom Quilts, Craftaholics Anonymous, and Sew Can She
Amy