Welcome to To Do Tuesday – November 6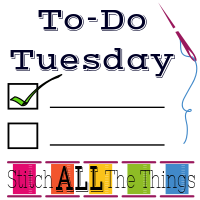 Christine at Stitch ALL The Things hosts To-Do Tuesday. TDT is a great weekly motivator to finish projects and (for me) to keep my To Do List manageable.
My To-Do list from October 23:
1. Petite Stitchery Pattern Test
2. Winter Wardrobe Project
3. P4P Pattern Re-Vamp Test
4. Write Todd's Canadian Adventure Post
It's been a couple weeks since my last update, but I really haven't had a lot to share. The Petite Stitchery pattern released, and the Patterns for Pirates pattern is nearly ready to release.
1. Petite Stitchery Pattern Test
I can finally share – the Petite Stitchery Unity Bra is the newest sports/ath-leisure bra pattern out there, and it is amazing! I don't have any of my pictures available to share, so you'll have to take my word for it. 😀
2. Winter Wardrobe Project
The past two weeks I made several items for my Winter Wardrobe, but several were from patter tests, so I can't share them yet. One of my favorites; however, is this Tierney Top from CKC patterns. The floral fabric is called Aislynn, and it is from Mily Mae Fabrics.
3. P4P Pattern Re-Vamp Test
This test is finished, and the pattern is ALMOST ready to release! I cannot wait to share it with you because I love each one I've made!
4. Write Todd's Canadian Adventure Post
I think I am giving up writing this post. Not that I don't want to, we just haven't been able to sit down so he could help me put it together. Maybe when things slow down over the winter. For now, though, I am taking it off my list. As a side note, though, I made a meatloaf with some of the ground meat Todd brought home, and there was zero grease!!!
New Projects!!!
After the masquerade ball last weekend, I started thinking about an elaborate costume and testing myself creatively. I am so glad to have a guy who is completely supportive of my hobby because he jumped right on board. I won't be starting the actual project until at least mid-December, if not after the first of the year because I have to have neck surgery, and I am not sure what the recovery will be like.
I have purchased paper patterns and a book that goes along with them from American Duchess, and I am making a Robe a la Francaise. I have ordered the fabric (nearly 30 yards!!!), the supplies, and the tools I will need for this project, and they have started arriving.
These are some of the inspiration images I am working from.
These are the two patterns I am going to use to base my dress on, as well as the accompanying book; all three were written by American Duchess. For now I will be doing lots of research about the Robe a la Francaise and traditional construction methods and processes. I will be blogging this project on its own for sure, and I cannot wait to get started!
Wrap-Up
I am finishing a pattern test, researching my new project, and adding a few more necessities to my Winter Wardrobe.
This week's to-do list:
1. Winter Wardrobe Project
2. P4P Pattern Re-Vamp Test
3. Robe a la Francaise Research
Are you working on anything fun this week?
If you liked this, you may also like these posts.