Welcome to To Do Tuesday – September 4

Christine at Stitch ALL The Things hosts To-Do Tuesday. TDT is a great weekly motivator to finish projects and (for me) to keep my To Do List manageable.
Unfortunately, I have been completely inactive on this blog since my last post, which was the Sew Americana Blog Tour (June 26).  Inactivity on this blog does not equate inactivity in life, and I have a lot to share.
The most recent to-do list I published is from June 19:
1.  Made for Mermaids Swim Suit Pattern Test
2.  Work-In-Progress TBD
3.  Mily Mae Fabrics Promotions
4.  Take Pictures & Write Post – Sew Americana Blog Tour
5.  Finish unpacking, organizing, and cleaning the sewing room
I have finished all of these projects (thank goodness), and since they were from so long ago, I am not going to talk about them in detail.  I am; however, going to give a brief account of our summer. The weekend here was pretty rainy, so we weren't able to start on our deck.  It was nice to have another weekend to relax and not stress about getting stuff done.
1.  June 19 To-DoList
The M4M Mama Alexandria Swim Suit and the coordinating Mama Lola Cover-Up are finished, and they quickly became favorites!
It has been over two months since I posted anything, and I cannot remember what WIPs I was working on at that time.  I am happy to say, though that I have finished most of the projects on my list.  In addition, I was able to continue with the Mily Mae Fabrics promotions throughout the summer, as well.
I completed the photographs and post for the Sew Americana Blog Tour, and I thoroughly enjoyed the process again this year.
Finally, I finished unpacking, organizing, and cleaning the sewing room, including all the tubs of fabric I had stored in the attic of our shed.  Unfortunately, I have been crazy busy working on projects, so I haven't had a chance to get pictures of the room finished.  It's on my "do eventually" list.
2.  Our Crazy, Busy Summer
July and August were jam-packed with family, fun, work, home improvements, and even some not-so-fun stuff.  
Harley was home to visit twice – once for nearly two weeks (YAY!!!) and once for a week because she had to have her wisdom teeth out.  She is now down to just about six months left of school, and she cannot wait to be done and move home!  Emma was here for a weekend, and we really enjoyed getting to see her.  Terrance has been working construction this summer, and he has been working hard!  I am continually impressed with the work ethic and dedication he has.  Reagan experienced her first "real" job this summer, and I think she's really happy the summer is over. 
Todd and I were consumed with working on the house and trying to finish building our deck.  I am happy to say that we finished it on July 18th, and we have been able to enjoy spending time on it ever since!  Technically, we do still have to backfill it, till up, and replant our yard, but we're calling it done.  It was the last "BIG" house project we had, and we are looking forward to a few years without one to keep us busy.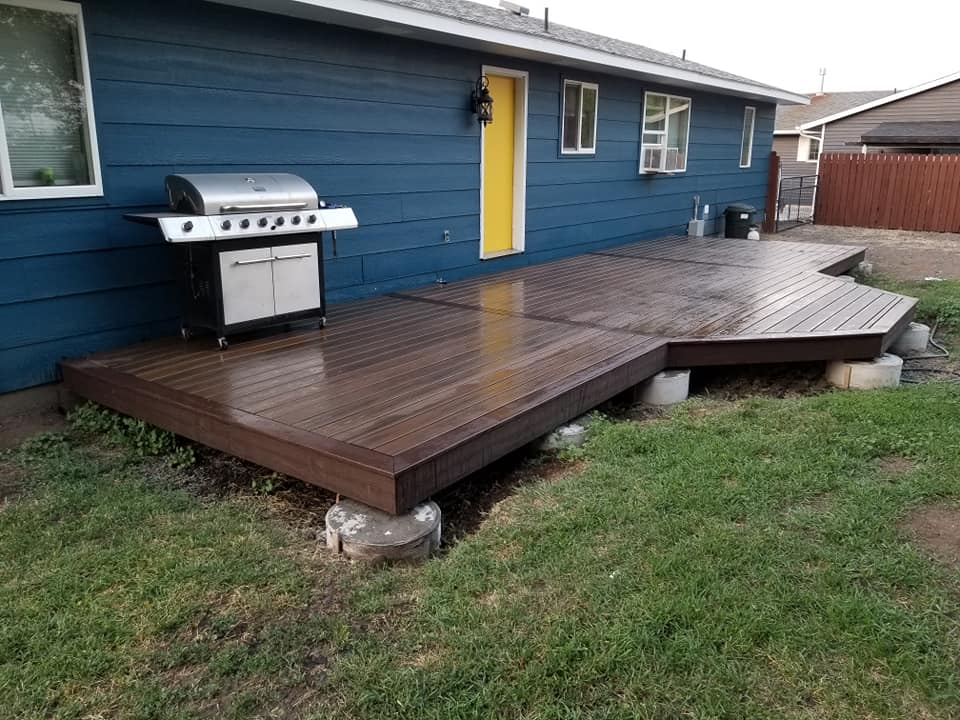 Any downtime I had was spent sewing or working in my sewing room, and I completed a lot of projects.  This first group of pictures is all Mily Mae Fabrics promotional sewing.  From left to right, Petite Stitchery Swanky Tank, George & Ginger Festival Freebie Skirt, P4P Sleeveless Favorite Tee, and a P4P Pumpkin Spice Dolman.
Virtual Baby Shower
If you remember from March, I was part of a virtual birthday party/maternity party for Amanda from Mily Mae Fabrics.  She has now had her beautiful new baby boy (he's just two days old), but we held a virtual baby shower for her the beginning of August.  I really wanted to make more for her, but I was only able to get these two done.
Baby Quilt
One of my most favorite people in the world (she's my extra daughter) had her second baby boy this summer, and I made him a quilt to go along with the one I made for Big Brother two years ago. Unfortunately, I'm an awful person, and it is still sitting in my car waiting to be mailed.  I must do it tomorrow!
Custom Fabric Strike Offs
I sewed a whole bunch of strike-offs for Vintage Lace Custom Fabrics this summer, as well.
Pattern Testing
From left to right by row: DIBY.Club Althea, M4M Mama Avery, M4M Mama Mya Update Short Sleeves and Tank, and M4M Mama Sierra Peplum Tank (2).
LARP Sewing
Todd and I both needed new costumes for our LARP event the end of August, so I got to work.  I made myself Peg Leg Leggings and a Timeless Tunic from Patterns for Pirates to go under my commercial pattern doublet.  Additionally, I made Todd's new doublet.
I completed the final big project of my summer over Labor Day Weekend.  I have no doubt that most of my winter clothing is not going to fit very well, so I spent the weekend sewing some new basic long sleeve t-shirts, a bomber jacket, three hoodies, and a poncho.  The hoodies and poncho cannot be shared yet because they are currently in testing; however, I can share the others.  The tees are all the Layer Me Up Shirt from Patterns for Pirates, and the jacket is the Go To Jacket from P4P, as well.
Wrap-Up
I am really happy with how many projects I made.  Just after we finished our deck, I did something to pinch a nerve in my neck, and I have been having issues with it since.  I am waiting for approval from my insurance for an MRI, but that's never a fast process.  Some days are really good, and some days are not.  I have a lot of numbness in different parts of my arm/hand, and I don't have any grip strength.  Hopefully, I will be able to get it all sorted out and fixed soon.
I am working on some current projects, and I hope to get back into blogging regularly.
This week's to-do list:
1.  Peek-A-Boo Patterns Pattern Test
2.  DIBY.Club Pattern Test
3.  Baby Shower Gift Project
What are you working on this week?
If you liked this, you may also like these posts.