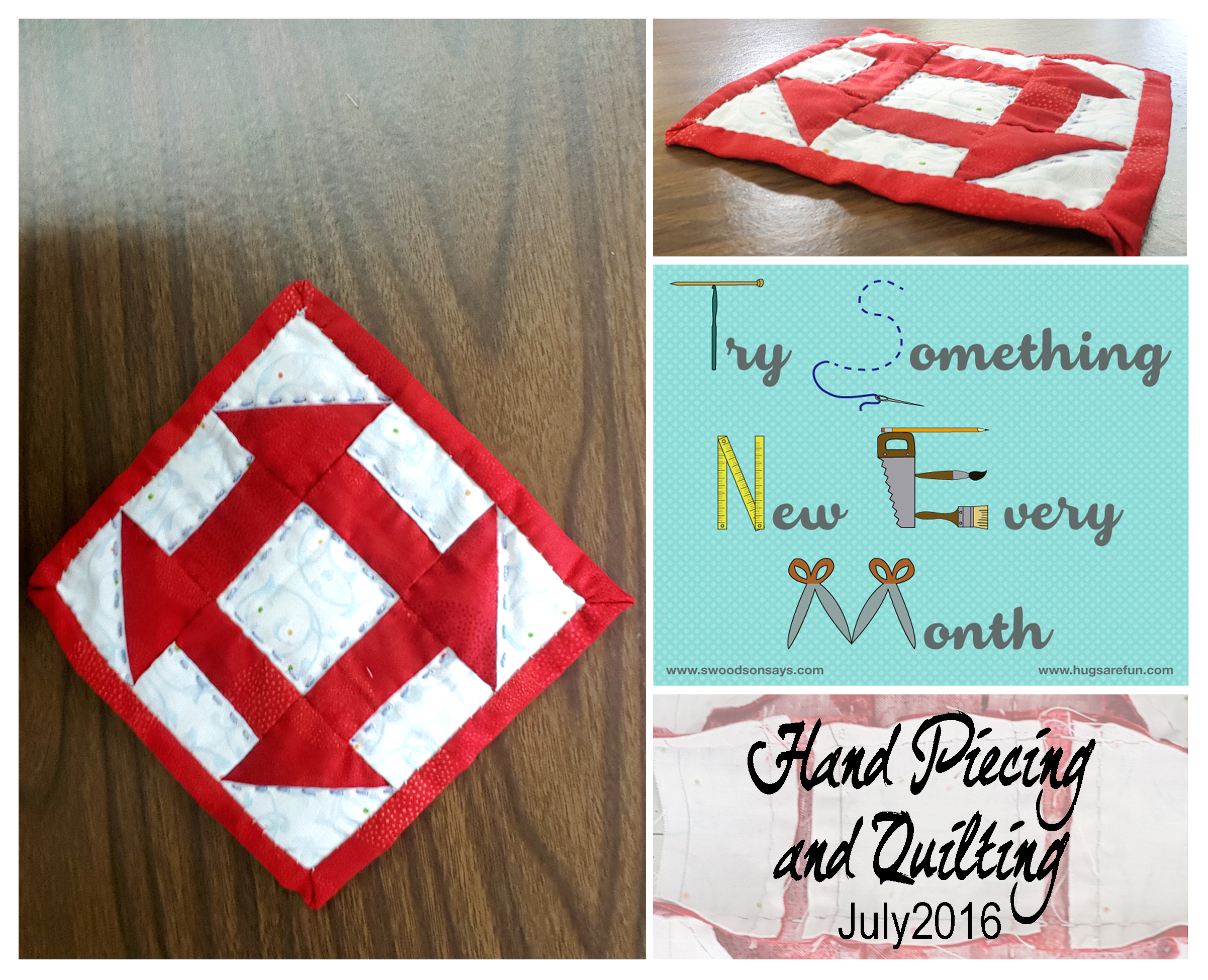 I ran across Stephanie's and Rebecca's co-hosted project, Try Something New Every Month (TSNEM) for 2016, last December.  I decided to participate because there are a lot of sewing techniques I have never tried and would like to.  You can read my original post talking about the project HERE.  The post that lists what projects I'm going to try each month can be read HERE.  This post is about Hand Piecing and Quilting – October's TSNEM Project.
To say I am a little behind on my TSNEM projects is a bit of an understatement.  August and September are both in process and will be finished soon (hopefully).  I decided rather than stressing myself out about getting all three done before the end of the moth, I would start with October and work backwards.
Hand Piecing and Quilting – October's TSNEM Project
I was really excited for this month's TSNEM because months ago I bookmarked this group of posts from Erin at Why Not Sew?, and I finally get to follow her tutorials!  Originally I was thinking I would make a block that I could turn into a pot-holder or something similar.  We need mug rugs for the house, so that is what I opted to make.
Piecing
I really like the look of the churn dash block, so I opted to follow the Churn Dash Tutorial on Erin's blog.  Erin's instructions were very detailed and easy to follow.  The first step was to cut all the pieces for the block.  After the pieces were cut, Erin provided instructions for where to draw seam lines.  Once I had all the seam lines marked, it was time to start piecing.  I wish I would have taken more pictures of this process.
For all the steps of piecing, I used a simple running stitch knotted at both ends.  I assembled the three rows of the block, and then I assembled the rows making sure I nested the seams to get really nice corners.
Quilting
After pressing the seams, I created a sandwich with batting and backing fabric.  I used the same fabric for the backing as I did for the main fabric (red) in the block).  I used an embroidery hoop to secure the sandwich and started quilting in the center square.  For the quilting, I stuck with a simple pattern of stitching on the white next to the red.  I used a blue thread that coordinated with the background fabric.
Binding
When I cut the background fabric, I had already decided that I wanted to use the "wrap around" binding method for the mug rugs.  I left about an inch extra around the edges, double folded them, and blind stitched it to the front of the block.  The only issue I have is that I wish I would have had red thread with me (I was away on a girls' scrapbooking weekend).  Some of my white stitches show on the red binding, but since it's going to be a mug rug, I don't really care.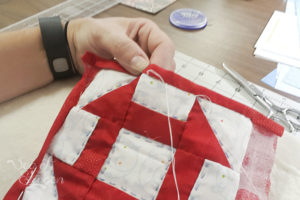 Finished!
After finishing the block, I realized it was a little big for a mug rug (6″ square), but it hasn't been washed yet.
Overall, I didn't hate the process of hand-piecing, but it is definitely not something I see myself getting into.  I have seven more cut out and ready to piece together – one more red, two gold, two green, and two blue.  The tediousness I felt while stitching this one is enough to deter me from piecing the others by hand, though I will still probably hand quilt them.
I am declaring the Hand Piecing and Quilting – October's TSNEM Project a success even though I didn't love it.  I was able to finish it on time, and I was able to finish it successfully.
Next month I will be working on creating a lace overlay.  I tried it once, when I tested the Peek-A-Boo Sun Kissed Tee Pattern and wrote a review.  My attempt was not very successful, though, and I want to try it again.  I have also been wanting to try Indigo Dyeing, so I may move the lace overlay to next year and try the dye process first.
Did you try anything new this month?
This TSENM project is my fourth finish on My Finish-A-Long Quarter 4 Project List.