Amy Hindman from Peek-A-Boo Pattern Shop has knocked it out of the park with another fantastic pattern!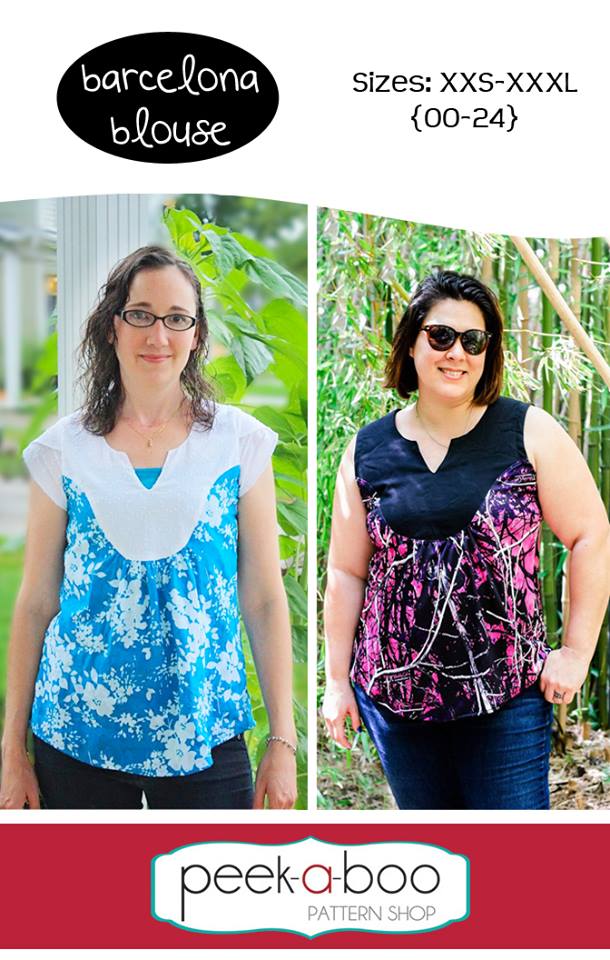 I was part of the testing group for the new Barcelona Blouse from  Peek-A-Boo Pattern Shop.  The blouse has two sleeve options – sleeveless and tulip sleeves.  I made the sleeveless version, but I plan on making one with sleeves soon, as well!
I tested the women's size large, and I did not have to make any adjustments to the pattern at all.  The pattern is drafted for the standard 5'5″ and I am 5'9, and the shirt is plenty long.  I made the large based on my measurements (I have a very large chest).  I did not grade to a medium through the waist and hips, but I still feel like the blouse fits and hangs just fine.
The Peek-A-Boo Barcelona Blouse is a perfect summer staple!  The first version I made from this blue/green diamond patterned quilting cotton.  I was teaching myself how to make piping when I made it, so I included some between the upper and lower bodice.  I also added the same color bias tape to the arm holes to add another bit of detail.
The second version I made out of a lightweight white satin with black double pinstripes.  I made the stripes horizontal on the upper bodice and vertical on the lower portion to add a little interest (and to avoid having to try to match those stripes – yikes!).  This version is light, airy, and feels like I'm wearing a camisole or something similar.
This blouse is versatile and can be worn to multiple places with different levels of formality.  I could very easily wear it with a pair of nice slacks for work, or dressed down with a pair of denim shorts, and it would look just as nice.
The Barcelona Blouse is very easy to put together.  You can print the pattern, tape it together, and have a completed blouse in an evening!
Head over to Peek-A-Boo Pattern Shop to get your own Barcelona Blouse you will not regret it, I promise!  Save 15% through end of day Friday (7/15).
Curious about other Peek-A-Boo patterns?
Check out Peek-A-Boo Sun Kissed Tee Pattern Review and Peek-A-Boo Bahama Mama Peplum Tankini
This is the first finish from my Finish-A-Long Quarter 3 Project List.
If you liked this, you may also like these posts.