Welcome to To Do Tuesday – November 28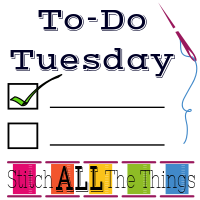 Christine at Stitch ALL The Things hosts To Do Tuesday.  TDT is a great weekly motivator to finish projects and (for me) to keep my To Do List manageable.
My list from November 21:
1.  Christmas Project Sewing
2.  M4M & P4P Holiday Testing
3.  Fun Projects
Wow, last week FLEW by!  Thanksgiving was wonderful for us, and we had a great time visiting family!  Todd, Reagan, and I had a great time at Harley's for a couple days.  It was great to spend time with her, and to just relax.  We got to see where she works, and we were treated to her "city driving".  It sure didn't take long for her to adapt. 😀  We came home Friday night, and spent Saturday celebrating with Todd's family.  Sunday we had dinner with my parents.  It was a perfect long weekend!
1.  Christmas Project Sewing
My list of Christmas Sewing projects is not large, and it won't take me very long to get through, especially once they are all cut out.  I am concentrating on getting these done sooner rather than later. 😉  Gosh I wish I could share without ruining surprises, but I'm having lots of fun with this!
2.  M4M & P4P Holiday Testing
The holiday project testing I am also doing for Made for Mermaids and Patterns for Pirates is so fun!  I can't wait to share them!
3.  Fun Projects
I don't know exactly what I mean by fun projects other than, "what I want to make in fabric I want to use."  I am working on using those fabrics through the rest of the year.  This weeks fun projects include two new Slim Fit Raglans from Patterns for Pirates.  The red fabric is called Ingrid, and it is Brushed DTY from Mily Mae Fabrics.  The Pirate Mermaid Sewing fabric is from Thread and Grain.  Unfortunately, both are currently out of stock.
Pattern Test Shares
I don't have any pattern tests to share right now, but I do have some fabric strike-off sewing to share.
1.  I sewed some fabulous strike-offs for the Vintage Lace Prints Broadway Pre-Order, and I wrote a blog post about it.
My to-do list for this week is short and sweet!
1.  Christmas Project Sewing
2.  M4M & P4P Holiday Testing
3.  Fun Projects
What are you working on this week?
If you liked this, you may also like these posts.