Dinner for Eight – Poland Style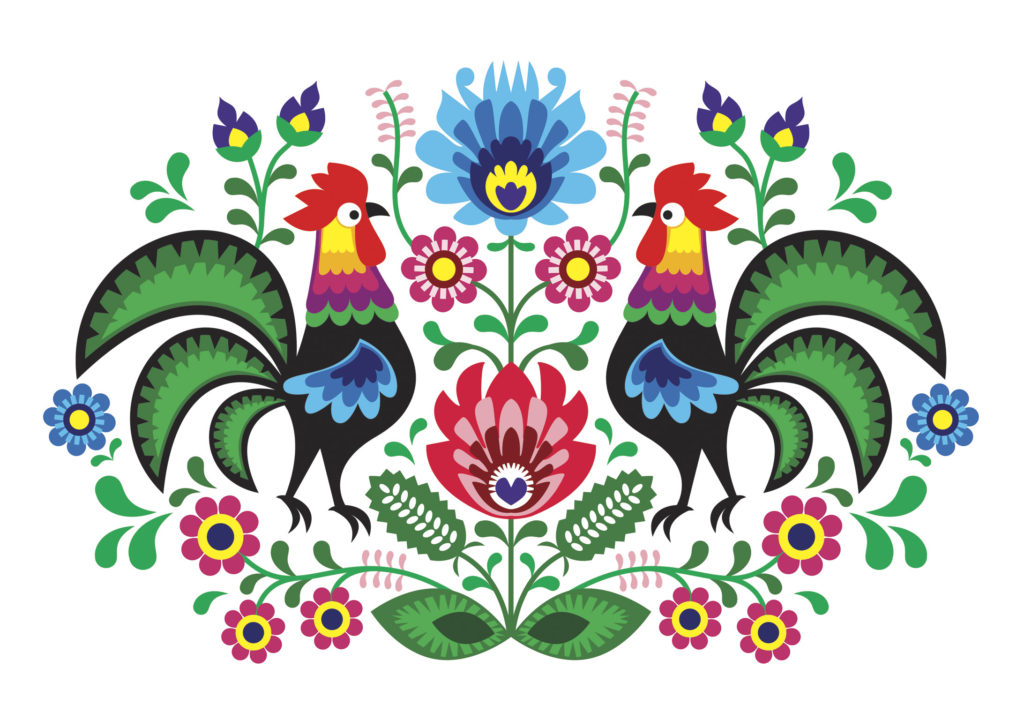 Todd and I belong to a group with three other couples called Dinner for Eight.  Each couple fixes dinner once per year, and it works out that we meet about quarterly.  This is the first year we have done it, and we had a great time.  It was successful enough that we are continuing next year.  The other meals cooked last year were Italian, Greek, and a "harvest" meal.  Todd and I had the last quarter this year, and we chose to make a Polish meal.  We spent months planning and finalizing the menu with my sister, Erika, who lived in Poland for many years.  In the end, we made ten dishes – including appetizers and dessert.  Continue Reading for more about Dinner for Eight – Poland.
Fair warning – this is going to be a LONG post!  I am including pictures from our prep work, recipes, and traditions.
The Prep
When Todd and I started working on this dinner, we immediately talked to my sister.  Not only did she live in Poland for years, but Erika is an amazing cook and makes Polish food on a regular basis.  We chose dishes that Erika would be able to help us with even from a distance (she lives about 5 hours away).  About a week before we hosted our dinner, we had a trial run of the dishes to get timing down and make sure we knew what we were doing.
The kids liked just about everything and the majority vote was that we include a lot of these foods on our regular menu.
The Menu
I made double-sided menu cards for each place setting.  The top side of the card was in Polish, and the back side of the card was in English.  We printed the menu cards on silver metallic paper and put one at each person's seat at the table along with the Traditions (more on that later).  I am linking each of the recipes in the descriptions below.  Click HERE to see the Menu.
Przystawka – Appetizers
We served coldcuts, cheese, and Swiezy Chleb Kartoflany (Light Potato Bread).  We also had coffee and tea available.
Salatka – Salads
The salad course included Mizeria (Cucucmber Salad) and Surowka Z Polatej Kapusty (Cole Slaw).  Polish cole slaw is different that what Americans are used to in that it is not creamy and is much spicier.  In addition to the coffee and tea, we also included Miod (Mead) with our meal.  I was fortunate to find a mead made here in Oregon, which was really nice!
The cucumber salad is very popular, and I can remember eating it nearly every place we went when I visited Erika.  Legend has it this dish was a favorite of Queen Bona Sforza, an Italian princess who married Polish King Sigismund I in the 16th century. Homesick for her native Italy where cucumbers were common, every time she ate it, it made her cry. Hence the Polish word for "misery," derived from the Latin.
Zupa – Soups
You simply cannot have a Polish meal without serving Barszci Uszka (Borscht)!  This easy clear red beet soup recipe gets the desired hint of sourness from lemon juice or vinegar and is great eaten hot with boiled potatoes or cold with rye bread. This soup is often served with mushroom uszka ("little ear" dumplings) for Polish Christmas Eve dinner known as wigilia, when it is known as barszcz wigilijny.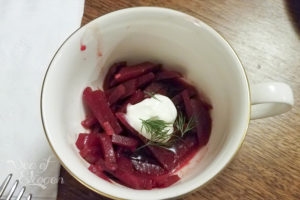 The other soup we served was Zupa Grzybowa (Wild Mushroom Soup).  This traditional hearty meatless soup is a national culinary treasure. Mushroom hunters who seek out borowiki mushrooms in fall, dry them for use year-round. The soup combines dried, reconstituted mushrooms, stock, and barley, and it is finished with sour cream just before serving.
Living in Portland gives Erika access to many ethnic delicatessens, including a Polish one that is open two days a week.  She was able to purchase some Pivo (beer) and Ser Biały (farmer's cheese) for use to use, as well.  The beer, Okocim Brewery, is one I drank in Poland, and it is very smooth!  I do say, though, now that I've had it chilled at home, I much prefer it that way to the room temperature service in Poland.

Danie Glowne – Entree
We served several items our our Entree course, each of which I ate multiple times when I visited Erika.  In addition to the dishes, we made Krupnik (Honey Spiced Vodka) to serve with the main course.  It is a sweet liqueur that is meant for sipping, not drinking like a shot.  I purchased Luksusowa, which is a Polish potato vodka at our local liquor store.  Win!
Gołabki (Cabbage Rolls) is common in Polish cuisine made from lightly soft-boiled cabbage leaves wrapped around minced pork or beef, chopped onions, and rice or barley, which are baked in a casserole dish and are served with a creamy sauce.
Kotlet Schabowy (Breaded Pork Cutlet) Polish variety of cutlet coated with breadcrumbs or flour similar to Viennese schnitzel, but made of pork tenderloin, or with pork chop.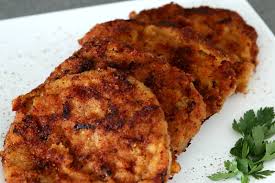 Pierogi (Dumplings) are made by wrapping pockets of unleavened dough around a savory or sweet filling and cooking them in boiling water followed by frying in butter or oil. Typical fillings include potato, sauerkraut, ground meat, cheese, and fruits. The dumplings may be served with a topping, such as melted butter, sour cream, or fried onion, or combinations of those ingredients.  We filled our pierogi with a mixture of mashed potatoes and farmer's cheese and served them with sour cream and bacon bits.
Deser – Desserts
This is my favorite part!!!  For dessert, we served Pierniki (Gingerbread Cookies) and Kremowka Papieska (Papal Cream Cake).  The Polish city of Toruń (where Erika lived) has been famous for its gingerbread cookies and cakes since the Middle Ages. The cookies were originally baked in intricately carved wooden molds but today are more often cut into rounds or the shapes of St. Nicholas, hearts and other fanciful designs.
During a visit to his old home town, Wadowice, in 1999, Pope John Paul II mentioned casually how fond he was of the cream cake that he and his school friends had often pooled their funds to buy from a baker in the town's market square. More or less inevitably, kremówka was suddenly rebranded Kremówka papieska, the "Papal Cream Cake".  I think it's probably a really good thing that I don't *love* being in the kitchen because I would be making and eating the cream cake all the time!  I love it!
Traditions
Todd and I decided to incorporate some Polish customs and traditions at our meal since it was so close to Christmas.  These were also printed on silver paper, and we put one at each person's plate for reading.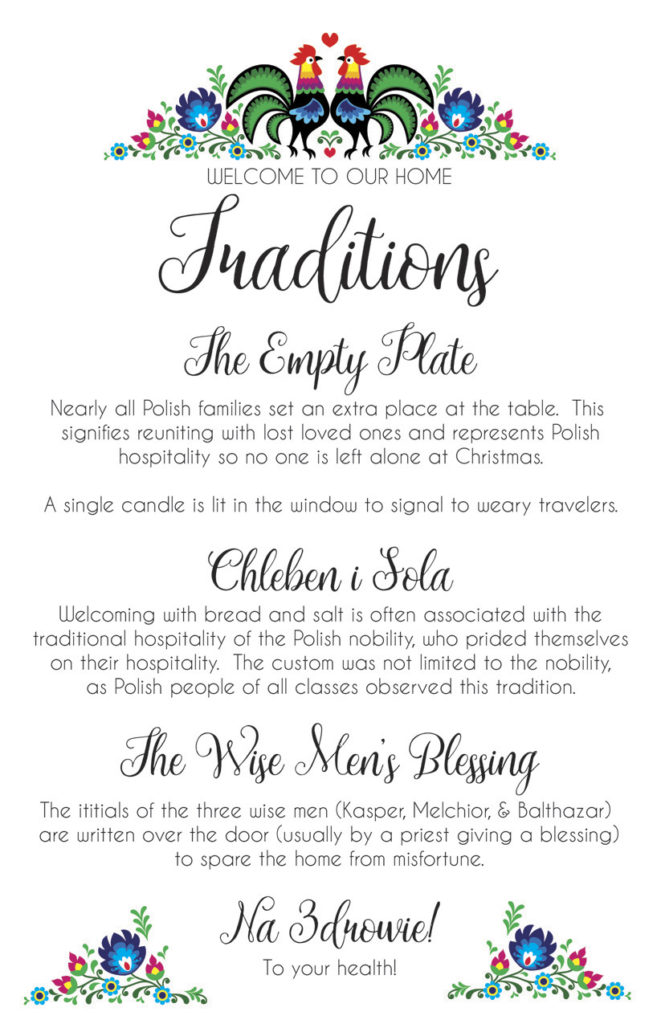 I think my favorite is the empty plate and the candle in the window.  Imagine being welcomed into a home of strangers for a meal and companionship just because they made room for a stranger.  I love the idea!
The Table
Finally, I wanted to include pictures of our table because it was so beautiful!  The joke among our group is that everyone buys new dishes before they host – which is true, but for good reason.  For example, our first hosts, Chris and Amanda, had a mish-mash of dishes and Amanda didn't think they had enough for every one, so they got new ones.  In our case, the dishes we had been using (the Southwestern pattern in the pierogi picture above) has been mine for 23 years, and this was a good opportunity to purchase something Todd and I both loved.
Each of the beer steins belong to my dad, and they are from our trip to Poland to see Erika in 1997.  I purchased the nesting dolls during our trip, as well.  One of the clear leaded crystal bowls belongs to me, and the other one is my parents'.  We were able to purchase them directly from the factory through one of Erika's friends.  The painted eggs belong to my mom, and you can read more about the history of them HERE.
The Wrap-Up
I feel like this post has gone on for ages, but I couldn't find a logical way to break it up into smaller bits.  Plus, I wanted to get it written and shared because we are so happy with how well it went.  We held our dinner on Saturday, December 10th, but we started the prep work the Thursday before.  It is a good thing we did the prep work because we were still scrambling to get everything done when our friends started arriving.  If I had to summarize our meal, other than it being Polish, I would say it was a treat in winter-ready comfort food.  It was truly delicious!
Have you tried making anything out of your comfort zone lately?
I had a great helper in the kitchen. 😉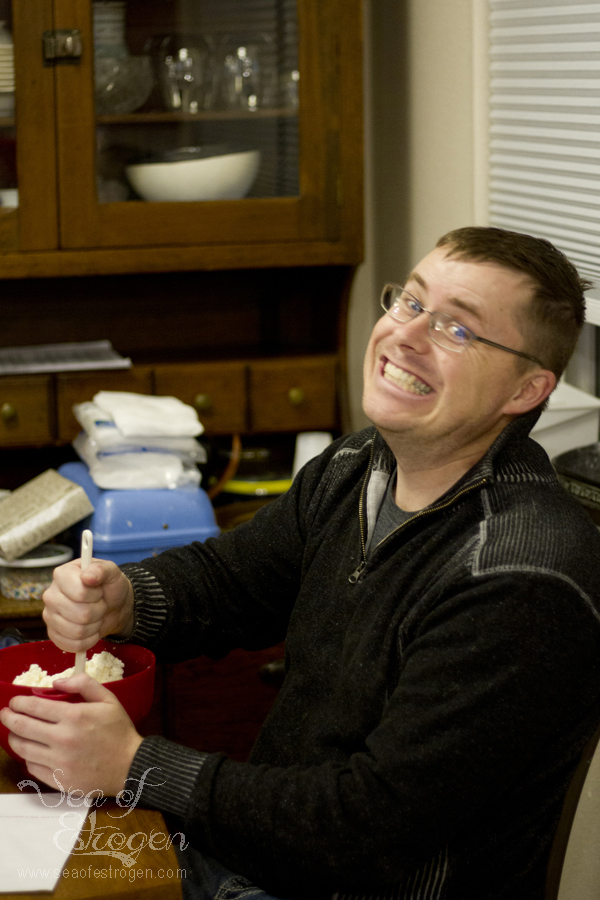 If you liked this, you may also like these posts.