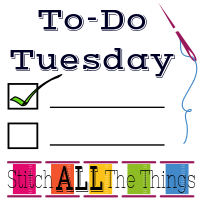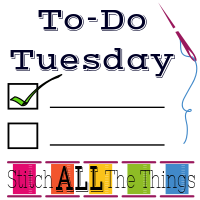 After several weeks of being too busy to get much sewing and crafting done, I finally had time to work on some projects this week!  I did end up rearranging my To-Do List for this week, and I added some items that were higher priority than what I was trying to work on.  It's time for another To Do Tuesday over at Stitch All The Things!
Last week's list:
1.  Quilting Class Quilt
2.  Red Damask LARP Tunic
3.  By Hand London Flora Dress
4.  TSNEM:  Making & Using Piping
5.  Dress Pattern Testing
1.  Quilting Class Quilt – The class I took was a quilting for beginners class, but I learned a lot of helpful tips and shortcuts!  The class focused on 4-patch, 9-patch, and half square triangles and all the different block variations that can be made with those simple blocks.  I was going to put off this quilt until later in the summer, but a dear girl I know and her husband just had their first baby – he is 11 weeks early, and I want to send her something to love on and snuggle him with during their long days in the NICU.  I didn't get any cutting or piecing done on this quilt, but I do have all the fabric pulled and ready to go.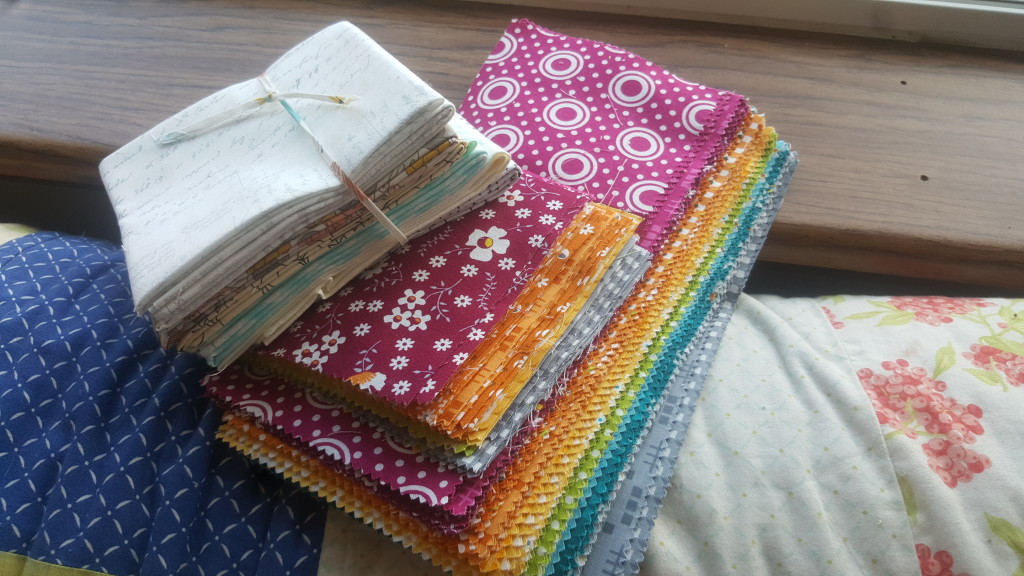 2.  Red Damask LARP Tunic – UGH.  I have had this tunic and matching cloak cut out for two months just waiting to be sewn together, and I FINALLY had time to work on it over the weekend.  I was able to get the entire top put together (it fit wonderfully) and started on the lined skirt, and that is where it all went wrong.  Unfortunately, I did not pay attention when I was cutting out the skirt pieces, and I did NOT reverse the pattern when I cut out the second piece.  I ended up with two right side skirt panels instead of a right and a left.  Todd bought the fabric for me as a gift when our LQS went out of business a few months ago, and I cannot get more.  Unfortunately, the tunic part of this project is not salvageable, and I had to throw it away.  I nearly cried when I realized what I had done because I love the fabric!  Fortunately, though, the cloak pieces were cut out correctly, and I was at least able to finish that.  Thank goodness!  Incidentally, this is my twelfth finish for the Quarter 2 Finish-A-Long being held by Clover & Violet.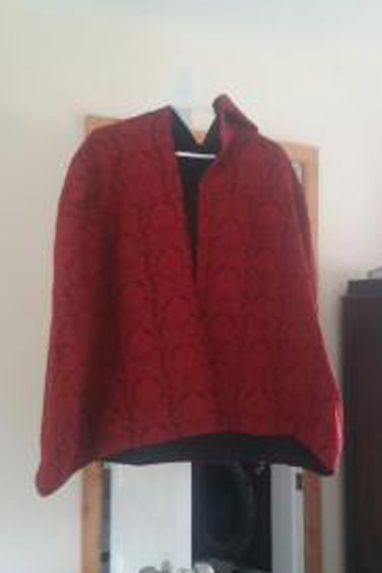 3.  By Hand London Flora Dress – Harley asked me to make her the Flora Dress from By Hand London, and she wants to be able to wear it for some of her senior pictures this summer.  I haven't started sewing it together yet, but it is next on my list to start putting together since the LARP Tunic was a flop.  I helped Harley layout the fabric and pattern, and she got the whole dress and lining cut out Sunday morning.  I plan on starting it tonight, and it looks like an easy enough sew (only four pattern pieces) that I might be able to get it all done tonight.  Cross your fingers.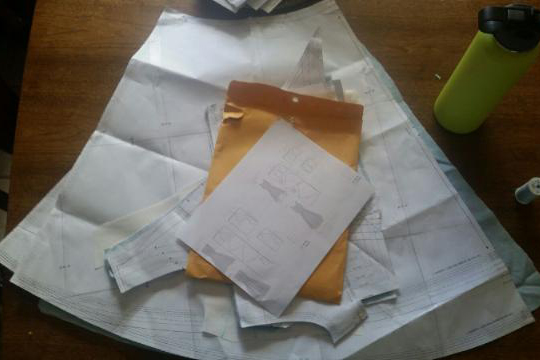 4.  TSNEM:  Making & Using Piping – I haven't started this project yet, but the pattern I am going to be testing this next week will be perfect with some nice accent piping!
5.  Dress Pattern Testing – I can't say much about the pattern yet because it hasn't been released, but I have started testing a dress pattern that has several waist options (high, mid, low), several sleeve options, and multiple length options, as well.  I have the pattern printed, taped, and cut out, and I will be sewing the top up this week.  This is actually a pattern re-release, so we are just testing the fitting of the changes.
I am really happy with everything I got done this week, even though I had to completely trash one project!  After I roll over the incomplete items from this week and add the new pattern I will be testing, I have five things to finish.
1.  Quilting Class Quilt
2.  By Hand London Flora Dress
3.  Dress Pattern Testing
4.  TSNEM:  Making & Using Piping
5.  Swing Top and Dress Pattern Testing
What do you have planned this week?
Linking up with To Do Tuesday at Stitch All The Things!
If you liked this, you may also like these posts.