Well, I did it!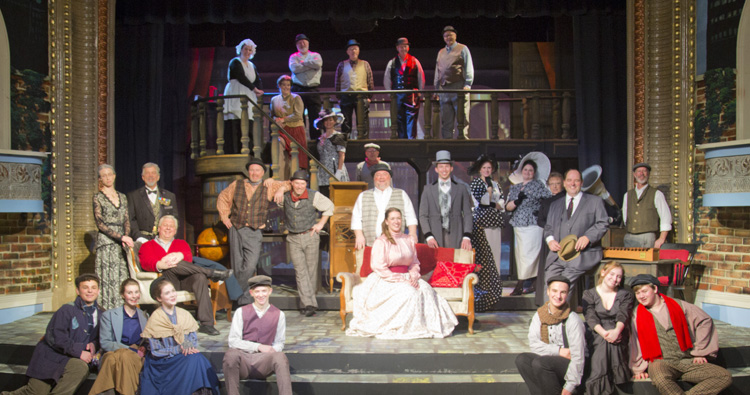 I really did it!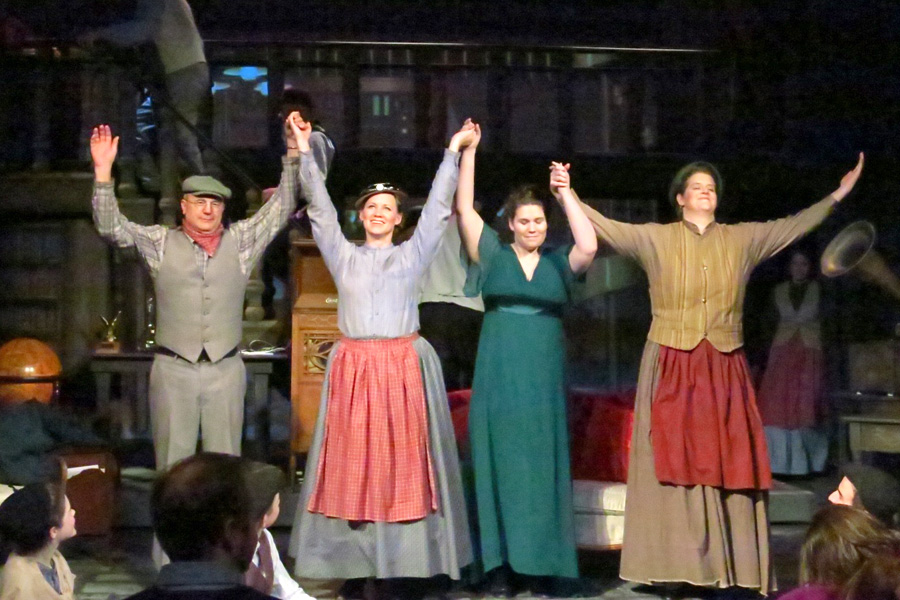 If you follow along, you may remember me talking about BREAKING OUT of my shell and trying something completely out of my comfort zone – I auditioned for our local Opera House production of My Fair Lady.  At the time I wrote the post, I didn't even know if I got a part, I was just so thrilled to have done something outside my comfort zone that I was calling it a success. I did end up getting a part, in fact, I played Lady Boxington (not really a speaking role), and I had a somewhat large part in the chorus.  In hindsight, I am so happy I made the decision to audition.
We started rehearsing in November, and worked a couple of times a week until after Christmas and New Year.  From that point on, we rehearsed nearly every week-day evening and Saturdays.  The show opened February 19th, and it ran for a full month.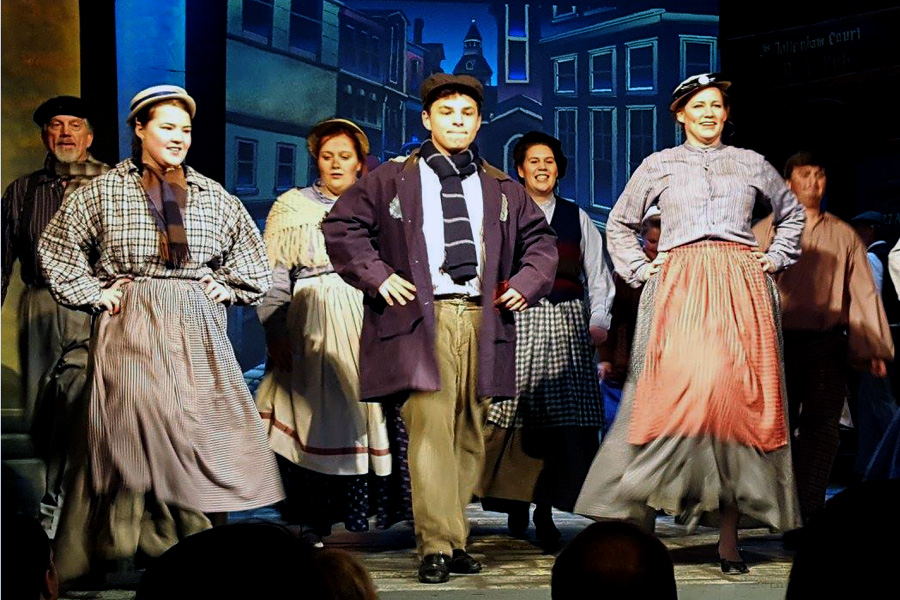 One of the best parts about being in the show was getting to hang out with this girl.  Reagan was in Annie this past fall, and she came alive – we have finally found her "thing".  She likes sports, but she's just not as crazy about them as her older sisters.  With theater, though, it was like watching a flower blossom in fast forward – the energy, passion, and love she has for all things theater related is amazing!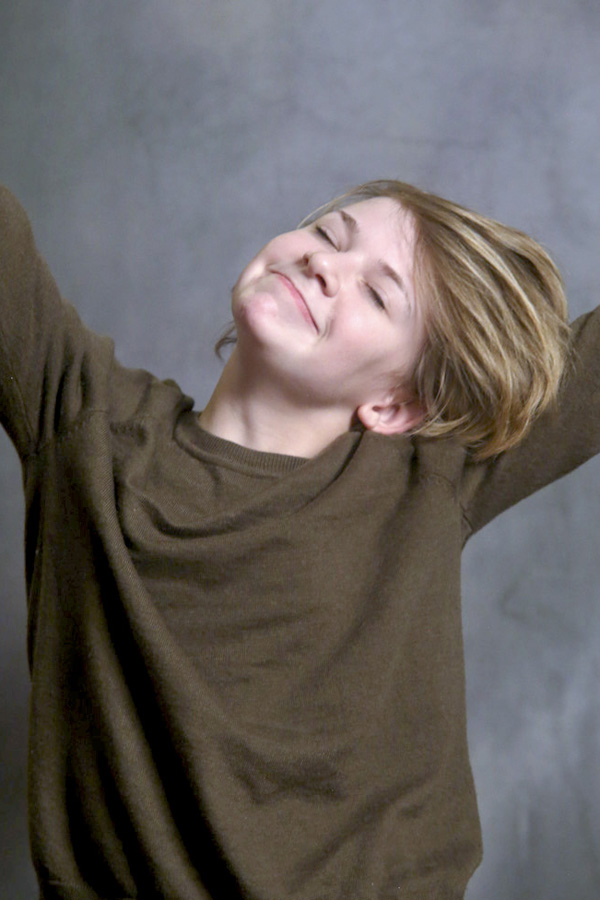 My Fair Lady was not really a "kid" friendly show, so she was made the offer to learn how and run the spotlight for the show.  She attended every rehearsal the last two weeks prior to opening night and learned how to run the spotlight along with where all her cues were (there were a lot of them), and then she attended every performance and rocked the spot!  I am so proud of her for trying something new and for having the maturity to be trusted with such an important job!
I was very lucky to meet and work with some amazing people during this show, but there is one person who is my sister from another mister.  Margaret and I are so very much alike, we frequently caused one or the other of us to break out in uncontrollable giggles, and I am positive that if we ever do a show together again, the director will make sure to keep us separated.  We are the trouble makers, the clowns, the over-the-top girls.  She is one of the kindest, most sincere people I have met in a long time, and I am thankful for her friendship.  For some reason, we started taking selfies before each show, and I have a ton – these are just a few of my favorites with our head shots thrown in for good measure.
I also took on the role of Assistant Stage Manager for this show, and I had a great time working with the Stage Manager, Anjee, and learning about all the "behind the scenes" stuff that has to get done.  I always had a hat on, so I couldn't wear my headset normal.  It made me feel like I was constantly fumbling, but I made it work!
This post is picture heavy, I know, but I had a really hard time narrowing down what to share.  Enjoy the rest of the images!
Some of these images are ones I took with my phone, but the majority were provided by Brent Clapp who played Henry Higgins, and Jay and April VanTassel who are HUGE supporters of the theater community in Union County.  I have them to thank for preserving all these wonderful memories!
Finally, I have to thank my family for putting up with crazy rehearsal schedules and a general lack of presence by me for the past four months or so.  Todd came opening night to support me.  Then, my entire family – Todd, Mom, Dad, Harley, Emma, and Emma's sister Shayna all came closing night.  It was wonderful to have them there, and to have the girls see that you're never too old to try something new.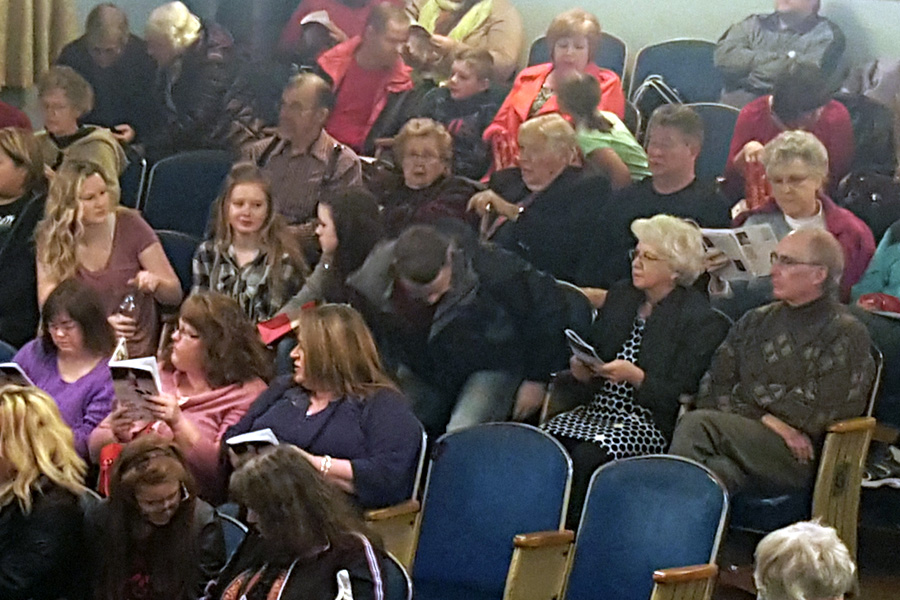 I snuck this picture of them from between the curtains of one of the box seats.
If you liked this, you may also like these posts.