Summer is coming!
At least that's what I hear, but I live in the Pacific NW where the sun will peep through randomly until July and then blaze beautifully for a full 2 weeks. Because there is a prospect of summer, and maybe a vacation to some actual sun-soaked destination, I needed to prep some tank tops. After perusing my patterns for inspiration, I realized I gravitate toward racerback style tank tops and decided I would pick some of the ones I have made and do a compare-and-contrast post! Fun! Fun? Just me?
One thing I love about tank tops in general is that they are super easy to layer: you don't have to worry about slipping on a cardigan and having that annoying bunching along the upper arms and shoulders that can happen with a short sleeve shirt. They can be worn as a sleep shirt in the summer (my daughter's favorite), as a light top during the summer and as a great base layer for all the other seasons. I wear a tank under my scrubs because my scrub tops aren't long enough and a tank underneath is cool enough that I don't get overheated. I can also make it long enough to give me more comfortable coverage.
Note: all fabrics are from Mily Mae Fabrics (with the exception of the black floral Althea). Not all are still in stock, but the owner, Amanda, absolutely nails it with the fabrics she stocks. Check it out, you will not be disappointed!
Made for Mermaids Mya
Let's get down to business! One of my absolute favorite patterns is Mya from Made for Mermaids. I love this top for several reasons: there are so many options for neckline, hemline, shirt, dress and tank and I don't have to grade for my hips, which is unheard of given my pear shape! For some reason I hadn't made the tank version until recently: I had to coordinate with my dad for his 70 th birthday! I really love the racerback version of this pattern: the bands are spot-on, the neckline is flattering and, again, I DIDN'T HAVE TO GRADE! This was a win, and I have a few more planned.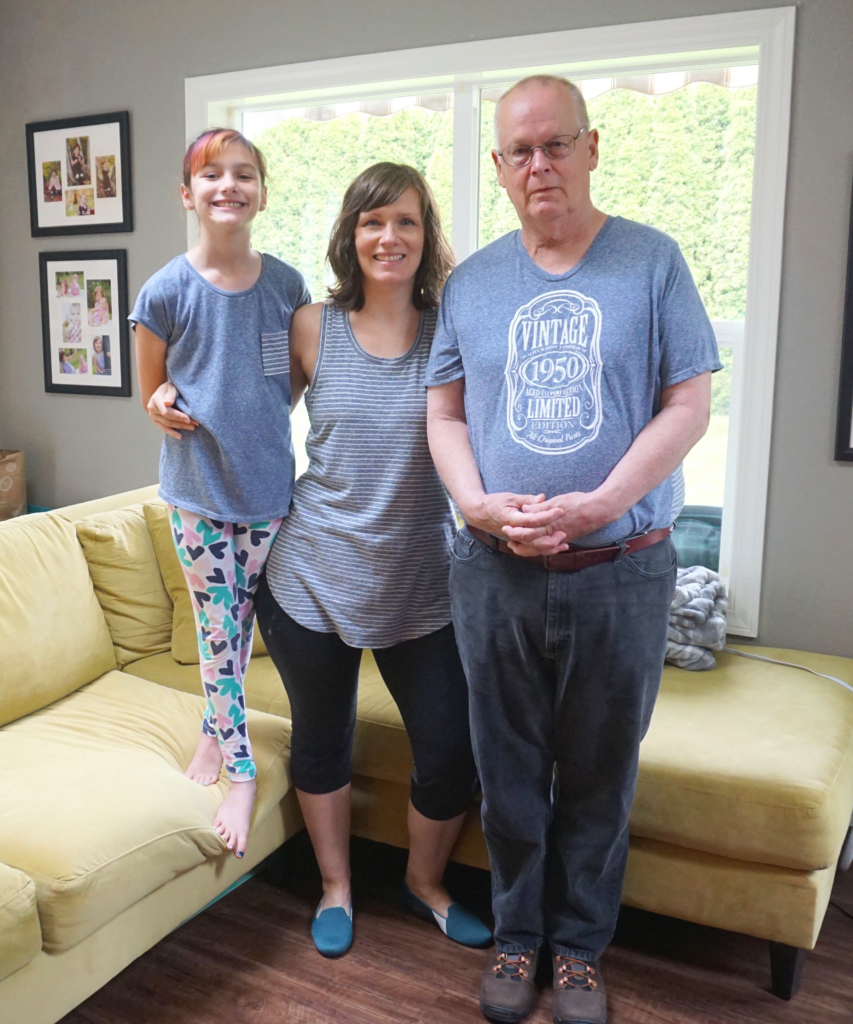 DIBY Club Althea Racerback
DIBY Club's Althea Racerback tank is a pattern I tested and I made two versions during testing: a high scoop tulip back and a plain back hooded version. It's hard for me to tone down my infinite love and adoration for this pattern because it may be the BEST fitting tank I have ever made and no matter the fabric (I have made it in 5 different fabrics) it is always so good.
I always get compliments on the neckline from my sewing friends when I wear these because the pattern is just dialed-in so well. There's also a two piece plain back version that has a built-in sway back and, for my body type, it feels the most flattering. I don't get the bunching at the top of my hips like I do with other patterns. The tulip back is also very flattering to my shape and I reach for it often.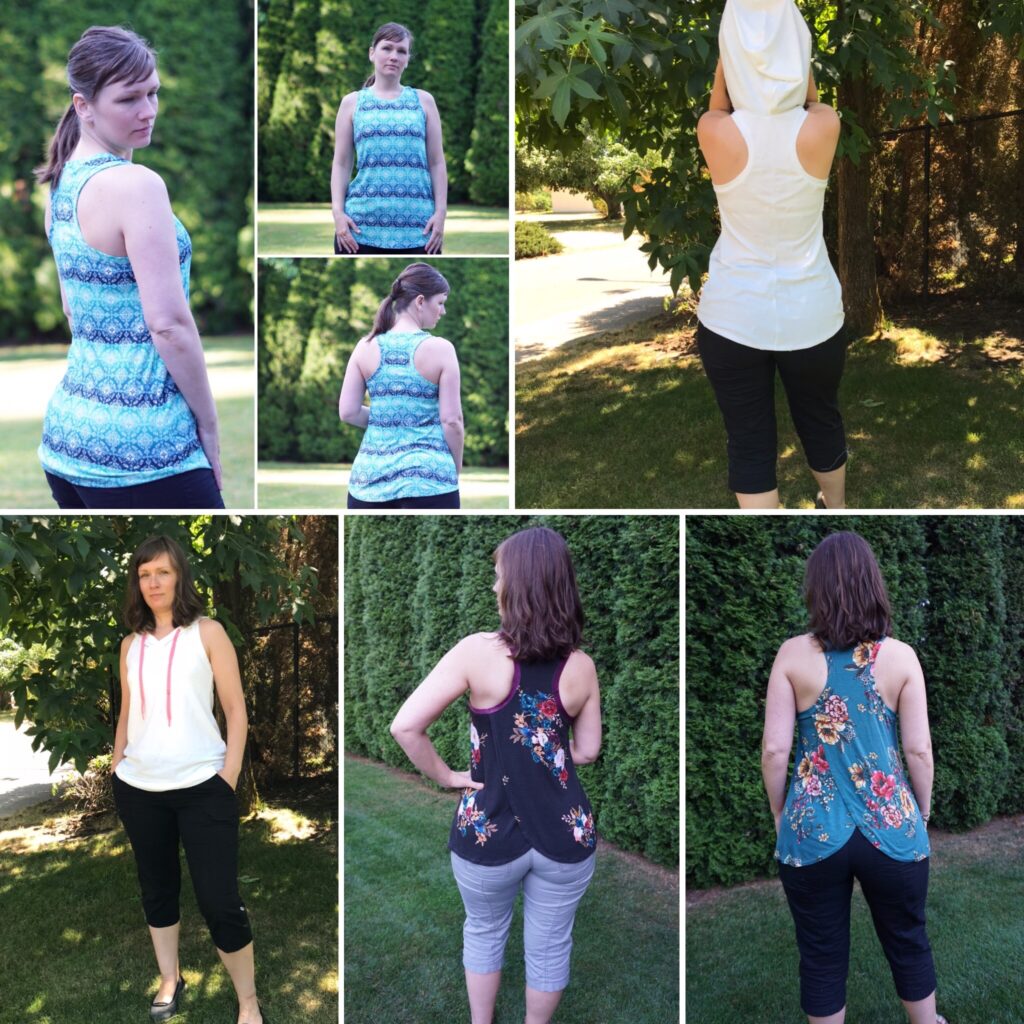 New Horizons Maui Tank & Cami
A more form-fitting tank, the Maui Tank & Cami (New Horizons) also made the comparison list. One of the draws for this pattern is the myriad options: built-in shelf bra, regular back, racerback, cami, ruching on the front. I love a pattern that has a lot of options to maximize my sewing dollars! Admittedly I did not make this pattern for myself, but I did make two for my daughter and she loves them. The bands on these, and the fit of the pattern were very true to sizing.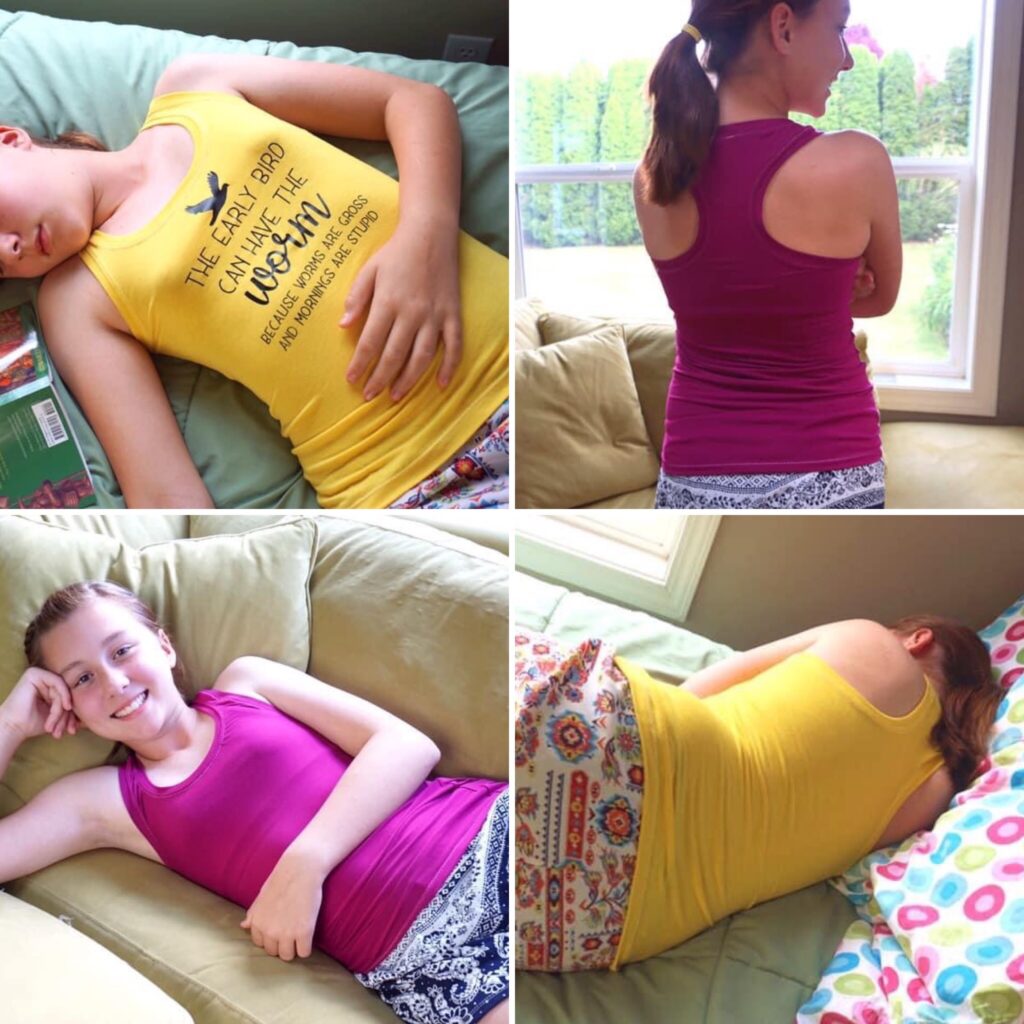 Sinclair Patterns Rio Racerback
Sinclair Patterns has a relatively new release called the Rio Racerback, which I tested. I was excited to test this one because, having tested for Sinclair in the past, I know the attention to detail is there and the quality is high. Plus I needed a new tank top in a rayon spandex I really love! This pattern uses binding and has an interesting way of doing the curved hem with a facing piece and attaching that, flipping it over and topstitching.
In addition, there is an option to colorblock the top front, and it really looks great on all the versions I have seen! For a tank that, to me, has a pretty casual look, I feel like the binding and the involved curved hem technique was too time-consuming. The second and third versions I made (for my daughter, the yellow rib and blue rayon spandex) I modified it to have bands and a regular hem and it turned out great.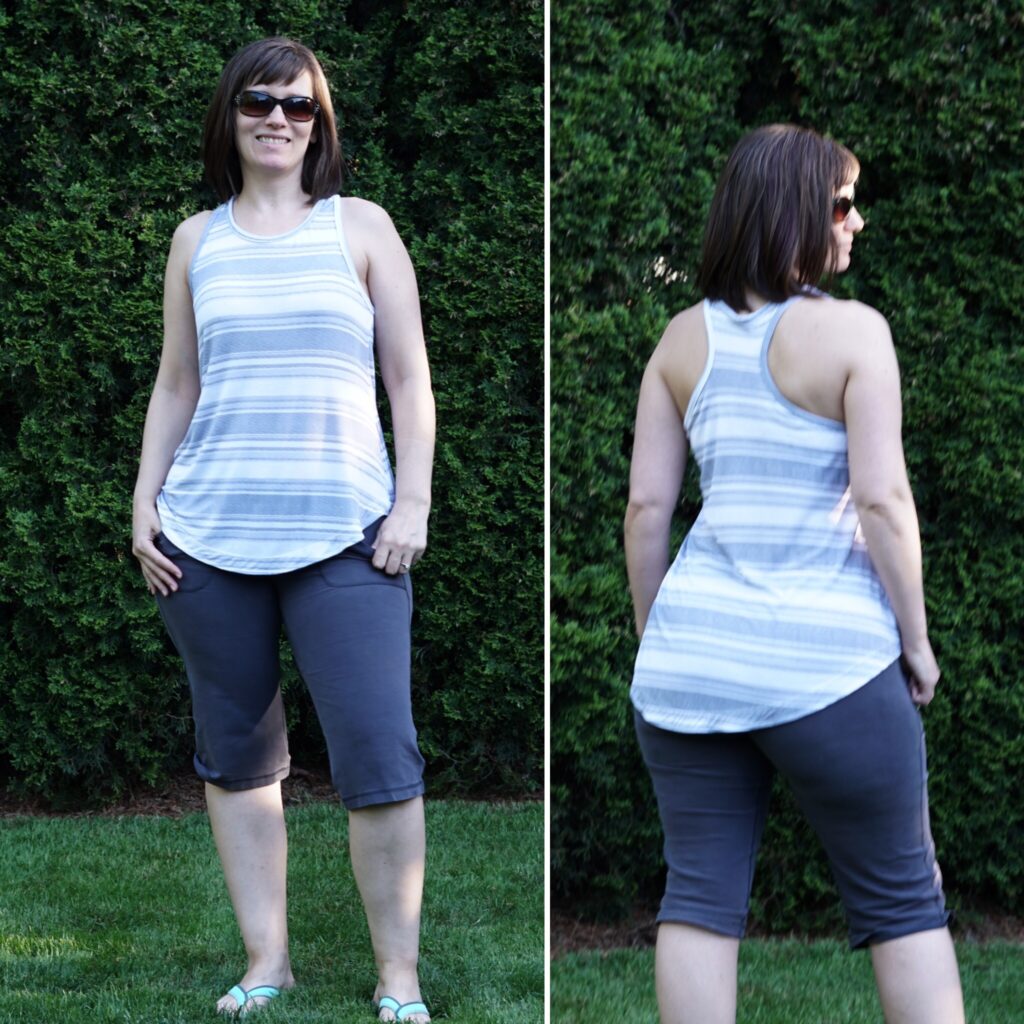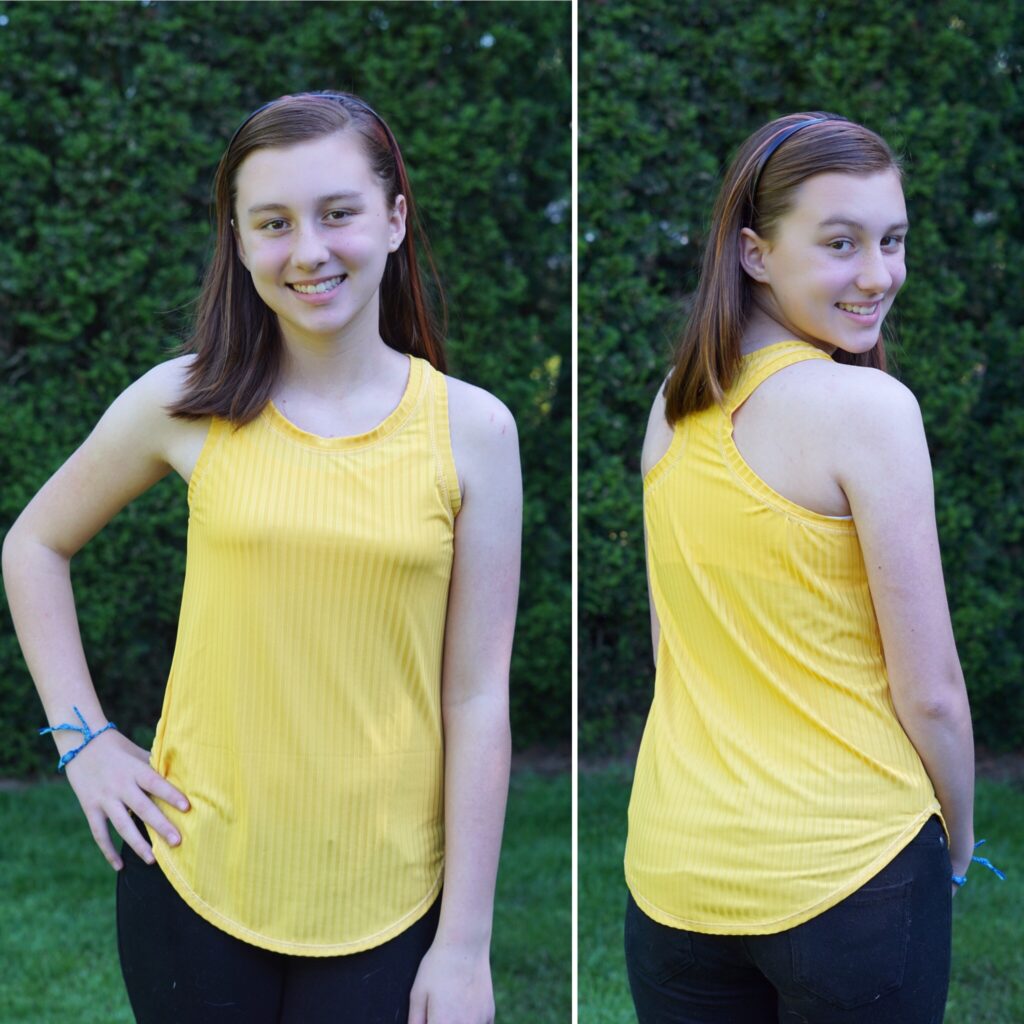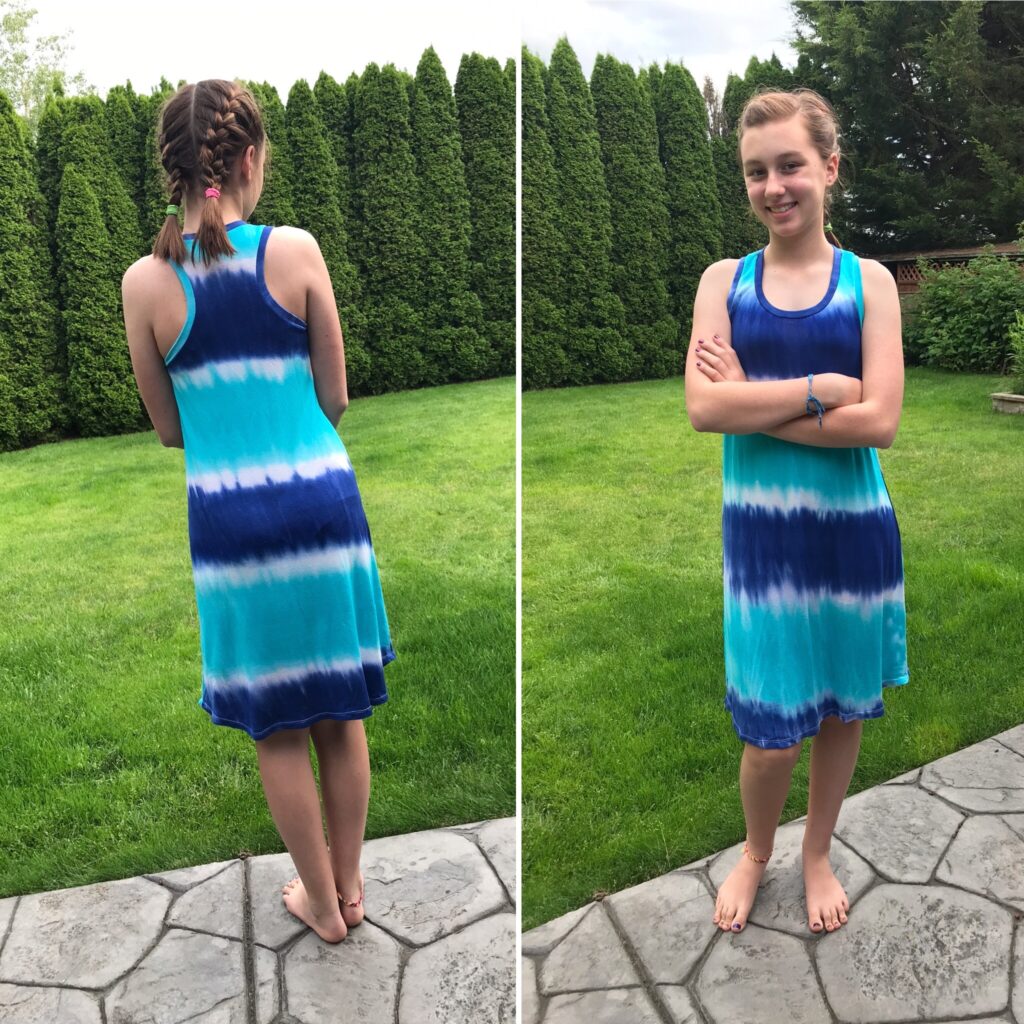 Patterns for Pirates Essential Tank
After seeing that Patterns for Pirates was updating the Essential Tank, which I hadn't made for a few years, I decided to add it to the comparison.
The first one I made had some bunching along the shoulder seams which I figured was my lack of sewing experience at the time, and although the updated pattern did lengthen the bands I still had a bit of bunching in the adult version. In addition to the adult pattern, a youth pattern was added and I feel that the trick to this one is using a very drapy fabric to minimize bunching at the shoulder seams. I have to say, though, I absolutely LOVE the options for length on this pattern: it offers maxi, dress, tunic and shirt lengths and both straight and curved hems!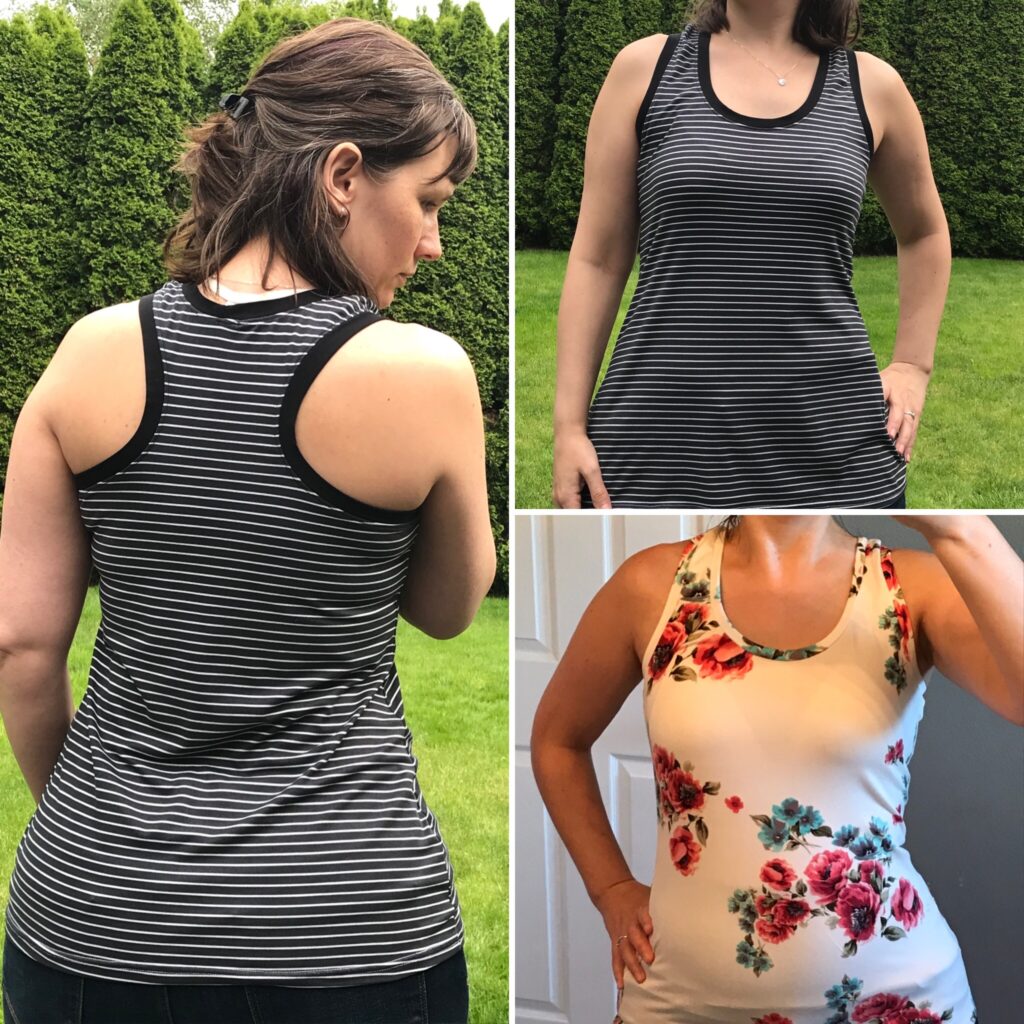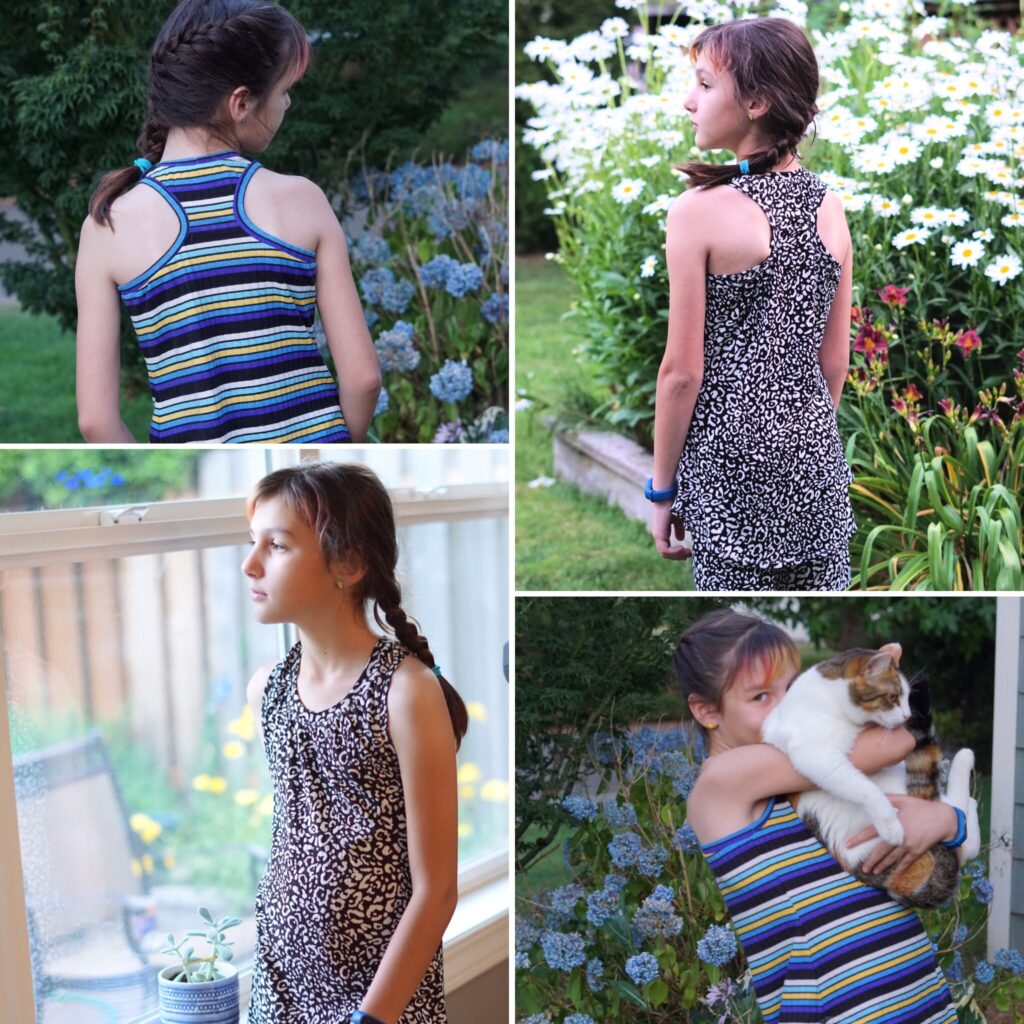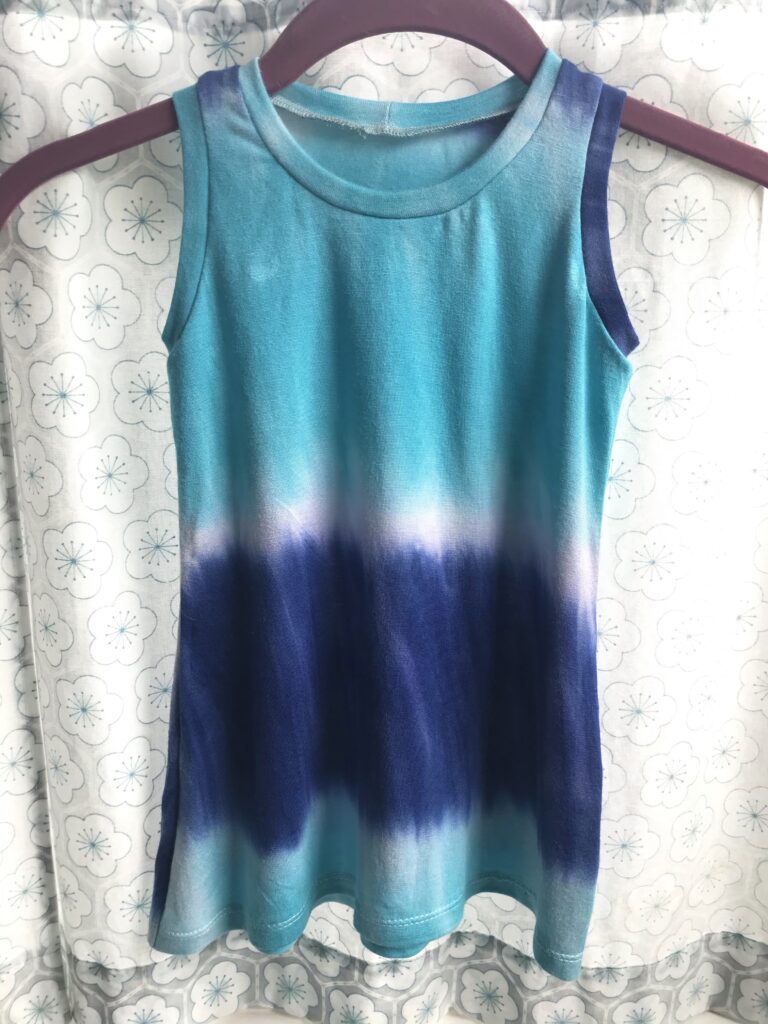 All of these patterns are great, and I love them all for different reasons. My favorite, however, is the DIBY Club Althea; it just fits my body the best and I reach for it all the time!
The following tables break down the options each pattern offers for ease of comparison:
| Mya | Made for Mermaids |
| --- | --- |
| Bands or binding | Bands |
| Neckline | High crew neck, low scoop neck or a cowl neck |
| Hemline | Straight hem, curved hem |
| Extras | Full pattern: Tank, short sleeve, ¾ sleeve, long sleeve shirt or dress, kids pattern (separate) |
| Sizing | Grey-Red (Bust 30"-51") |
| Price | $10 |
| File Type | US paper, A4, A0 |
Rio Racerback
Sinclair
Bands or binding
Binding
Neckline
High scoop
Hemline
Curved
Extras
Colorblocked front, dress option
Sizing
XXS-4XL PETITE 152-160 cm /5 1" – 5 3"
REGULAR 162-170 cm / 5 4" – 5 6"
TALL 170-178 cm / 5 7" – 5 9"
Price
$8.99 My affiliate link: https:/bit.ly/2KPCe6F
File Type
US paper, A4, A0 and projector
| Althea Racerback Tank | DIBY Club |
| --- | --- |
| Bands or binding | Bands |
| Neckline | Crew, scoop, deep scoop |
| Hemline | Curved, banded, tulip back |
| Extras | Hood, kangaroo pocket, solid back with center seam (built-in swayback) |
| Sizing | 00-36 |
| Price | $12.99 |
| File Type | US paper, A4, A0 |
Essential Tank
Patterns for Pirates
Bands or binding
Bands or binding
Neckline
Scoop
Hemline
Curved, banded
Extras
Straight/full back, Lengths: shirt, tunic, above knee dress, maxi dress with back or front slit options
Sizing
XXS-Plus 3X and Youth (new)
Price
Currently on sale $8.50/$7.50 (women/youth)
Regularly $10 and $9
File Type
US paper, A4, A0
| Maui Tank & Cami | New Horizons |
| --- | --- |
| Bands or binding | Bands for tank, binding for cami |
| Neckline | Scoop |
| Hemline | Hemmed |
| Extras | Standard back, cami, shelf bra, ruched center front, kids pattern (separate) |
| Sizing | XXS-30 |
| Price | $9.95 My affiliate link: Bit.ly/loveNewHorizons |
| File Type | US paper, A4, A0 |
If you liked this, you may also like these posts.