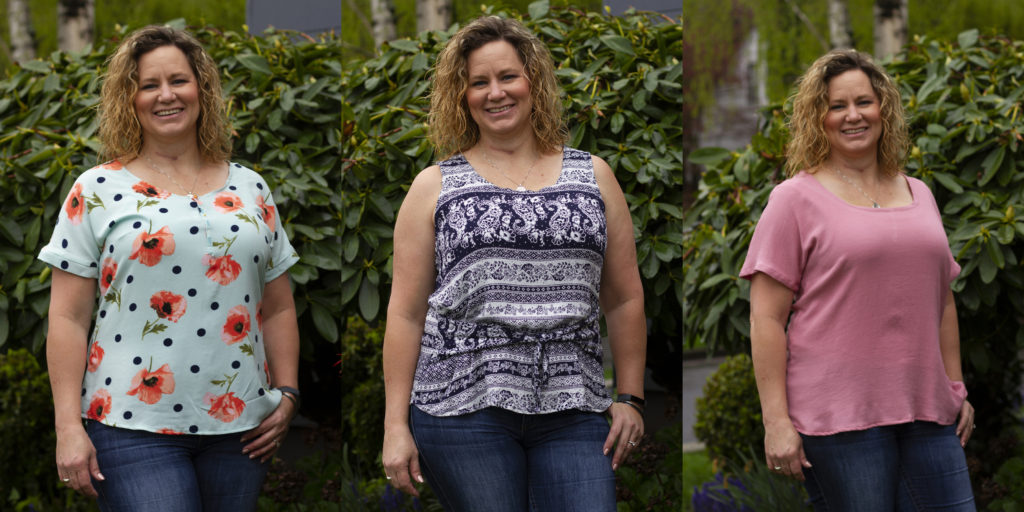 In April I went to a sewing retreat with four other women, and I had an amazing time! The retreat was organized by Amanda, who owns Mily Mae Fabrics. I took advantage of the weekend to sew three versions of the P4P Brunch Blouse pattern. Keep reading for details on all three.
Brunch Blouse
I was part of the Patterns for Pirates testing team for both the Brunch Blouse and the Bitty Brunch Blouse. Here is the test review post: Brunch Blouse Test.
The Patterns for Pirates Brunch Blouse is a perfect casual event top or dress designed for woven fabrics. It includes a dolman-style short sleeve, cap sleeve, or tank. The top also incorporates three lengths – shirt, tunic/curved hem, and dress length. In addition, the pattern includes an optional Henley placket, chest pocket, short sleeve cuffs with button tabs, and waist ties. Finally, the bodice features a center back seam.
The three versions I chose to make all used fabric from Mily Mae Fabrics. All three are the curved hem/tunic length.
Alma Mint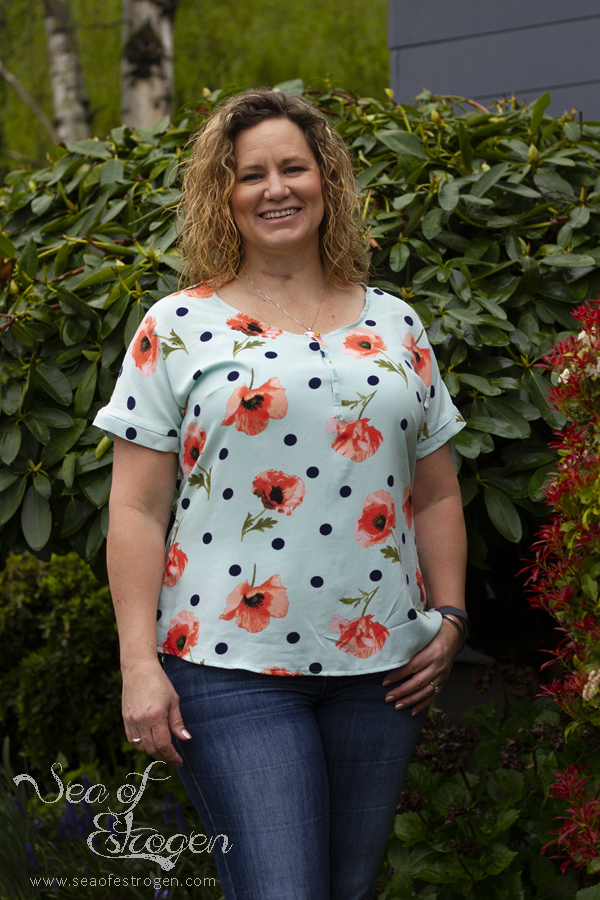 The Alma Mint Rayon Challis from Mily Mae Fabrics is in the top ten of my all-time favorite woven fabrics. I chose it for the first version of the Brunch Blouse. For this top, I chose the cuffed short sleeves and the henley placket option.
I assembled the top using French Seams to prevent the fabric from fraying. Consequently, the top took a little longer to make than normal, but the finished result is absolutely worth it!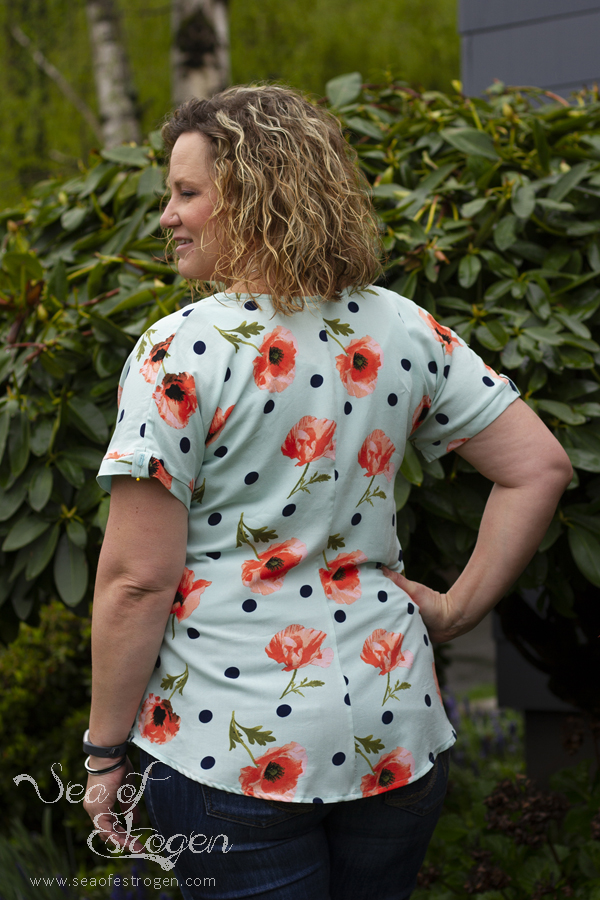 Unfortunately, I didn't have buttons with me at the retreat, so the placket and sleeve button tabs are held together with pins.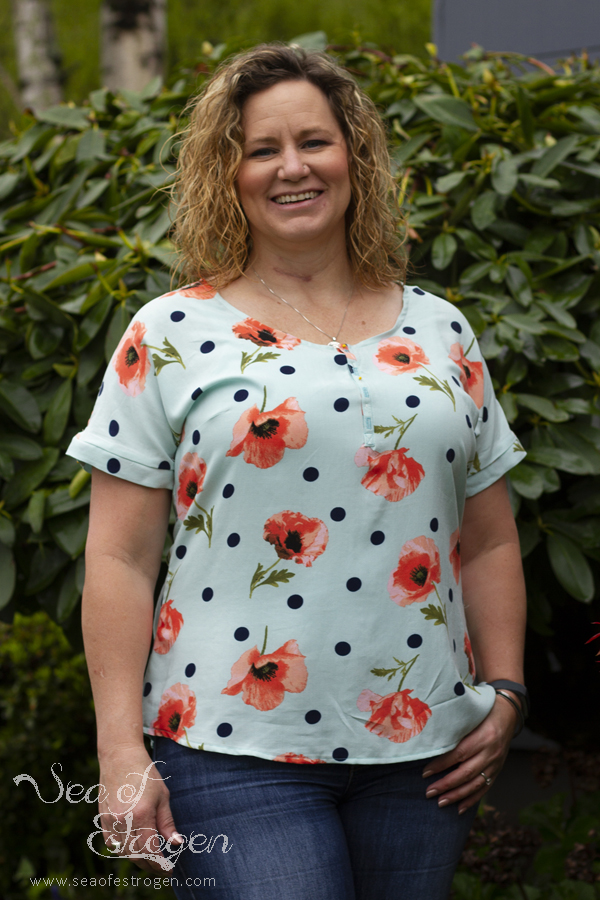 When I got home from the retreat, I immediately added buttons. This top has been in heavy rotation through my wardrobe all spring.
Paisley Crepe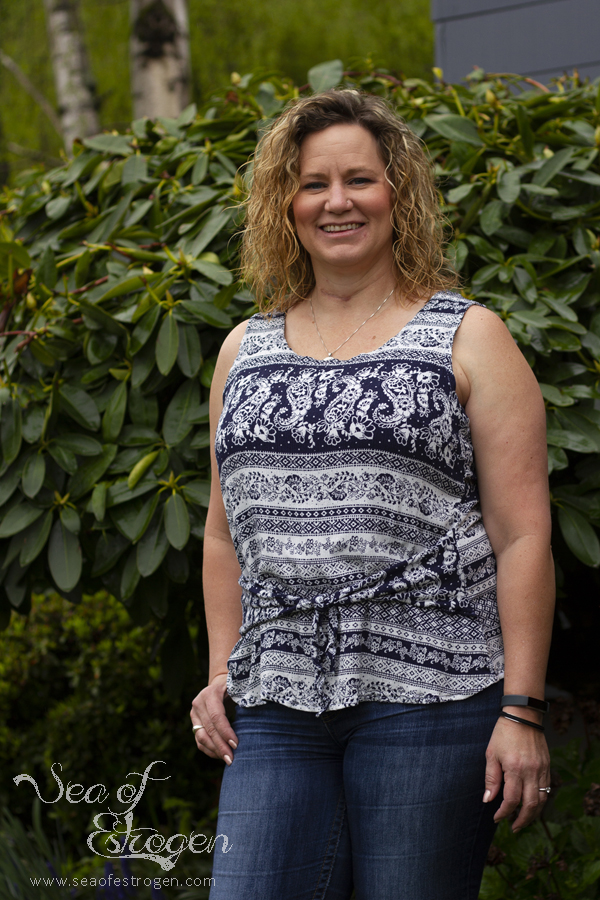 The second version of the Brunch Blouse I made using the navy and white Paisley Crepe fabric. Eastern Oregon gets H.O.T. in the summer, and I needed to have some tank-style tops that were suitable for work and play. I utilized the Paisley crepe for a tank version, curved hem/tunic length, with waist ties.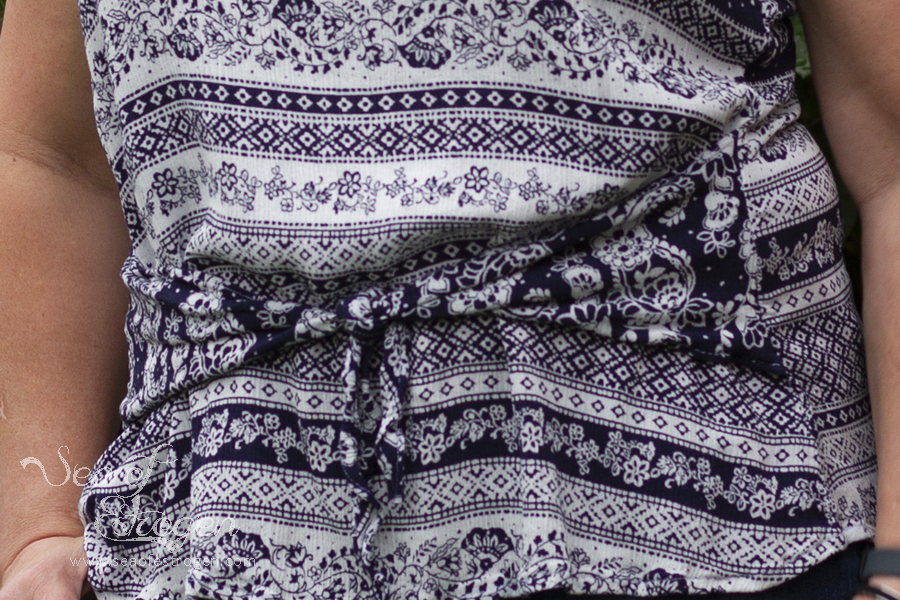 The waist ties sit right at my natural waist, and they add a bit of slimming to the top. In addition, they could be made using a contrasting fabric for an additional design element.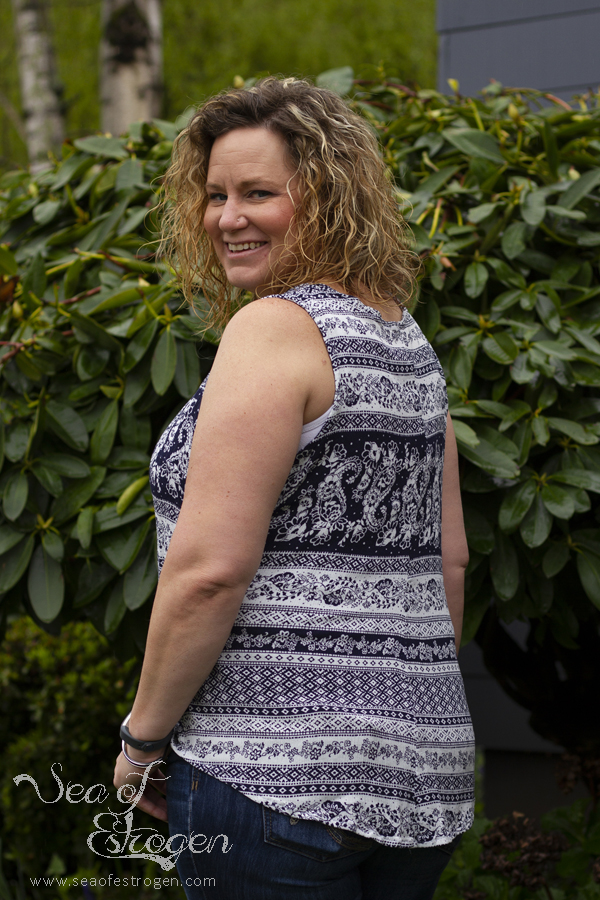 It seems to have taken forever for Summer to arrive in Eastern Oregon. Now that it is here, I have worn this top a lot. It is perfect under a cardigan for my air-conditioned office, and it transitions well to an afternoon of golf after work!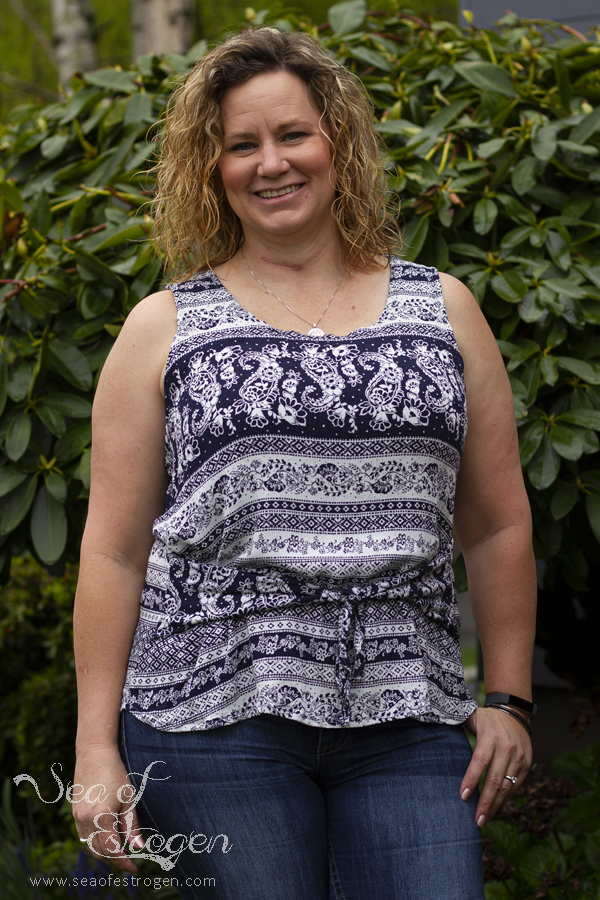 My favorite benefit of using the crepe is the natural "scrunch" the fabric has, so it takes very little ironing!
Pink Gauze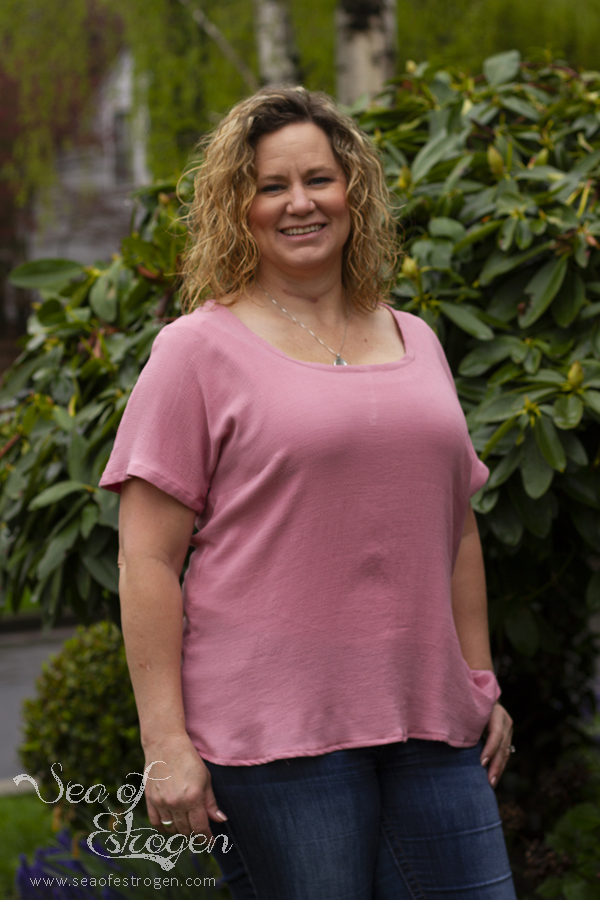 Finally, for my third version of the Brunch Blouse, I used this Pink Gauze for a Plain Jane version. Similar to the previous two, it is the curved hem/tunic length, but I did not include any additional options.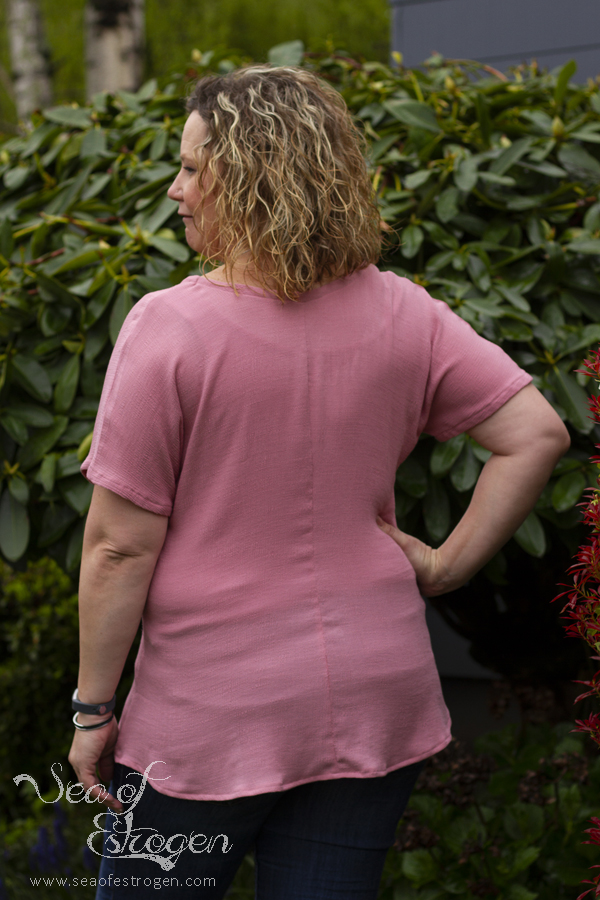 I admit I don't love this version of the Brunch Blouse as much as I love the other two. To be honest, I think it is the lack of options included. From now on I will either include the sleeve cuffs or Henley placket.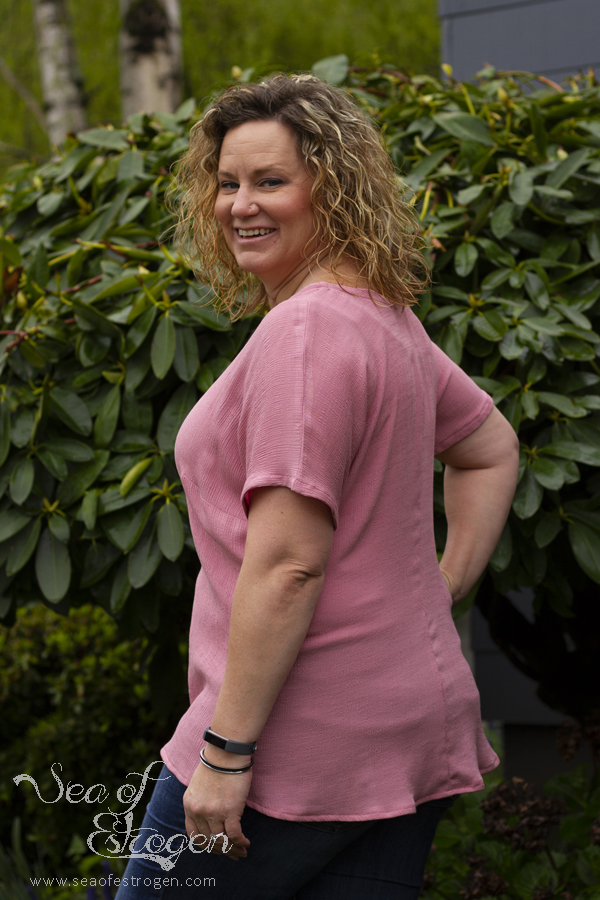 I do; however, love this gauze, and I love how lightweight this top is in the heat!
Final Thoughts
The Brunch Blouse is a perfect pattern to add to your pattern library. It can be used to create items for any season and any occasion with the options available. It is suitable for many different types of woven fabric. It is a must have pattern!
All three of the woven fabrics I used are still available on the Mily Mae Fabrics website. There are many other options available, as well – Mily Mae Wovens. You can't go wrong with any of the fabric Amanda has to offer.
If you liked this, you may also like these posts.