Welcome to To Do Tuesday – September 11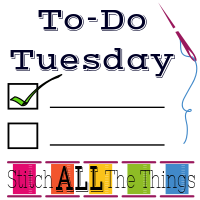 Christine at Stitch ALL The Things hosts To-Do Tuesday. TDT is a great weekly motivator to finish projects and (for me) to keep my To Do List manageable.
My To-Do list from September 4:
1.  Peek-A-Boo Patterns Pattern Test
2.  DIBY.Club Pattern Test
3.  Baby Shower Gift Project
I am super thrilled to be able to say that I actually finished all three of these projects, and I am on to working on some new projects!
Now that school is back in session, and we are no longer constantly working on home improvement projects, I feel like I have a lot more time to make projects.
1.  Peek-A-Boo Patterns Pattern Test
This is the first test I've worked on for Peek-A-Boo Patterns in a couple years.  It is the perfect pattern at the perfect time, but I cannot share it yet because it doesn't release until Thursday.  I can't wait to share my versions, they're awesome!
I do still need to write my pattern review/blog post about the pattern, and I will get that ready to publish as soon as I know the release date.
2.  DIBY.Club Pattern Test
It's almost Fall, Y'all, and this pattern is amazing! Similar to the new PAB pattern, this one isn't released yet so I cannot share pictures.  However, I can say that this is going to be a perfect staple for my Fall and Winter wardrobe!
The only task I have left to do for this pattern test is to write my follow-up blog post, which I will do as soon as I know the official release date.
3.  Baby Shower Gift Project
Baby clothes are so fiddly to make, especially small sizes.  I made four items for the baby shower I attended this past Saturday.  They all turned out really cute, and I am thrilled that the mom-to-be liked them!
Wrap-Up
There are strike-off samples heading my way soon so I'll have to decide what to make with them.  I am also working on a pattern test for Made for Mermaids.  In addition to those two items, I have a lot of sewing to do for my fall/winter wardrobe, and I will be concentrating on it.
This week's to-do list:
1.  Peek-A-Boo Patterns Pattern Test Blog Post
2.  DIBY.Club Pattern Test Blog Post
3.  Strike-Off Sample Project
4.  Made for Mermaids Pattern Test
5.  Fall/Winter Wardrobe Sewing
Are you working on anything fun this week?
If you liked this, you may also like these posts.