Welcome to To Do Tuesday – May 8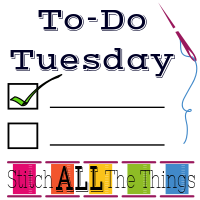 Christine at Stitch ALL The Things hosts To Do Tuesday. TDT is a great weekly motivator to finish projects and (for me) to keep my To Do List manageable.
My list from May 1:
1. Continue with Me Made May
2. Work-In-Progress TBD
We had another slow week, which is really nice. Todd spent time building the work-benches in the new shed, and when those are finished he will start building the other storage areas. Once that is complete, we can move all of our stuff out of the old shed and tear it down. After it is torn down and cleaned up, we'll be able to build our deck! Bar-b-ques with friends are going to be so nice this summer! I got to play in my first golf tournament in nearly two years Saturday, and it was definitely not the best game I've ever had. I don't feel too awful, though, because I didn't play at all last year because of my knee surgery.
1. Continue with Me Made May
The first week of Me Made May is officially over, and I have managed to wear something "me made" each day. I decided to use Me Made May as an opportunity to go through my closet, get rid of what isn't flattering or doesn't fit, and find any holes that need to be filled. I am looking forward to the rest of the month!
Week 1:
2. Work-In-Progress TBD
I didn't finish any WIPs this week, but I did make two new items – the turquoise shirt I wore on the 5th, and the striped, floral cardigan I wore yesterday. They are definitely two of my favorite sews ever.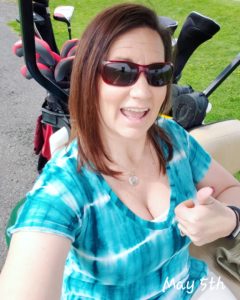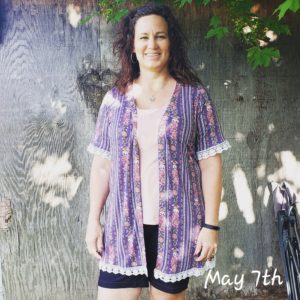 3. Mily Mae Fabrics Promotions
One of the best things about meeting new people in the sewing world is the friends I have made. I've talked about Amanda from Mily Mae Fabrics before (we had her virtual birthday party in March). One thing I haven't mentioned is that I am partnered with her to sew and promote her fabric shop. Every few weeks, she sends me some fabric, I make it into something, and then I promote it for her in various places. I know I have some fabric headed my way soon, so I am adding this to my list this week.
This week's to-do list:
1. Continue with Me Made May
2. Work-In-Progress TBD
3. Mily Mae Fabrics Promotions
Are you working on anything fun this week?
If you liked this, you may also like these posts.