Introducing the new Darcey & Mama Darcey from Made for Mermaids!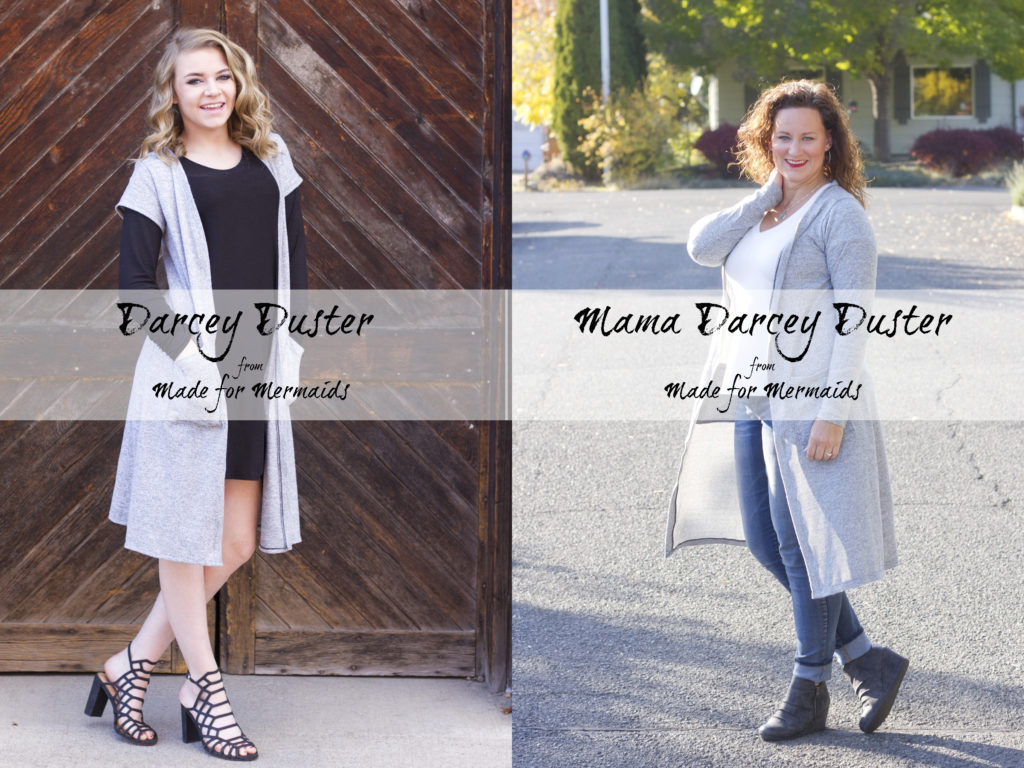 I am super excited to share the brand new cardigan pattern from 
Made for Mermaids
.  The
Darcey Duster
and
Mama Darcey Duster
are versatile for any closet, and they are a stylish, quick project!  I tested both the ladies' pattern and the girls' pattern, and Reagan and I love our new dusters!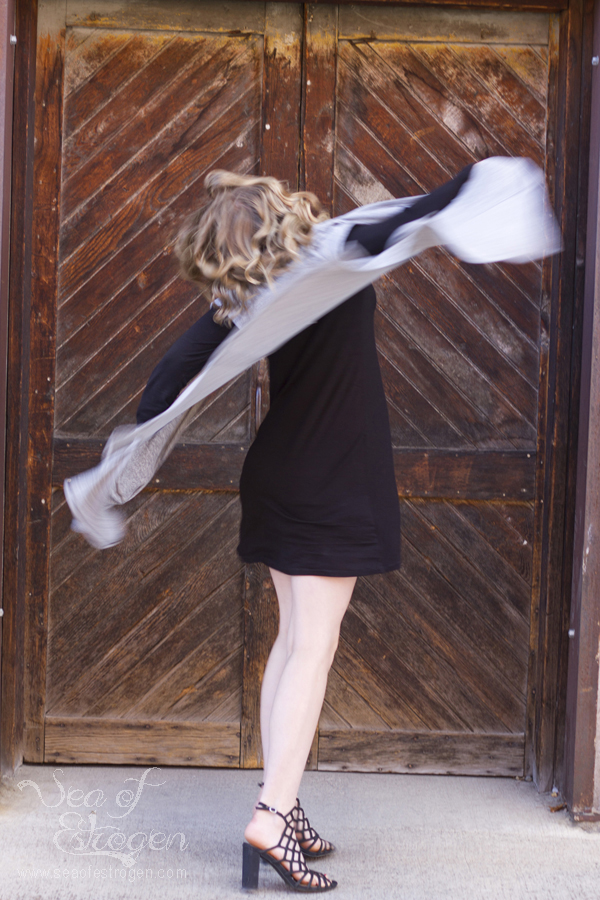 M4M Darcey & Mama Darcey
The Darcey Duster spans a large ranges of sizes starting in 1/2 and up to size 14 (which is what I made for Reagan).  The Mama Darcey Duster includes a large span of sizes, as well.  The dusters are intended for light to medium weight sweater knits, french terry spandex, or rayon spandex.  They definitely need fabric with a nice drape, especially for the duster and high/low options.  I love that Megan's PDF Patterns come as layered, color-coded files, and the printed pages are "no trip" meaning they are quick to put together!  The instructions include color pictures, and the detailed steps are easy to follow!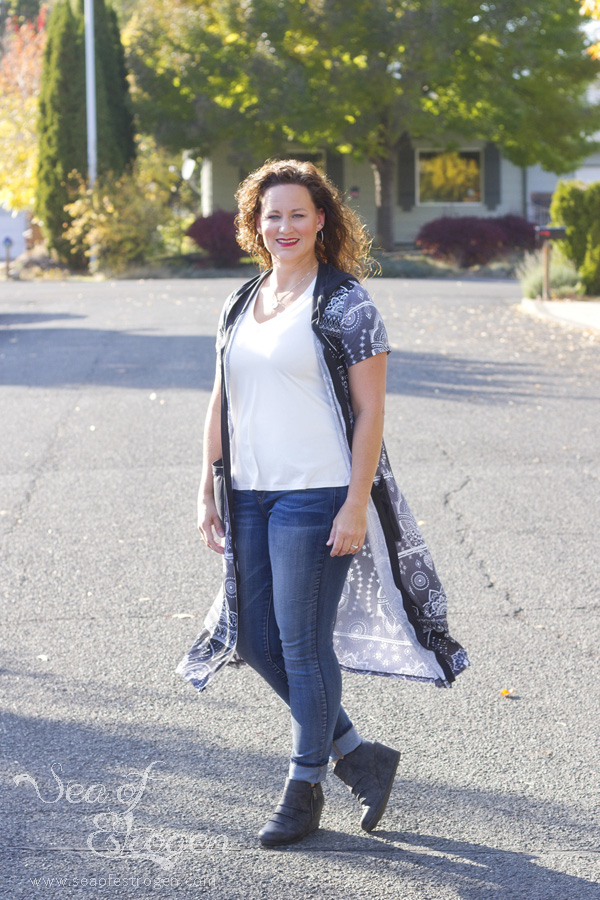 Features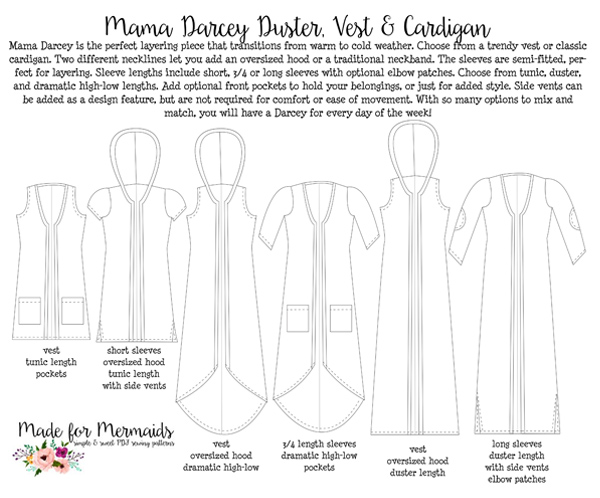 It is no secret that I love Made for Mermaids patterns, and the Darcey & Mama Darcey are no exception.  As with all M4M Patterns, they are chock full of options!  The Darcey & Mama Darcey include three length options and three sleeve options.  Furthermore, the pattern also includes instructions for making a tank version, as well as a hooded or banded collar.  Additional options include patch pockets, elbow patches, or a split-side vent.
Sale Details
The M4M Darcey Duster  and the M4M Mama Darcey Duster are on sale for $7.00 each through October 29th at Midnight CST.  Both patterns can be purchased as The Darcey Bundle for only $10.00 until then, as well, and then the bundle will no longer be available.  Join the Facebook Group to see more pictures and share with other Made for Mermaids fans.  In addition, don't forget to check out the Pattern Hack Blog Post, which illustrates different ways to change up the pattern!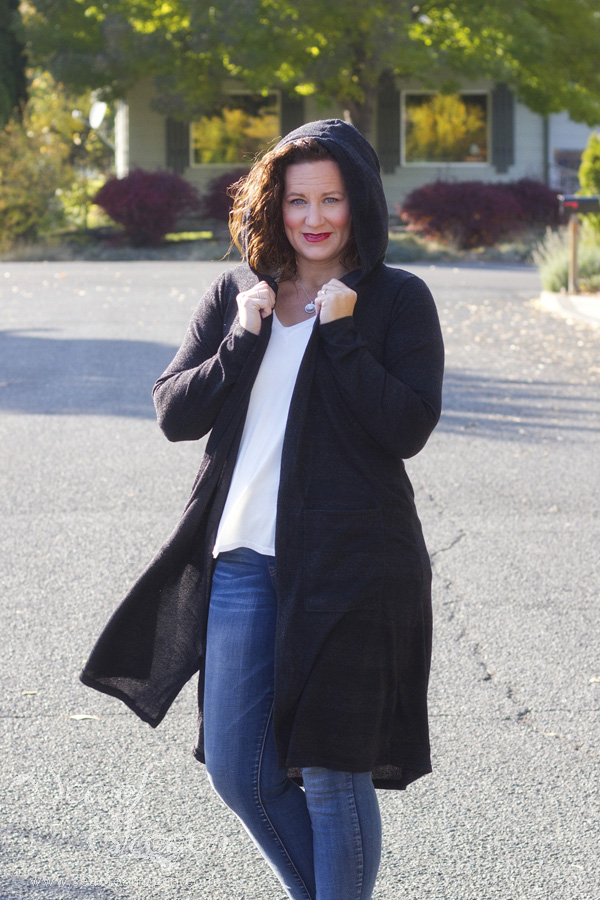 Reagan's Darcey Duster
For Reagan, I made the duster length, short sleeve, banded option with pockets.  She has already worn it to school several times, and it pairs perfectly with her Kourtney Knot Dress!  I used an incredibly soft sweater knit from Mily Mae Fabrics for Reagan's duster, and it has the perfect amount of drape!
Mama Darcey – Rayon Viscose Jersey
I was assigned the duster length, short sleeve hooded version.  In addition, I opted to add the pockets and side vent.  I used this gorgeous Bohemian Soul Customs Tranquility in Obsidian from Sly Fox Fabrics for the main part of my duster, and I used black double brushed poly for the hood, band, and pockets.
Mama Darcey – Gray Sweater Knit
Unfortunately, Reagan and I were never able to get together at the same time to take "Mom & Me" pictures, butbut we just couldn't make it work.  I used the same gray sweater knit as Reagan's duster with that intention in mind.  However, I am thrilled that I decided to make it because it is so soft and warm!  I freeze at work, and it is the perfect cardigan for me to keep warm during the day!
Mama Darcey – Black Sparkly Stripe Sweater Knit
Finally, I had this black sparkly striped sweater knit from So Sew English Fabrics, and I decided to make one more for myself.  I chose to make the long sleeve duster length with hood, side vents, and pockets.  This one is my favorite!
Final Thoughts
The M4M Darcey Duster and Mama Darcey Duster is an amazing, versatile pattern!  While I didn't venture into all the different options available for the testing process, I will definitely be doing so in the future!  I am looking forward to making several more for winter wear!
Amy