Welcome to To Do Tuesday September 5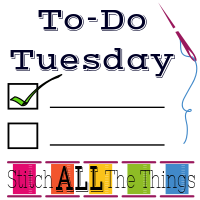 Christine at Stitch ALL The Things hosts To Do Tuesday.  TDT is a great weekly motivator to finish projects and (for me) to keep my To Do List manageable.
My list from August 29:
1.  Dresses for Emma
2.  MilyMae Fabrics Showcase
3.  Sewing Portfolios Ambassador Project & Blog Post
4.  Pins & Needles Kit Assembly and Blog Post
We had another great crew helping us with siding this weekend, and with the exception of just a few pieces, we are done and ready to power wash before painting!  I'm so excited to be at this point!  We had help from Todd's parents (Glenn & Anita), my dad (Burr) and brother-in-law (Scotty), our friend Rachelle, and our oldest and her husband (Emma & Jordan).
In addition to making great progress on the house projects, we experienced a HUGE event Friday.  Our second child has officially left the nest and moved across the state to go to school.  Harley is attending cosmetology school in Corvallis starting in October.  Todd was unable to get the day off work, so his parents came to our rescue and Glenn drove the U-Haul across the state while Harley and I each drove our own cars.  After getting unloaded and mostly unpacked, the three of us headed BACK across the state and home.  We traveled nearly 720 miles, spent $200 in gas, 12 hours on the road, and in total a 17 hour day.  Phew!!!
Harley loves Harry Potter, and Emma gave her this light switch cover as a gift.  Unfortunately, it doesn't work on any of the switches we have at home, so I was thrilled to be able to sneak it down and put it on her bedroom switch for her. <3  You are destined for greatness, Sweet Girl!  I am proud of you, and I love you to pieces!
1.  BSD Maggie Dresses for Emma
Apparently moving a kid across the state takes way more time than I expected because I still don't have these done.  Urgh!
2.  MilyMae Fabrics Showcase
I have been working on this, and showcasing fabric as I have a chance.  I received complimentary fabric from Amanda at MilyMae, and in return, I am promoting it in the groups of the patterns I used to make my creations.  These outfits all came from Patterns for Pirates.
3.  Sewing Portfolios Ambassador Project & Blog Post
I received some Michael Miller fabric through Sewing Portfolio Ambassadors, and I need to create and share the project I have planned for it.
4.  Pins & Needles Kit Assembly & Blog Post
A few months ago, I wrote a "reveal" post about the Pins & Needles Kit I received.  I need to finish the project and write the post and review of the project.
5.  Woven Top Pattern Test for Girls & Women
I added this test to my to-do list late last week, and it was a quick turn around.  The testing process is complete, and I can't wait to share my creations!!!  Gah!  I am so impatient!!!
My to-do list for this week:
1.  Dresses for Emma
2.  Sewing Portfolios Ambassador Project & Blog Post
3.  Pins & Needles Kit Assembly & Blog Post
Are you working on anything fun this week?
Amy