Welcome to the Christmas in July Blog Tour!

I was really excited last December when I read the Confessions of a Fabric Addict Blog, and Sarah had put out a request for interest in participating in a Christmas in July Blog Hop.  I immediately jumped on board and asked to participate.  After searching our house top to bottom several times for the one microwave bowl cozy we have and not finding it, I decided to make some.  I received the Christmas fabric as a gift from a friend, and I decided it would make really pretty bowl cozies paired with semi-solid fabrics as the lining.  Be sure to read clear to the end to learn about an amazing give-away!
If you are not familiar with microwave bowl cozies, they are basically bowl-shaped pot-holders.  They are used when microwaving a bowl so that the hot bowl doesn't burn fingers when you remove it from the microwave.  In addition, they can be used to insulate hands against cold bowls – ice cream, anyone?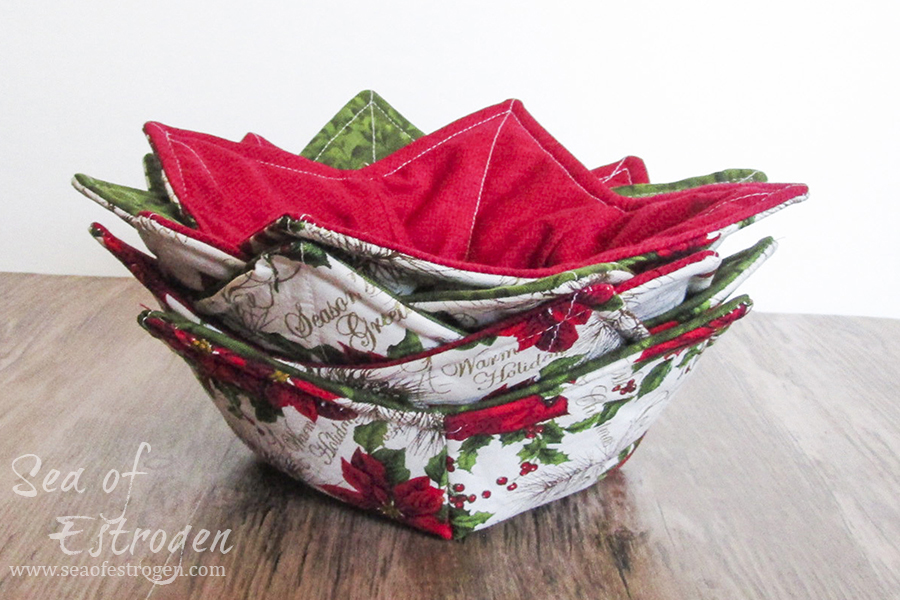 The assembly of the bowl cozies is pretty simple, and the most difficult step is adding the side darts.  The darts themselves aren't difficult, rather, they are time consuming.  For example, I made six bowl cozies.  Each of the two pieces of the bowl cozy has four darts, so eight darts per cozy, which equals 48 darts.
Materials Required
You want to make sure you use 100% cotton materials because synthetic fibers could melt or catch fire in the microwave.
2 coordinating 100% cotton fabrics
100% cotton batting
cotton thread
sewing machine
quilting ruler and mat or scissors
pins
fabric marker
chopstick or bodkin for pushing out corners
For each bowl cozy you plan on making you will need two 10″ squares of batting and one 10″ square of each fabric being used (two total fabric squares).
Assembly
To begin, match a piece of batting to each piece of fabric, and sew an "X" from corner to corner.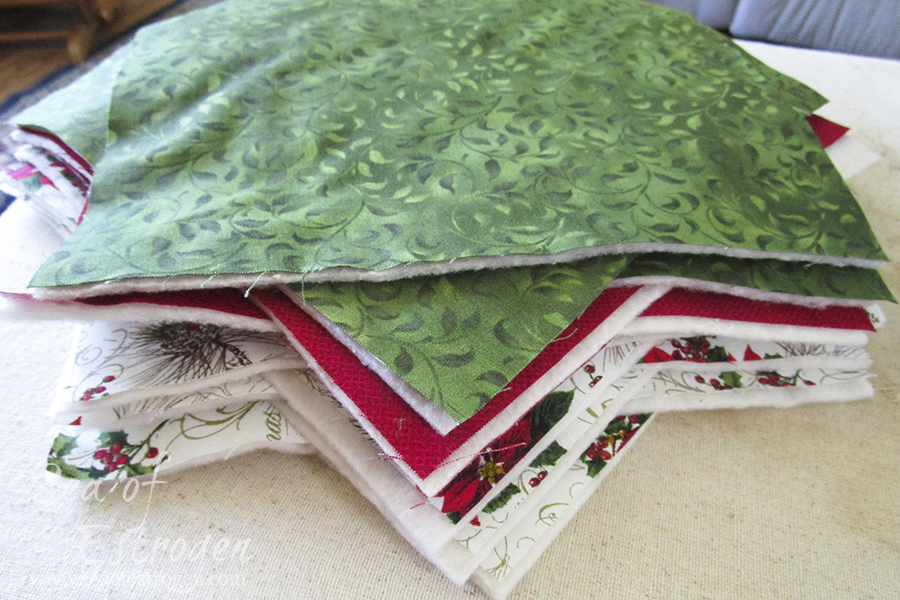 Next, mark the darts.  My darts are centered on each side of the square.  They are 2″ on the flat side, and extend 2-1/4″ towards the center.  Since I had so many darts to mark, I made a template out of a thin piece of cardboard and used it to mark all the darts.
Fold the edges, matching the dart lines, and stitch.  Once all darts are stitched, trim seams and clip threads.
At this point, each piece should resemble a squared-off bowl shape.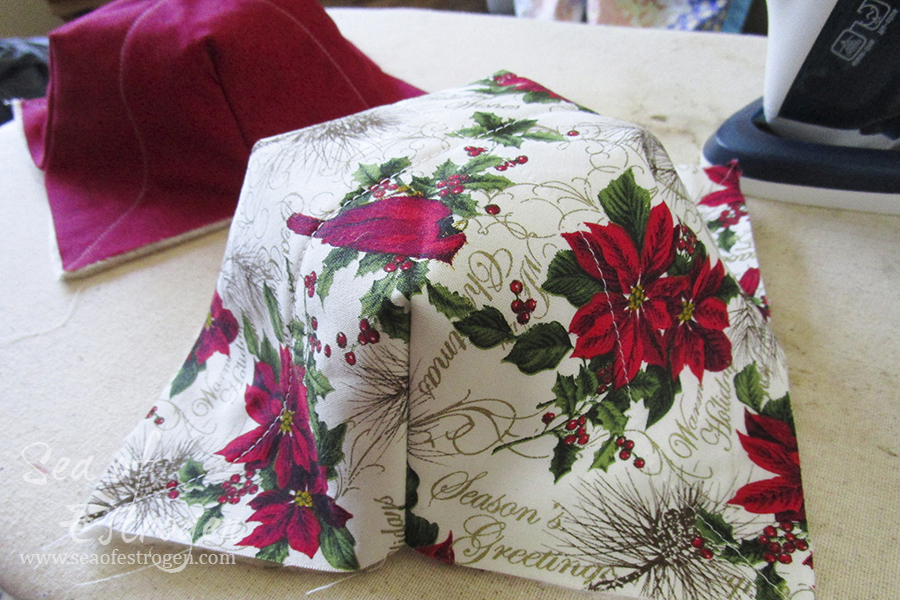 Finishing
Next, match a lining piece with an external piece, and pin, right sides together, matching corners and darts. Stitch together around the edge using a 1/4″ seam allowance and leaving an opening for turning right side out.  I mark the opening with double pins on each end of the opening.
Turn the bowl cozy right side out through the opening, use a chopstick or other tool to push out corners.  Press and topstitch around the edge, closing the opening used for turning.
Vóilá!
Your bowl cozies are now finished, and it is time to enjoy some warm soup, or, since it is July, some chilly ice cream!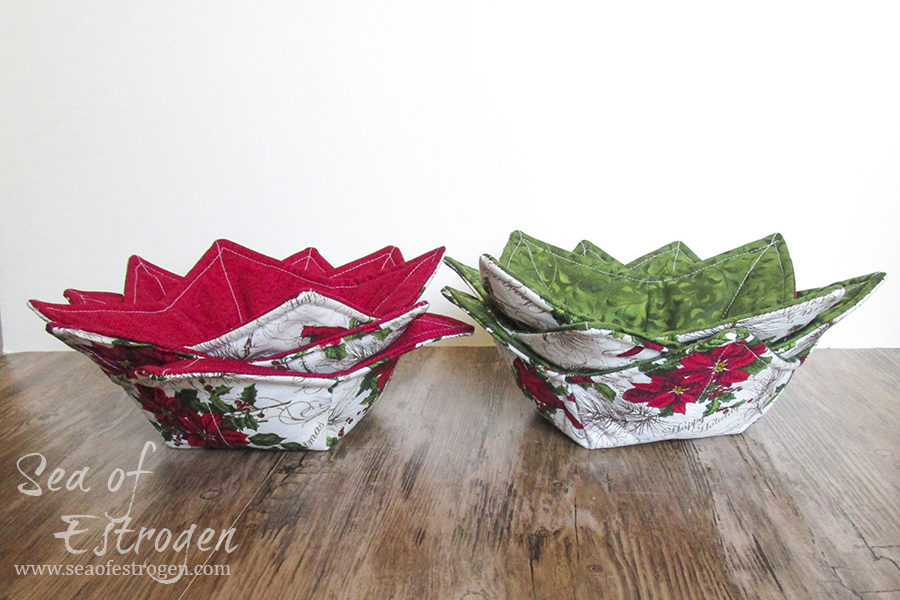 Feel free to ask any questions in the comments below, and I will try to answer them as quickly as possible.  This fun project and blog tour is the second completed project on my 2017 Quarter Three Finish-A-Long List!
Blog Tour Round-Up
For more Christmas in July fun, be sure to check out the amazing projects and tutorials that are part of this Christmas in July Blog Tour:
Friday, July 14th
Saturday, July 15th
Sunday, July 16th
Monday, July 17th
Tu-Na Quilts, Travels, and Eats
Pieceful Thoughts of My Quilting Life
Tuesday, July 18th
Wednesday, July 19th
Thursday, July 20th
Friday, July 21st
Saturday, July 22nd
Sunday, July 23rd
Monday, July 24th
Tuesday, July 25th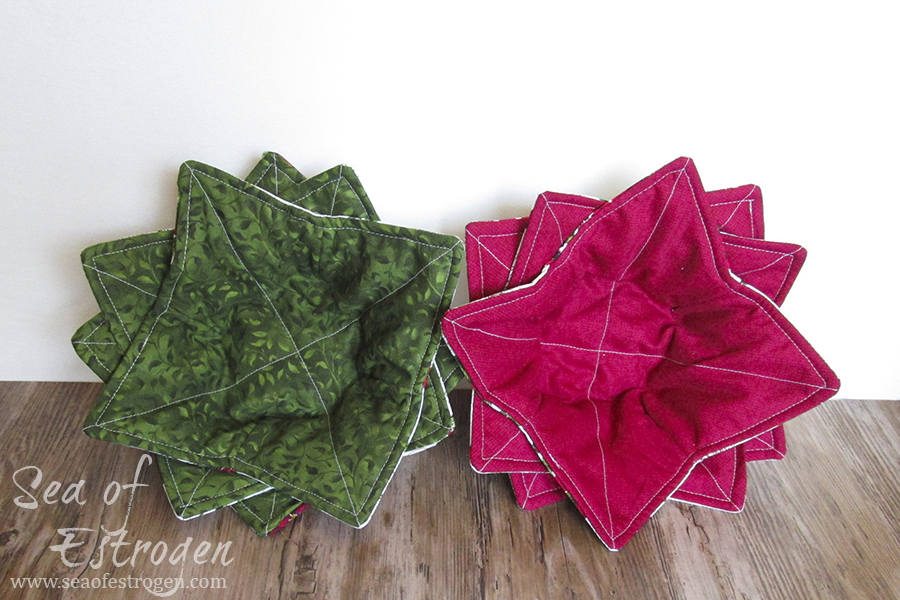 Give-Away Time!
And as if great holiday ideas and a tutorial weren't enough, this year we've got something extra special!  The lovely folks over at Free Spirit Fabrics have donated not just one item for a giveaway, but THIRTEEN!  And it's pretty drool-worthy stuff, too – it's Tula Pink's new holiday line, Holiday Homies!!!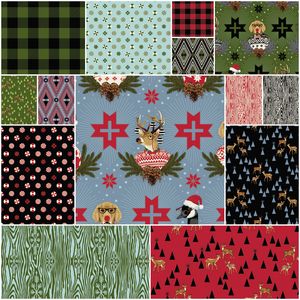 Sarah has six design rolls, six layer cakes, and one fat quarter bundle to give away – and here's how she's going to do it!  Visit each stop on the hop, including this blog, and leave a comment on each post for the day.  At the end of the hop, Sarah will do a giveaway for each day by putting everyone's name in the hat who commented that day (from all that day's hop-blogs), and drawing a winner for that day.  That will be twelve winners – the design rolls and layer cakes. 
At the very end, Sarah will put all the names from all the days in a hat and draw out a grand prize winner for the fat quarter bundle!  Only one prize per person, though – let's spread it around a bit!  So carve out a bit of time to visit all the blogs and comment.
If you liked this, you may also like these posts.