Welcome to To Do Tuesday May 16!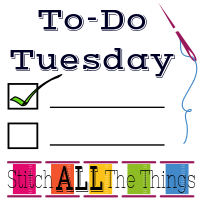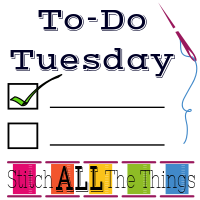 Christine at Stitch ALL The Things hosts To Do Tuesday.  TDT is a great weekly motivator to finish projects and (for me) to keep my To Do List manageable.
My list from May 9:
1.  Work on summer capsule wardrobe
2.  Find a pattern for Todd's LARP Doublet/Tunic
3.  Make my LARP Cloak
I feel like having busy weeks is just part of this time of year, especially with the closure of the school year, a graduation, and softball playoffs.  We had such a long winter that we are also kind of scrambling to get all our normal "spring" activities done gearing up for summer.  I was able to work on my to-do list and I made a lot of progress on projects.
1.  Work on Summer Capsule Wardrobe
I am making great progress on the summer capsule!  I cut out seven Patterns for Pirates Favorite Tee and three Cocoon Cardigans, and I have been slowly getting them put together.  Last night I finished the last three tops and the final cardigan, and I will be working on something new.  The most important goal with this capsule is to make items that I can wear in our frigid air-conditioned office that won't cause me to melt when I venture into the heat of summer.  Layers are perfect for that!
Next up are some capri pants and shorts!
2 & 3.  Find a Pattern for Todd's LARP Doublet/Tunic & Make my LARP Cloak
Todd and I are not going to be able to attend the first camp this year because it is graduation weekend.  Harley is graduating Friday night (June 2), and our niece, Aleasha, is graduating Saturday morning.  We decided that trying to make camp and all the other activities is just too much.  Since our next event isn't until September, I am going to take these two items off my to-do list for now.  I will add them back on later in the summer.
What seems to be the usual for me, though, is to add stuff to my schedule when I already feel busy.  I have several projects I have started working on that I need to finish in a short amount of time.  They're all mostly easy as far as construction goes, but each project itself is time consuming.  On a completely different note, I am completely off crutches and out of my brace, which is amazing!  I am not released for full activity for a few more months, but I am just thrilled to be wearing normal jeans and clothes again!
1.  Work on summer capsule wardrobe
The next part of this project is pretty simple – pulling fabric and cutting out the shorts and capri patterns I am making.
2.  Finish Bag Test for Sewing Pattern Testers Blog & Write Sew-A-Long Posts
This should probably be two separate items on my list, but for now I think one will work.  I have been testing a bag pattern, and it is nearly finished.  It's a great, versatile bag, and I can't wait to share it!  After the testing phase is completed, I will be hosting a sew-a-long for the bag.  That is very time consuming – taking pictures at each step, documenting the process, and writing the blog posts.
3.  Finish Gift Sewing Project
Since this is a gift, and the recipient has no idea I'm making it, I can't yet describe it here.  BUT, I love it and can't wait to finish it so I can give it away!
4.  Pattern Test for the Do It Better Yourself Club
I just received the email this morning that I was selected as a pattern tester for the DIBY Club.  I will be working on that over the weekend, as well.  This is my first time testing for Jessica, and I am thrilled!  She has a great sense of fashion and style, and I know that is going to be translated into her patterns!
Are you working on anything specific this week?
If you liked this, you may also like these posts.