Welcome to To Do Tuesday April 25!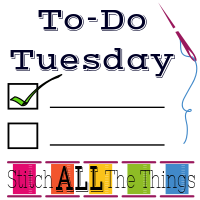 Christine at Stitch ALL The Things hosts To Do Tuesday.  TDT is a great weekly motivator to finish projects and (for me) to keep my To Do List manageable.
My list from April 18:
1.   Sew Senior Class May Day Dresses
2.  Finish Dress Testing and write post
Woo-Hoo!  It has been an exciting and busy week at our house!  It was also a week with progress on projects!  Harley had three softball games, an open gym with the volleyball team at the college she is attending, and prom.  Reagan had golf practice, several play rehearsals, and prom.  I had an appointment in Boise (ID) on Wednesday, and then I went with Harley to Portland (OR) on Friday.
1.  Senior Class May Day Dresses
The dresses are all cut out and ready to sew together.  One dress is completed except for the hem.  I am making the dresses assembly-line style by pattern.  The girls didn't all select the same dress, so I am making the Made for Mermaids Mama Quinn, Patterns for Pirates Timeless Tunic Dress and Sweetheart Dress, and Bella Sunshine Designs Maggie Dress.
2.   Finish Dress Testing and write post
I have not started on this dress yet because I've been concentrating on the May Day dresses.  The pattern officially released last week from Bella Sunshine Designs, and it is called the Ladies Alice.  It is absolutely adorable, and I was testing it in Reagan's size.  This project is going to go on the back burner until I have some more free time.
As a side note, last week, I talked about the camera straps I made in exchange for some Senior Pictures of Harley.  We got Harley's pictures back from my friend Rachel from River Wynn Photography and they are amazeballs!  Here are a couple of our favorites.
My To Do List is going to remain short until these dresses are finished!
1.   Sew Senior Class May Day Dresses
What are you working on this week?
If you liked this, you may also like these posts.