Welcome to To Do Tuesday April 18!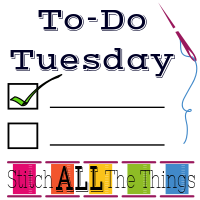 Christine at Stitch ALL The Things hosts To Do Tuesday.  TDT is a great weekly motivator to finish projects and (for me) to keep my To Do List manageable.
My list from April 11:
1.   Sew Senior Class May Day Dresses
2.  Finish Dress Testing and write post
3.  Make Camera Strap Covers
The last two weeks have been great for me.  I finally started physical therapy and spent time just relaxing and healing.  I usually have a difficult time sitting in front of the TV without something to do with my hands, but I have been so exhausted after working part days that it has been an easy habit to develop.
1.  Senior Class May Day Dresses
I also now have all the patterns, so we can get started taping them together and tracing the sizes the girls wear.  Of course the girls didn't all select the same dress, so I will be making the Made for Mermaids Mama Quinn, Patterns for Pirates Timeless Tunic Dress and Sweetheart Dress, and Bella Sunshine Designs Maggie Dress.
2.   Finish Dress Testing and write post
I have not started on this dress yet because I've been concentrating on the May Day dresses.  They are sewing up quickly enough that I should be able to get to this one soon.  The pattern officially released last week from Bella Sunshine Designs, and it is called the Ladies Alice.  It is absolutely adorable, and I was testing it in Reagan's size.
3.   Make Camera Strap Covers
My friend Rachel from River Wynn Photography took some time last week for a short Senior Picture session with Harley.  In trade, I made her a couple camera strap covers.  The one that is not on the camera strap was my prototype, and the other I made from the fabric Rachel chose.  I am thrilled with how these turned out, especially since they are great fabric scrap busters!
I can't wait to see Harley's finished pictures!
My To Do List is shrinking again!
1.   Sew Senior Class May Day Dresses
2.  Finish Dress Testing and write post
What are you working on this week?
If you liked this, you may also like these posts.