Welcome to To Do Tuesday April 11!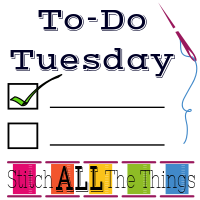 Christine at Stitch ALL The Things hosts To Do Tuesday. TDT is a great weekly motivator to finish projects and (for me) to keep my To Do List manageable.
My list from April 4:
1. Keep healing and physical therapy
2. Finish Dress Testing and write post
3. Sew Senior Class May Day Dresses
The last two weeks have been great for me. I finally started physical therapy and spent time just relaxing and healing. I usually have a difficult time sitting in front of the TV without something to do with my hands, but I have been so exhausted after working part days that it has been an easy habit to develop.
1. Keep Healing and Physical Therapy
This afternoon, I have my six week check up with the surgeon, and I am hoping to finally be able to put some weight on my leg and stop using my crutches. Physical Therapy is great, and I am using all sorts of muscles I haven't used before! I have times where my knee aches, but I haven't felt the need to take pain medication (even over the counter) for almost a week, so that's a great sign! I am going to call this "task" complete. Even though I still have a lot of healing and physical therapy to do, I feel like I am through the worst.
2. Finish Dress Testing and write post
I did have a bit of a setback on this project, and I wasn't able to finish it before the deadline; however, as soon as I can, I am still going to make the dress and write a post about it. The pattern officially releases tomorrow from Bella Sunshine Designs, and it is called the Ladies Alice. It is absolutely adorable, and I was testing it in Reagan's size. If you are interested in purchasing the pattern today during the pre-launch, visit the Bella Sunshine Designs PDF Patterns Facebook Page.
3. Sew Senior Class May Day Dresses
The fabric for the girls' dresses (nearly 30 yards!!!) arrived over the weekend; let the assembly line sewing begin! They chose this amazing Charcoal Gray Double Brushed Poly from KnitPop Fabrics. If you're unfamiliar with Double Brushed Poly, its the same stuff the "buttery soft" leggings from that currently very popular company are made out of. It is super soft, and I think it will look great on each of the girls!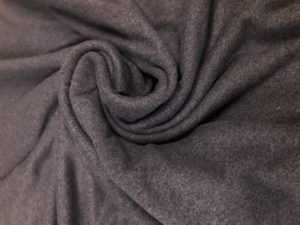 I also now have all the patterns, so we can get started taping them together and tracing the sizes the girls wear. Of course the girls didn't all select the same dress, so I will be making the Made for Mermaids Mama Quinn, Patterns for Pirates Timeless Tunic Dress and Sweetheart Dress, and Bella Sunshine Designs Maggie Dress.
I will throw the fabric in the wash tonight and by tomorrow, I should be cutting out the first dress!
It seems like I'm always adding "just one more" project to my to do list. but here I am again! We originally thought I would be recovered enough to be able to take another round of Senior Pictures for Harley, but it just isn't going to work out within the timeline we need them. I spoke to my friend Rachel from River Wynn Photography, and we worked out a deal. She took some pictures of Harley for me last night, and I am making her a camera strap cover (or two). That is the project I am adding – removable camera strap covers. Here's a few pictures of Rachel and Harley I grabbed on my phone yesterday. Rachel does AMAZING work, and I can't wait to see them!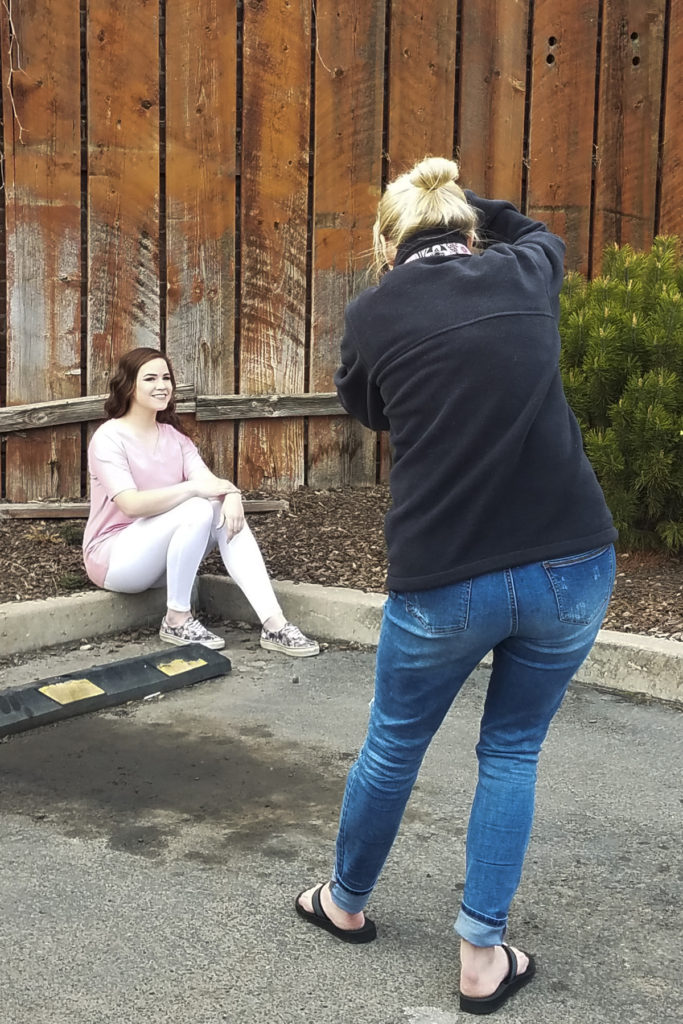 My To Do List is finally starting to grow! Thank goodness for fast healing and feeling good!
1. Sew Senior Class May Day Dresses
2. Finish Dress Testing and write post
3. Make Camera Strap Covers
What are you working on this week?
Amy