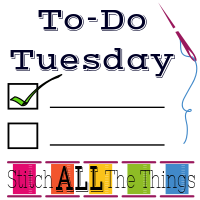 Welcome to To Do Tuesday is hosted by Christine over at Stitch All the Things.  It has been two weeks since I posted an update, and unfortunately, it was not because I was too busy.  I tweaked my back somehow and ended up confined to the couch/bed for a week.  On the plus side, I got caught up on the TV shows I have been meaning to watch on Netflix.  I was also able to work on some crochet projects which kept me from being too bored.
This is what my To Do Tuesday from November 8 looked like:
1.   Patterns 4 Pirates Slim Fit Raglans (coral, floral, and geometric)
2.  November TNSEM – Lace Overlay
3.  Tunic and Dress Pattern Testing
4.  August TSNEM – Bodice Sloper (remeasure and adjust pattern accordingly)
5.  September TSNEM – Hat and Mask making
Due to my back, I wasn't able to get any sewing completed except the Tunic & Dress I am pattern testing.  I went back to work part time last week, and I am finally back to a normal schedule.  The long holiday weekend should be great for getting a lot of projects finished, and I am excited!
TSNEM Projects – Bodice Sloper, Hat/Mask Making, & Lace Overlay
I am still of the mind that I would like to get August and September done prior to the end of the year, but I have let it go and won't be upset if I don't get them done.  If I don't manage to finish them this year, I will add them to my list for next year.  Problem solved.  I have the bodice sloper nearly finished, and with that will be able to finish my lace overlay project!
I am taking this off my to-do list temporarily because I have some fun holiday sewing to do, including new stockings for all of us and two new babies of co-workers.
Tunic and Dress Pattern Testing
If you are waffling about sewing clothing, this is the pattern that will convert you!!!  It is not out of testing yet because it has a few small adjustments being made.  I wore the white and navy one to work yesterday, and it felt like I was wearing pajamas!  Super comfortable!  I am testing my size as well as a zero for our youngest, and these are the three versions I have made so far.
I cannot wait for this pattern to come out of testing so I can share its goodness with all of you!
Pan Protectors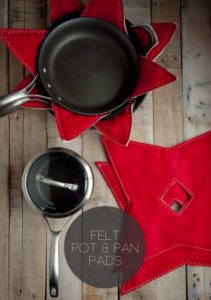 Unfortunately, our cookware has had metal utensils used on it and the non-stick surfaces are not holding up (ahem . . .  kids).  Todd has gotten so frustrated with the state of the pans that he bought us a 17 Piece Set of Cuisinart Stainless Steel cookware and an additional Cuisinart 14-Inch Open Skillet with Helper Handle.
To help keep them in good shape, he asked me to make some protectors for between the pans when stored.  Incidentally, we have also gotten rid of all our metal cooking utensils, and are replacing them with silicone utensils.
I am going to be making two sets of protectors because we also purchased the same set of pans as a gift for some friends of ours, and we want to make sure they have the pads to protect their new pans, as well.  Their set of pans will be here tomorrow, so I am hoping to finish their pads tonight.  We are also going to get them some silicone utensils so they can protect their pans even more.
I am using this Felt Pot & Pan Pad tutorial and pattern to make the pads to go between the pans, but I am making them out of a very thin quilt batting sandwiched between two layers of houndstooth gray flannel instead of just two layers of felt.
A Crochet Finish – Because I was Bored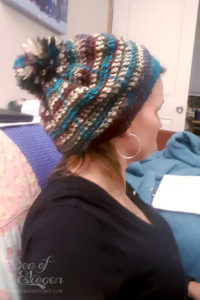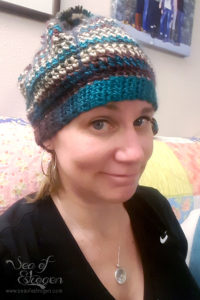 I don't do well just sitting and/or laying, I don't like to just sit and watch TV, and I usually only do so while working on a project of some sort.  I am very thankful for all the different skills I learned through 4-H and my mom because while I was confined to the couch I was able to keep my hands busy with a couple crochet projects.
This hat is AWESOME, and I finished it in a couple days.  I probably could have finished more quickly, but I had to keep taking nap breaks.  Both girls have asked me to make one for them, as well.  The camera on my phone is broken, so these pictures are pretty crummy (I was also a little woozy from muscle relaxers and pain meds).
I used the Diagonal Hatch Slouchy Hat pattern from Whistle & Ivy to make this hat.  It is a little difficult to see the crosshatch pattern because I used variegated yarn, but I still really like it.
This week is going to be productive since it is extra long, and the projects I have to work on are relatively easy or partially finished already.  I am looking forward to some quality time with family, friends, and my sewing machine. 😀  My list for the week:
1.  Peek-A-Boo Pattern Shop Christmas Stockings (FREE pattern!)
2.  November TNSEM – Lace Overlay
3. Pan Protectors
4.  Tunic and Dress Pattern Testing Final
5.  Baby Gifts (two girls – neither knew until they were born)
6.  August TSNEM – Bodice Sloper (remeasure and adjust pattern accordingly)
7.  September TSNEM – Hat and Mask making
What are you working on this week?
If you liked this, you may also like these posts.