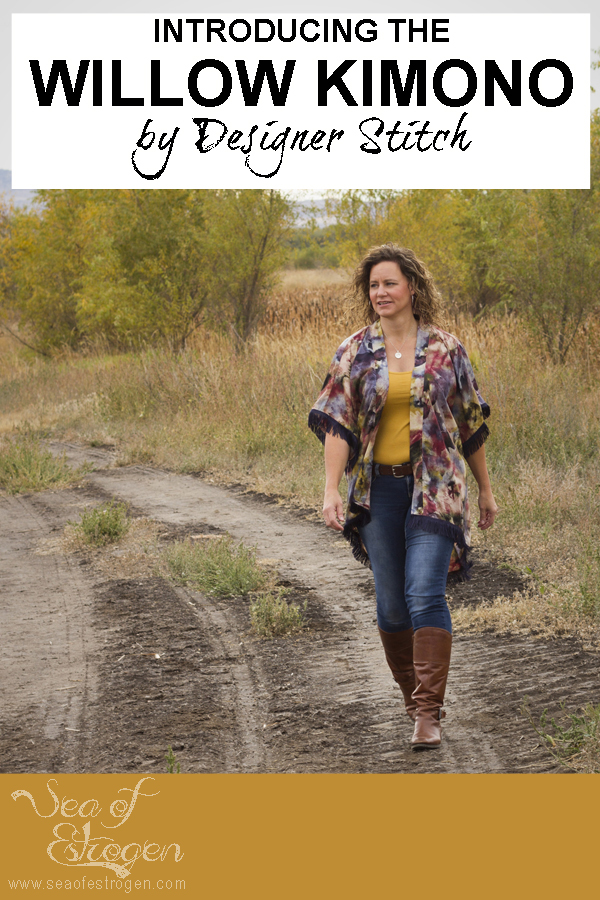 I just completed a testing round for the Willow Kimono pattern from Ann Grose of Designer Stitch Sewing Patterns located in Australia.  The Willow Kimono is an effortless style worn over jeans and is equally as elegant for an  evening dinner date.  What I love the most about sewing the Willow Kimono was how easy it was to create, even though it looks complicated and intimidating.
Details
I have never sewn with fringe or other detailed embellishment, which is what made the pattern so intimidating.  The Willow Kimono by Designer Stitch was my first experience.  Ann's instructions are clear, concise, and easy to follow, making construction a breeze!  I used a lovely crepe, and I accessorized it with 2″ coordinating fringe.  I added some topstitching along the collar for a final touch.
Product Description
The Willow BOHO Kimono is on-trend and is a fabulous, easy wearing garment.  Let your imagination go wild and use luscious silks, trims, lace and braids to make your own personalized Willow.  It is an advanced beginner level pattern due to working with slippery fabrics and trimming and lace applications.
Pattern Options
The Willow Kimono by Designer stitch is versatile and can be made from light weight cotton, cotton types, linens, silk, and georgette.
Willow Kimono Features
Easily sewn neckband
Kimono sleeves
Choice of 3 lengths – high/low, mid thigh, lower calf
Opportunity to make the willow your own with choice of trims, ribbons, braids and fringing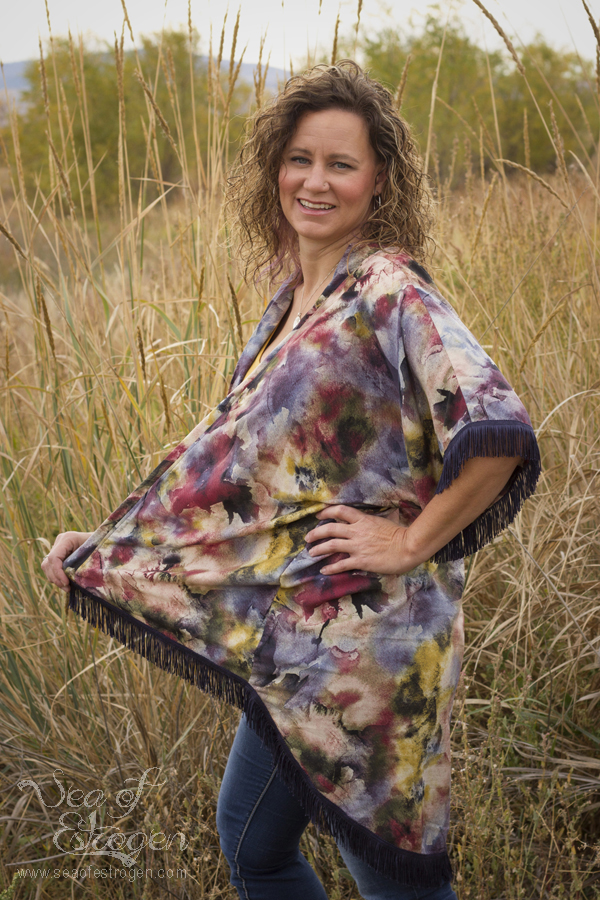 Final Thoughts
The Willow Kimono by Designer Stitch is a great pattern, and is an asset to any closet.  The opportunity to create different versions make it a wardrobe must!
If you liked this, you may also like these posts.