Welcome to To Do Tuesday – September 25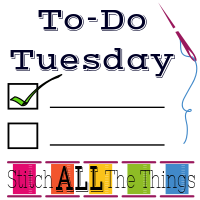 Christine at Stitch ALL The Things hosts To-Do Tuesday. TDT is a great weekly motivator to finish projects and (for me) to keep my To Do List manageable.
My To-Do list from September 11:
1.  Peek-A-Boo Patterns Pattern Test Blog Post
2.  DIBY.Club Pattern Test Blog Post
3.  Strike-Off Sample Project
4.  Made for Mermaids Pattern Test
5.  Fall/Winter Wardrobe Sewing
This list has greatly helped me keep track of what items I need to be working on and prioritizing, and I have learned to value the accountability it has given me.
Todd leaves first thing tomorrow morning for a moose hunt in Canada with his dad and brother.  The past two weeks have been busy getting him packed and ready to leave.  
1.  Peek-A-Boo Patterns Pattern Test Blog Post
The best intentions . . . Though I originally planned to write a pattern-review post about this test, I just didn't have time.  However, I will give a brief synopsis here.
It is awesome.  That is all. 😀
The pattern is for the Basic Adult Hoodie, and it is FREE at Peek-A-Boo Patterns with a code available in the PAB Facebook Group.  I made two hoodies out of Dri-Fit French Terry for Todd for his trip, and I made three for myself, as well.
2.  DIBY.Club Pattern Test Blog Post
Hey, guess what?  I didn't write this blog post, either.  I am totally slacking at computer time.
The DIBY.Club Mae Poncho released last week, and it is AMAZING.  Seriously.  I will be wearing these all fall and winter!  There are several neckline options, multiple sleeve lengths, and either closed or open sides.  I made the closed side, long sleeve, cowl neck option out of this gorgeous brushed sweater knit from Mily Mae Fabrics.  It is the softest thing I've ever worn!
3.  Strike Off Sample Project
I ended up not participating in this particular strike-off mailing, so I didn't have to complete this item.
4.  Made for Mermaids Pattern Test
I have two projects I am working on for Made for Mermaids right now.  They are part of a new collection being released this Fall.  Neither of these patterns is released, so I cannot share them yet, but I will say, "As if!".
5.  Fall/Winter Wardrobe Sewing
I've made some great progress on my Fall/Winter wardrobe, and I gutted my closet to boot!  I added three short-sleeve, solid-color Layer Me Up Tops from Patterns for Pirates.  In addition, I made two Grandpa Cardis.  The first is out of this gorgeous berry-colored Aztec print, and the second is the green multi-colored stripes.  All these fabrics are from Mily Mae Fabrics.
Wrap-Up
This coming weekend, I get to head to the Oregon Coast with my Mother-In-Law to relax, hunt for agates, and play.  We're going to be able to see Harley for a meal while we're down there, and we will be visiting Anita's sister on our way home Monday.  
I have a new piece of strike-off fabric from Amanda at Mily Mae, and I will be sewing a holiday dress out if it before we leave for the Coast.  I am really excited about this project!
This week's to-do list:
1.  Mily Mae Fabrics Holiday Dress
2.  Enjoy the Coast
3.  Try Not to go Crazy with Todd Gone
What are you working on this week?
If you liked this, you may also like these posts.