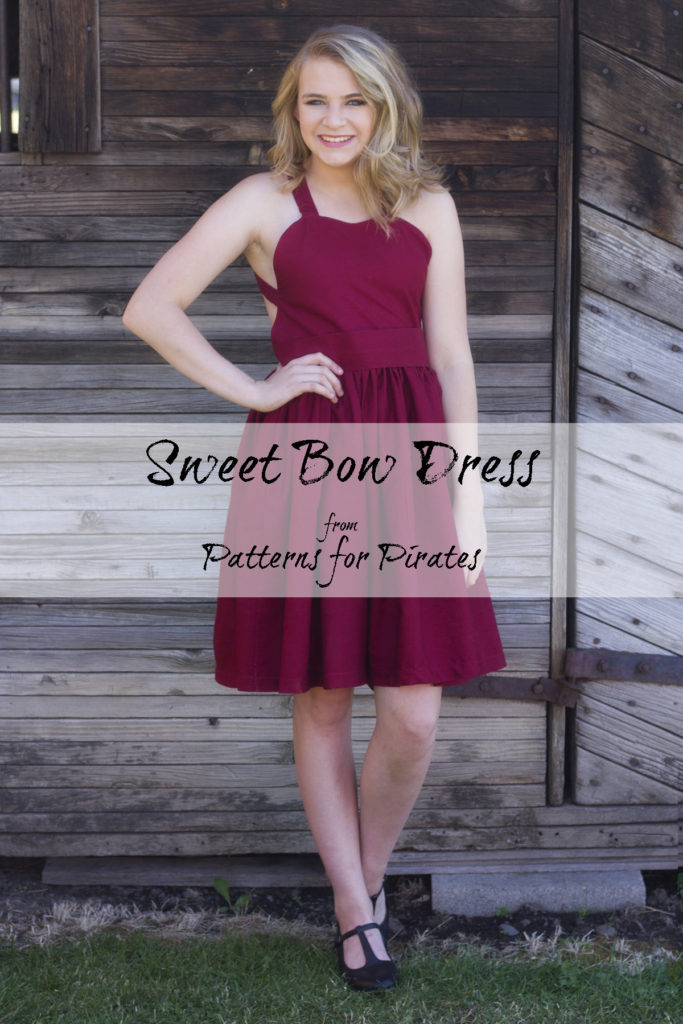 Patterns for Pirates is re-releasing the Sweet Bow Dress!  I am thrilled to have tested the pattern update for Reagan, and she loves the dress!  Before I talk more about the pattern itself, I want to mention that if you already own the Sweet Bow Dress, you DO NOT need to re-purchase it.  Just log into your Patterns for Pirates account and re-download it.  If you purchased the pattern through Etsy, email help@patternsforpirates with your proof of purchase, and they will send an updated file.
P4P Sweet Bow Dress
The Sweet Bow was one of the first patterns released by Patterns for Pirates, and this summer they are celebrating the "Summer of Wovens", so it was a perfect time to update the Sweet Bow Dress!  The pattern has been updated to include better fit for the smallest sizes (size 3 months to 14), and they have added a maxi length option for extra charm!  In addition, the pdfs now include their layers feature and can be found in letter, and A4 print sizes.  There is no A0 version available to print because the pattern is only 2-3 pages.
Features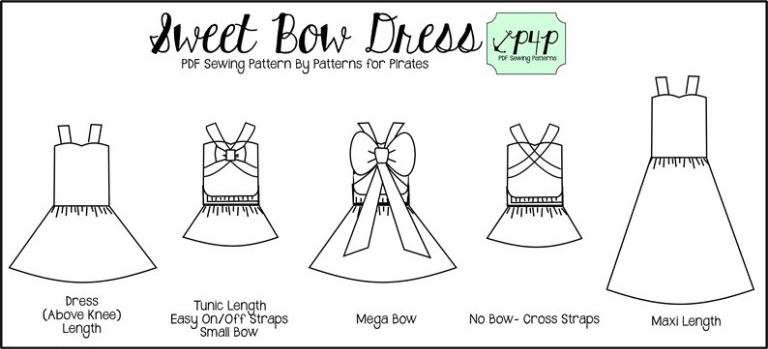 With three hemline options -tunic, above the knee dress, and maxi length, the Sweet Bow is versatile for any occasion!  It also includes two strap options – easy on/off and cross straps.  Bow options include the small bow or mega bow.  I made the dress length, cross strap version with the small bow for Reagan.  To learn more about how to measure for this pattern, read the P4P blog post with in-depth instructions.
Sale Details
Ready to purchase the Sweet Bow and get to sewing yourself?  Go grab your copy HERE!!  The pattern is on a re-release sale for $7.50 through Sunday, September 10, 2017.
If you still need more inspirate, head over to the Patterns for Pirates Facebook Group Album to see everything the testers have sewn.
Final Thoughts
This pattern is EASY, and I mean incredibly easy.  The most difficult part of the pattern for me was gathering the skirt, which is something I always have trouble with.  As a result of a gathering/serging mishap, I ended up needing to add the waist sash, but I like the end result.  The best review I can give this pattern is after these pictures, Reagan immediately told me she wanted another one!  I figure if a picky teenager loves a pattern and asks for more, then it is a definite hit!  I see many more Sweet Bow Dress creations in my future.  Who knows, maybe even one out of formal fabric for a school dance . . .
If you liked this, you may also like these posts.