Made for Mermaids Cora & Mama Cora Culottes & Hurricane Harvey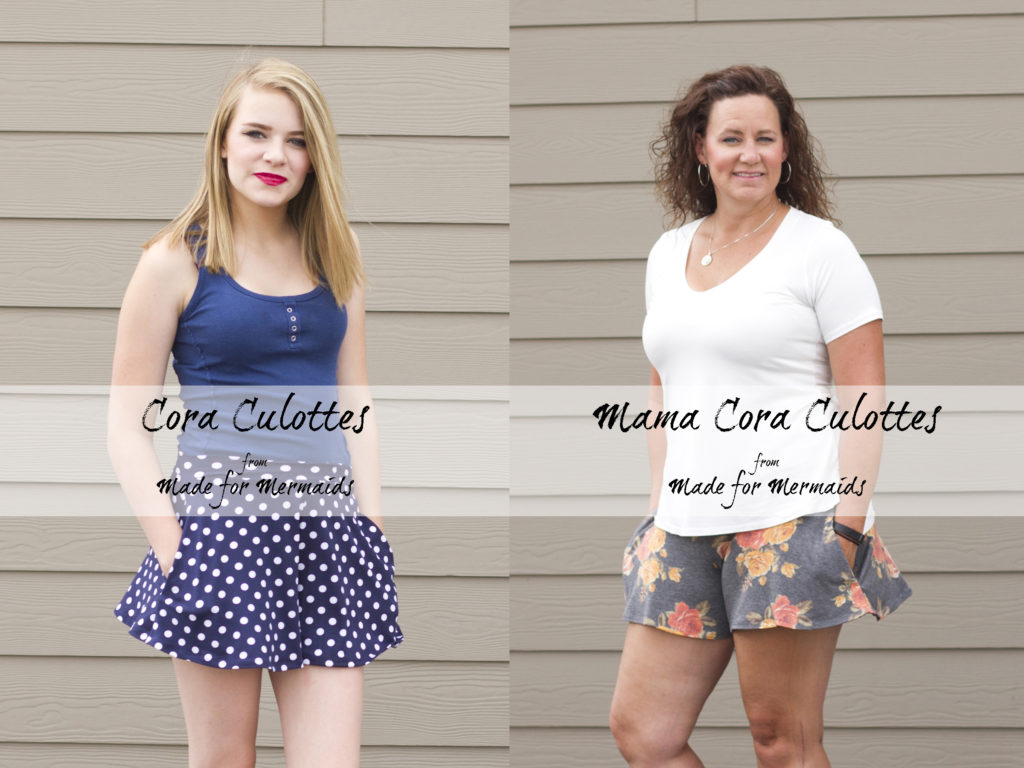 Made for Mermaids released a brand-new pattern last week, the Cora Culottes and the Mama Cora Culottes.  I tested both patterns, and the verdict is in – it is 100% love at our house! Before I talk more about the pattern itself, I want to mention how the two patterns benefit the victims of Hurricane Harvey.
For the entire month of September, BOTH patterns are on sale for just $3.00 each, and 100% of the profits will be donated to several Houston-based Harvey relief efforts.  This is a great way to get two fabulous patterns and help with the recovery after such devastation.
M4M Cora & Mama Cora Culottes
The Cora Culottes are a quick, easy project, and they are drafted for soft knit fabric with nice drape.  The pdf patterns include layers, printing guide, and no-trim pages that overlap making it quick to put together.  They are available to print in US letter, A4 paper, and A0 copy shop sizes.
Features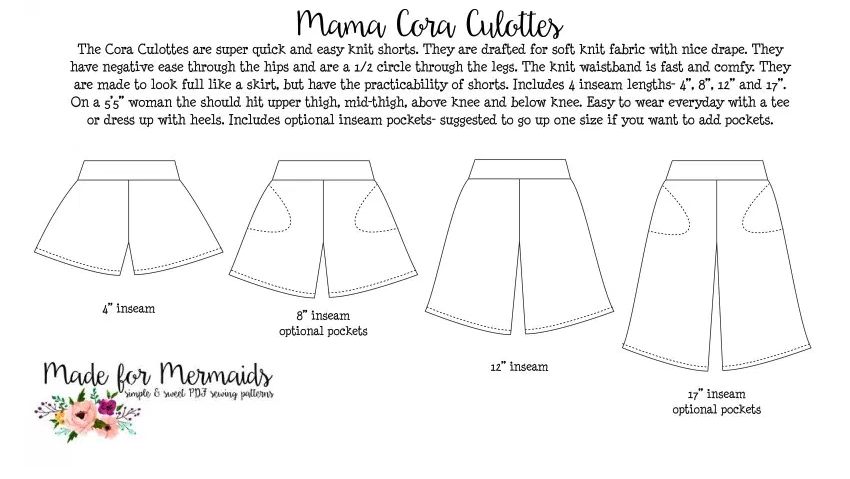 With negative ease through the hips and 1/2 circle skirt for legs, they look full like a skirt, but have the practicality of shorts.  Both patterns include three inseam lengths – mid-thigh, above knee, and below knee.  The culottes are an easy, everyday staple with a tee, or dressed up for events.  The patterns also include optional inseam pockets.
Sale Details
Ready to purchase the Cora & Mama Cora Culottes for yourself?  Go grab your copies: Cora & Mama Cora!  Don't forget that BOTH patterns are on sale for $3.00 each until September 30th, and 100% of the profits will be donated to Huston-based hurricane relief charities.
Final Thoughts
Just like the other Made for Mermaids patterns I've used, these patterns have simple, easy to follow full-color instructions.  The shorts are very comfortable and make a great staple pattern because they can be used for everything from pajama bottoms to dressy, velvet dress shorts.
If you liked this, you may also like these posts.