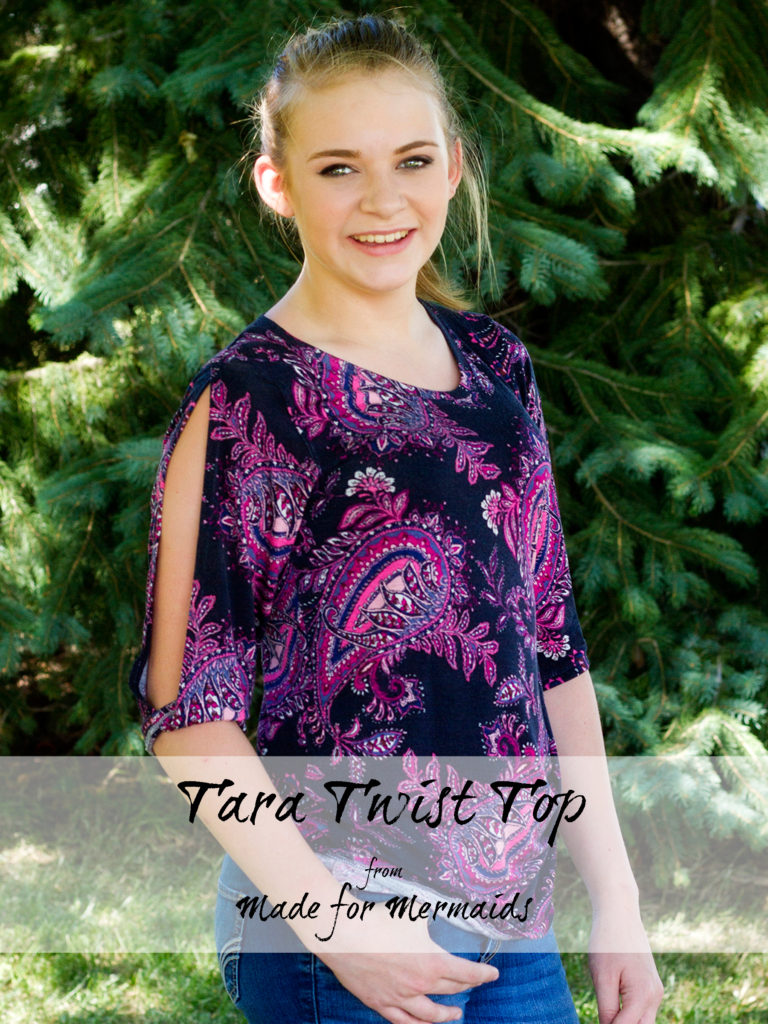 This twisted 3/4 sleeve option is available in the Tara Hack Post on the M4M Blog.
I am super excited to share the brand new girls
Tara Twist Top
pattern from
Made for Mermaids
.  I participated in the testing process, and I made the 3/4 sleeve version for Reagan.  She still fits in youth sizes (much to her chagrin), and I love that she still likes me to make clothing for her. Be sure to read to the end to learn about the pattern sale.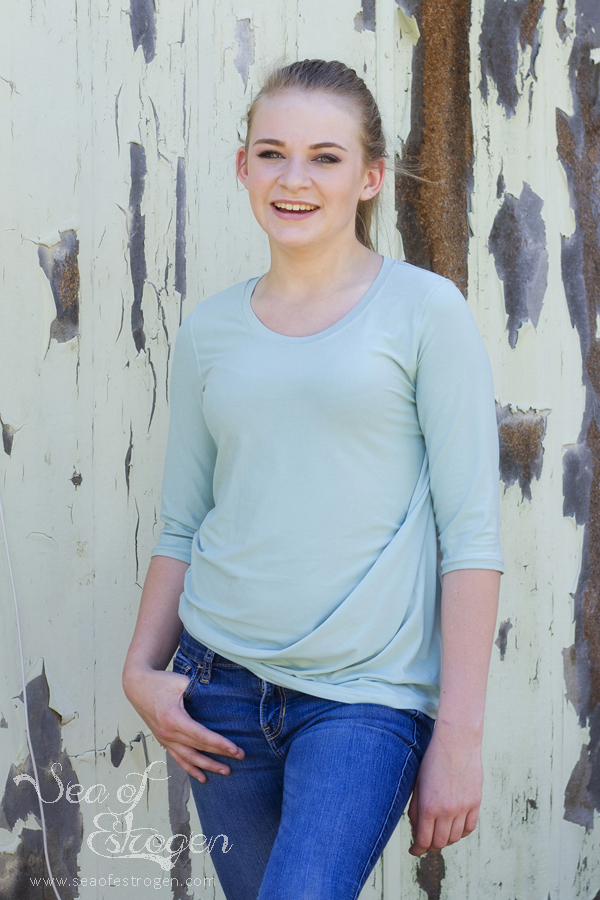 M4M Tara Twist Top
The Tara top spans a large range of sizes starting in 1/2 and up to size 14 (which is what I made for Reagan).  It is a quick knit top that has a use in every season.  With five sleeve options, this top can easily move through the seasons.  I love that Megan's PDF Patterns come as a layered, color-coded file, and the printed pages are "no trim" meaning they are quick to put together!  The instructions include color pictures, and the detailed steps are easy to follow.   Even better, the Tara matches perfectly to the Mama Tara Twist Top!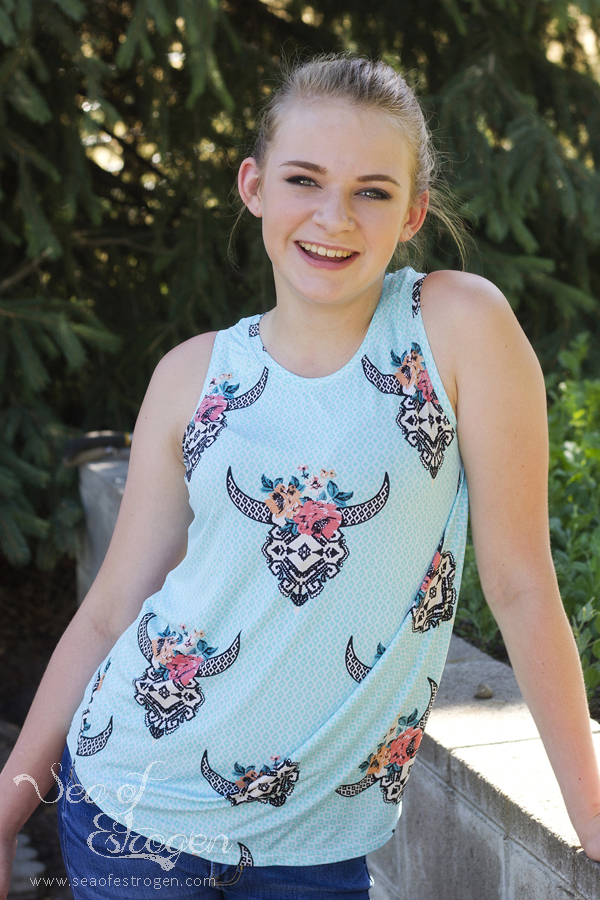 Features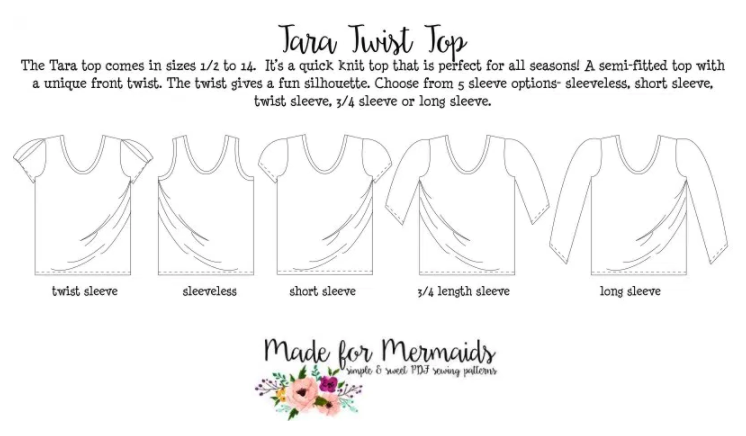 The Tara Twist Top is available as a sleeveless tank, short sleeves, twist short sleeve, 3/4 sleeve, or long sleeve.
Sale Details
The M4M Tara Twist Top  and the M4M Mama Tara Twist Top are on sale for $7.00 each through July 30th at Midnight CST.  Both patterns can be purchased as The Tara Bundle for only $10.00 until then, as well, and then the bundle will no longer be available.  Join the Facebook Group to see more pictures and share with other Made for Mermaids fans.  In addition, don't forget to check out the Pattern Hack Blog Post, which illustrates different ways to change up the pattern!
3/4 Sleeve
The version I made to check fit and instructions during testing was the front twist 3/4 sleeve.  I used this gorgeous sage green double brushed poly from So Sew English, and Reagan loves how soft and comfortable it is!  The top fits her perfectly, but still allows for room to grow.
Sleeveless Tank
Reagan saw this fabric in my pile and said she really liked it.  The problem, though, was that I had just under a yard.  I wasn't sure I would ever be able to make anything for her out of it.  The Tara Twist Top sleeveless tank is the perfect option for those small yardages hiding in people's fabric stashes!  The fabric is ITY from So Sew English.
3/4 Twist Sleeve
This version isn't part of the basic pattern, but it is one of the "hacks" covered in the Pattern Hack Blog Post.  It is my personal favorite!  In order to make the sleeves for this top, I used the short-sleeve twist option pattern piece laid over the standard sleeve pattern piece to trace the appropriate width (I wish I had taken pictures of this process), and then I extended the width down to the 3/4 sleeve length.  Then I followed the short-sleeve twist instructions, and it worked perfectly!  I love this fabric – it is a rayon spandex called "Ainsley", and it is available at Mily Mae Fabrics.
Of course, you can't go out to Grandma & Papa's to take pictures without saying hi to Anna the horse. <3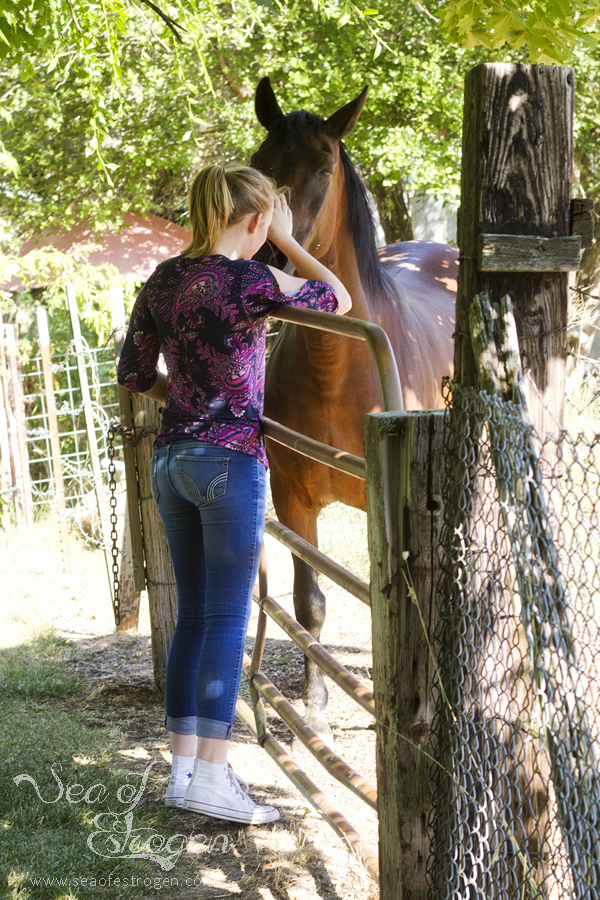 If you liked this, you may also like these posts.