It is no secret that I love the mountains, nature, and the ability they provide to "get away", even if it's only for a short time.  Over the past few years, though, it seems like I have had hardly any time to do any hiking or venturing, and I have missed it greatly.  I almost feel lost, or like something is missing when I am not able to get to the mountains regularly.  This past Sunday, Harley and I spent the day in the Elkhorn Mountains having our own little adventure.
Tillie, Nana, & Papa
My parents spent the weekend camping at Grande Ronde Lake, so we stopped by there for a visit and to tell them about the Fourth of July bar-b-que we were having since they didn't have cell phone service up there.  It was sunny and nice, and Harley decided to be brave and took Tillie into the lake to swim.  Tillie is a water dog and she loves to splash around, but she didn't want to have anything to do with it once she got wet because it was so cold!
  
Crawfish Lake Trail
After we left my parent's camp, Harley and I drove a little further to the Crawfish Lake Trailhead.  The trail is only 1-1/2 miles long, which was a nice start for me getting back to hiking regularly.  The trail meanders through open meadows and timber, and it is a relatively easy trail.  Even though it is a relatively short hike, I would not recommend it for people who have difficulty walking or tire easily as the trail can be a bit rough and has some pretty steep elevation changes.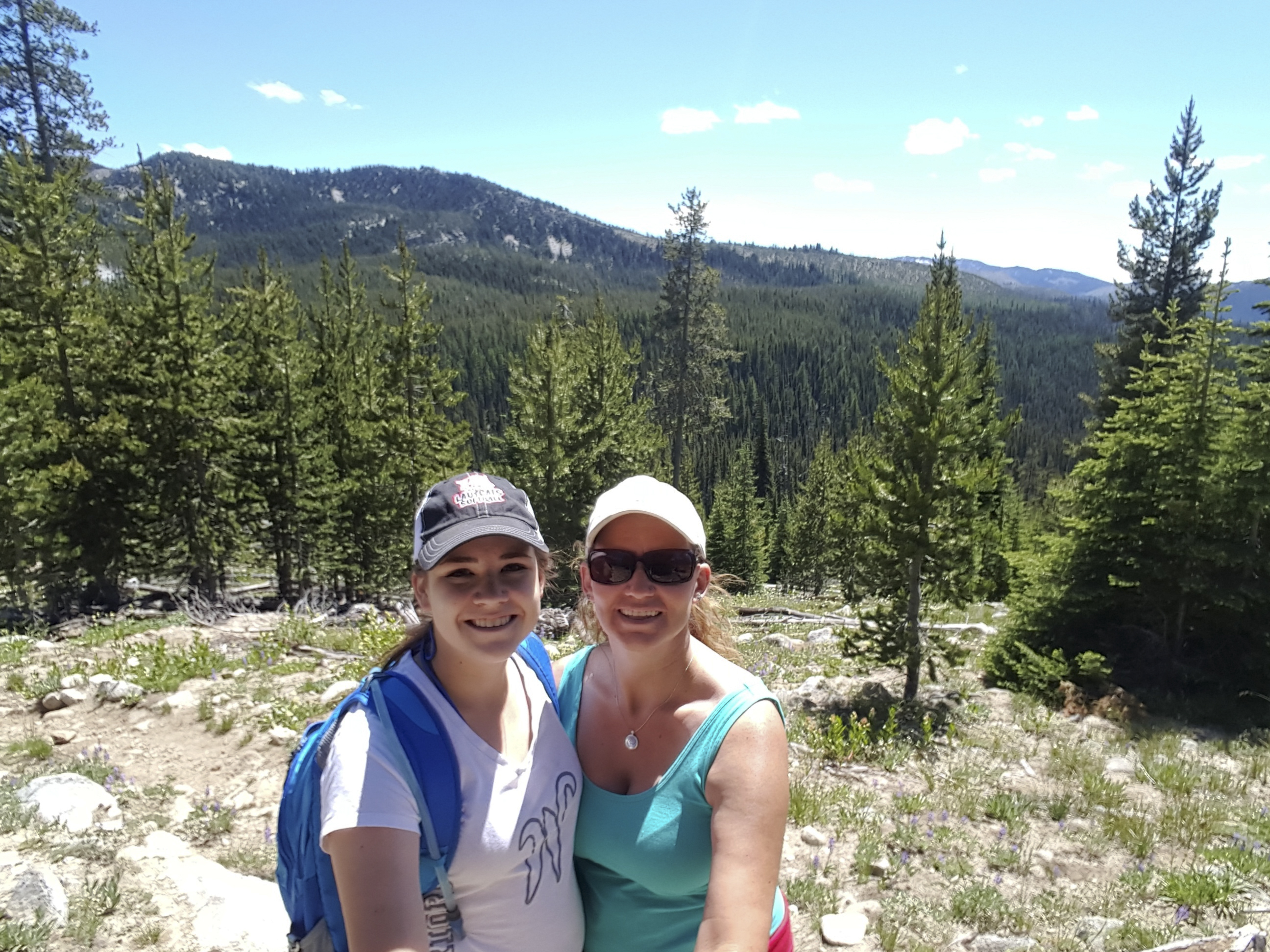 This map doesn't indicate Crawfish Lake, but it does show the Elkhorn Crest Trail (pink) that circles the area, and it also shows Crawfish Basin and Crawfish Meadow, and the lake is between them.  The Elkhorn Crest Trail connects into the Crawfish Lake trail and travels by the lake.
Elkhorn Crest Trail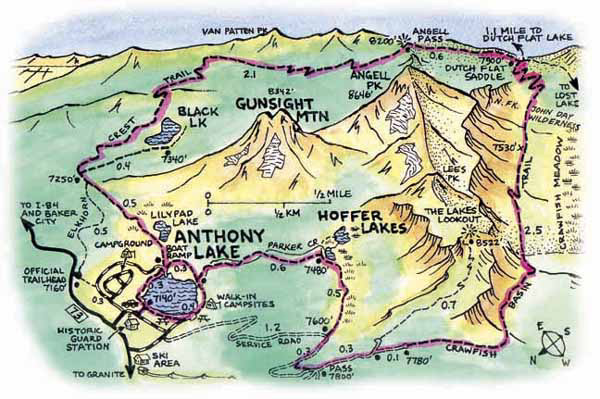 Harley and I had a great day, and she was really patient with her completely out of shape, winded mother.  We took our time, and stopped to smell the scenery and enjoy all the views.
Harley was my very own personal hike guide – she led the way and set the pace.
The flowers were blooming like crazy, and littered the entire trail from start to finish!  My pictures do not do these fields of flowers justice at all.
Crawfish Lake is absolutely gorgeous, and had crystal-clear blue water!  Harley was brave enough to swim, and she said the water was really warm and tolerable.  I wasn't wearing a suit, and I'm not as brave as her.
The weather was cool enough that the insects weren't super speedy, and these two beauties laid around long enough for me to get a couple nice pictures of them.  The butterfly is a Tortoise Shell, and the Damsel Flies were as thick as a cloud!
My Harley Bug
I know I have said it before, but my gosh, Harley is beautiful!  She is also compassionate, kind, hard-working, funny, mature, and loyal.  She is also very confident, outgoing, and happy.  Harley knows what she wants from life, and she goes after it with zeal!  The thing I admire most about Harley is that she knows her own worth and what she will tolerate, and she does not allow anyone to cross those lines.  She surrounds herself with friends who make her a better person and whom she can help make better.
I am so happy that we took the day to have our adventure!  We are heading into Harley's senior year of high school, and she is a three sport athlete.  Between the demands of her senior year and sports, our time together like this is going to be cut short and these days will be few and far between, and I am going to savor every moment we get!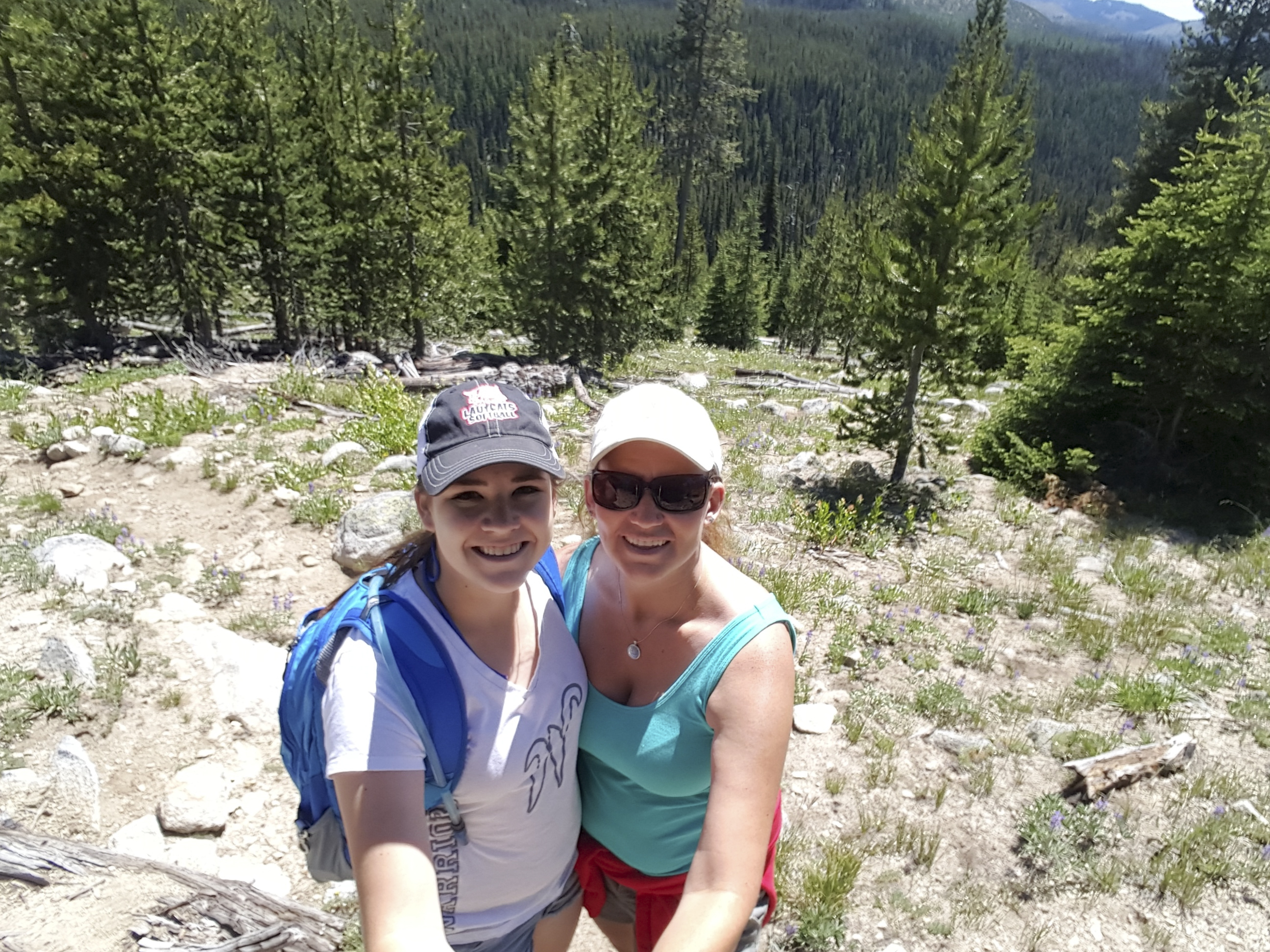 If you liked this, you may also like these posts.