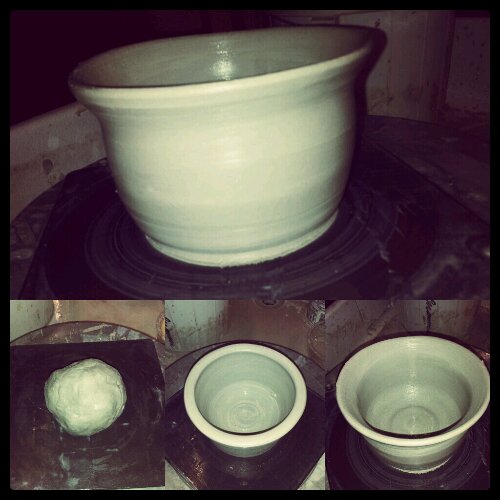 My first somewhat decent mug/tumbler/something on the wheel.
Last winter, about three weeks into the term, I broke my arm snowboarding. As if that wasn't bad enough in and of itself, I was taking several art classes and had to complete them left-handed.
One of the classes I was taking was beginning ceramics. Instead of learning to use and throw on the wheel like the rest of the class, I finished the term creating hand-built pieces. I used a pottery wheel over 20 years ago in high school, but didn't have the opportunity to re-learn it last year.
Fast-forward one year. I am now taking wheel-throwing ceramics, and I am very far behind in technique compared to the rest of the class.
We have been making simple shapes on the wheel, and learning how to manipulate the clay to make different vessels. In the past two days, I have probably thrown more than 40 pots (not exaggerating), and I FINALLY have one good enough to keep!
I fell like I am finally getting the hang of throwing, and my stuff isn't gorgeous yet. However, with the wheel-throwing crash course I've had the past two days, its not too shabby!
If you liked this, you may also like these posts.