Cabo San Lucas.
I've heard many conflicting stories about it, "too touristy", "stunning", "trashy", you name it, but I'm excited to find out for myself. I'm going down there for a week in just under 4 weeks, and I can't wait!
I'm excited to be getting out of NE Oregon for a while, not that I don't love it here, I just need a break. The stresses of both of us being unemployed until Aaron went to work last week, and me still trying to find a job, on top of just trying to survive, have just eaten away at me.
My spirit is broken, and I need a break to fix it, to rejuvenate myself. The nicest thing about this trip, for me, is that I have no pressure. I'm there for the sole purpose of doing what I love, taking pictures. I will take pictures for the family I'm going down there with, but I will also have plenty of time to myself to just take "me" pictures.
We're staying at a place called Casa de Koehler, and it is GORGEOUS! You can see the historic Cabo San Lucas El Arco (the Arch) from the backside deck. Here's a couple pictures from the Casa website:
El Arco is a huge granite arch that sits at the Land's End on the west end of Cabo San Lucas. And a couple pictures of El Arco: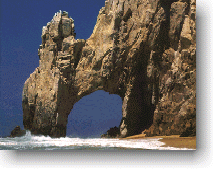 Another place I'm going to visit is the Cactimundo Los Cabos Botanical Gardens in San Jose del Cabo. It sounds beautiful and unique. I can only imagine the image opportunities there. The nurseries of Cactimundo have been able to successfully reproduce and conserve the most important collection of cacti in Mexico.
I can't wait until I have my own pictures of these beautiful places to post, but for now, all the credit goes to their own websites.
I hope, no, I KNOW this trip will help me feel better, and I will come back a better, happier person, with a complete spirit.
I can't wait!
If you liked this, you may also like these posts.