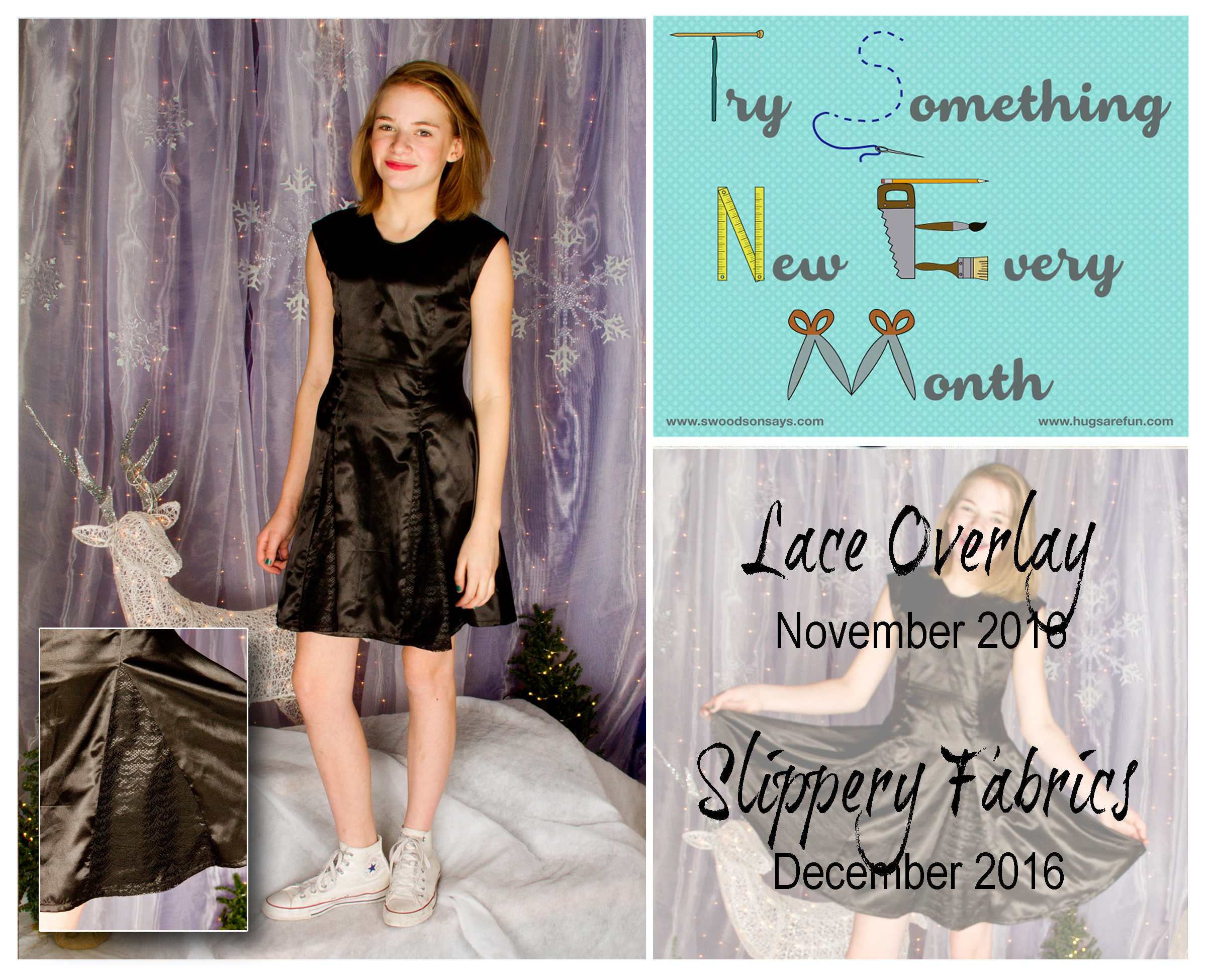 I ran across Stephanie's and Rebecca's co-hosted project, Try Something New Every Month (TSNEM) for 2016, last December. I decided to participate because there are a lot of sewing techniques I have never tried but would like to. You can read my original post talking about the project HERE. The post that lists what projects I'm going to try each month can be read HERE. This post covers both my November and December TSNEM projects. November's project was to make something with a lace overlay. For December, I wanted to try slippery fabric – anything that is difficult to keep together when sewing.
My August and September projects are both in process and will be finished some time during next year's list.
Lace Overlay & Slippery Fabric – November & December TSNEM
To conserve time AND complete two projects, I decided to combine my initial ideas for November and December TSNEM Projects. As a plus, this project also knocked a third item off my Finish-A-Long Quarter 4 Project List – Reagan's Dress. I didn't have quite enough lace to have the overlay on the entire dress, so Reagan and I made the executive decision to only include it on the godets.
Unfortunately, I didn't take any pictures of the process, so I only have finished pictures to share. I was setting up the photo booth for our work Christmas Party, and had Reagan throw her dress on to get these pictures. It has been below zero here for days, so outside pictures weren't going to happen. The Converse are totally in line with how she would wear this in real life.
I am declaring this project a success for sure, and I am sure I will use slippery fabric and lace overlays in my sewing projects again. What I really love is that this project used items all from my stash, including the zipper, and I didn't have to purchase anything. A final added bonus is that Reagan needed a black dress for her choir concert Tuesday night. Problem solved.
Overall, I was able to complete ten of the initial twelve Try Something New Every Month projects. I am happy with my finishes, and not at all unhappy about the two I didn't finish – those were crazy busy months. I am positive I will join up for another year of trying new techniques, and I will be posting about next year's projects soon.
Did you try anything new this month?
This TSENM project is my 10, 11, & 12 finish on My Finish-A-Long Quarter 4 Project List.