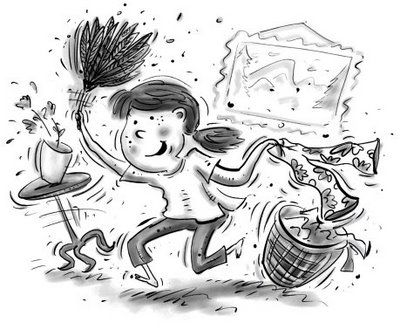 Productive as defined by Merriam-Webster:
a : yielding results, benefits, or profits
This is the first weekend in months we haven't had to travel at least one day, so I had a plan.  I HAD a plan for this weekend.  A set-in stone plan that included a birthday party.  It included purging each of the girls' closets, dressers, and bedrooms.  I had planned to take pictures this weekend for a possible show in April.  It included purging my own closet, dresser, and cleaning our bedroom.  The laundry was going to be completely caught up, and I was going to get the kitchen cleaned.
I HAD a plan.
Then I got sick.  If you've read the previous posts, then you know, I got really sick.
That wasn't part of the plan.
Today, even though I was sick and didn't have the energy to do any of what I had originally planned, I did manage to get some stuff done.
Sort of.
I moved myself from my room to Emma & Reagan's room, and Emma, Reagan, and Harley purged and cleaned their room while I gave instructions from my cozy little bed.
I have to say that I am so very impressed with how hard the girls worked, and how well they did getting the stuff done that we needed to.  The original plan for the weekend included all three bedrooms within one day.  Today, we only finished one.
Reagan is a lucky girl because everything fits her.  She's so skinny that shorts and clothes that are still in toddler size ranges still fit her, just not the pants because they're not long enough.  I've never really had the heart to get rid of some of them because they're so darn cute, but it was time.  Her dresser was so full she couldn't get anything else in it and she still had clean clothes in a basket, too.  We (well, they – I watched) completely purged her dresser & closet.  She now does not have any items that are smaller than a girls' 7 in either.
Emma takes most of her good clothes to her dad's so she can wear them to school, and she just brings bags back and forth on the weekends she's here.  Unfortunately, that meant that once she purged the stuff that was too small, she really didn't have much left.  At least she's getting good use out of her clothes at school.  🙂
So, although none of my original plan was able to be carried out, and I wasn't able to do anything to help the girls, I do feel like our day was productive.
I'm not usually one who deals well with plans that change on a hairpin turn – I just don't adapt well.  Amazingly enough, I have managed to deal pretty well with this little kink I've been dealt, and I am proud of myself for that – almost as proud as I am about how awesome my girls did today.
If you liked this, you may also like these posts.